At first glance, the prairie landscape might look desolate, harsh and barren. Seen through the eyes of biological sciences professor and researcher Dr. Roy Golsteyn (BASc (BSc) '84), it supports an abundance of plant species and is ripe with opportunity.
Golsteyn heads the Prairie to Pharmacy research program that has been investigating the medicinal properties of the prairie plants that dot this unique setting for nearly a decade. The hot, dry summers that shoot the thermometer to 35 C, followed by windswept winters that plummet temperatures to -35 C are actually the perfect conditions for creating hearty and resilient flora — the kind that are just now being recognized for their unique properties of medical importance.
"People think of Canada as cold and ice and snow and they don't look at Canada as they do the tropical regions where historically a lot of this type of work has been done," says Golsteyn, who heads a small but robust, eight-person lab. "This area has escaped notice but we're changing that."
What is Prairie to Pharmacy?
Golsteyn's Prairie to Pharmacy research program began taking shape in the summer of 2013 when he and Dr. Sophie Kernéis (now at Lethbridge College) started to create a plant and extract collection. Golsteyn, who previously worked in the pharmaceutical industry, was keen to explore the chemical compounds from the region's prairie plants. He recognized that many of the plants in southern Alberta were actually quite toxic — a necessity for their survival in a difficult climate with a short growing season and multiple grazers (deer, antelope, buffalo, cattle) seeking nourishment.
While convinced he had at his disposal a number of extracts that showed great promise in their ability to inhibit cell growth — specifically cancer cells — the fact that nobody had previously studied these plants actually acted as an obstacle. He could not build off of previous work, rather he and his group had to lay the groundwork themselves. It meant running tests, writing papers, securing funding and gaining acknowledgment from peers, donors and research partners that this was a viable path of study.
"It has taken more time than I anticipated, but we have moved forward, and this year has been a big year because we've had five publications on four different Canadian plants in peer reviewed journals," says Golsteyn, a 2019 inductee to the U of L's Alumni Honour Society. "It's a first for almost all of these plants and now we're sharing this with the scientific world, all the tremendous chemicals and the activities of these plants from right here in our area."
The world is taking notice and as the reputation of Golsteyn's lab grows, valuable collaborative opportunities are materializing.
"We have one of the few prairie plant libraries around, and it now contains 148 different species with over 500 extracts," says Golsteyn. "Many of these species are very difficult to find elsewhere in the world, and lately we've been able to start distributing them to other universities and institutes. We've recently sent extracts to the University of Alberta, University of British Columbia, an institute in Belgium that studies malaria and another institute in Switzerland."
Funding support critical
Securing funding to support his work was a key step in the growth of the Prairie to Pharmacy program. New work takes time to earn backing from funding agencies, but once the work began it quickly garnered attention. Now supported by major granting agencies such as the Natural Sciences and Engineering Research Council of Canada (NSERC) and Canada Foundation for Innovation (CFI), the Prairie to Pharmacy program also realized a significant boost from an investment by Power Corporation of Canada, together with Canada Life. The $400,000 total combined gift supported the program itself as well as the development of a flexible lab and makerspace within Science Commons.
While funding is essential for the program, engaging with the community can be invaluable. Local, private donors seem to connect with Golsteyn's unwavering enthusiasm and belief in his program.
"We have received very generous support from local donors who see the importance of supporting research and education in their own community," he says. "In addition, sometimes they'll contact us because they have seen a plant on their land that animals will not go near and understand it might have some chemical properties that deserve to be studied."
For a scientist who works on extremely challenging material, it's heartening to see the general public connect to his work.
"Unlike some of the other projects I've worked on, people connect more easily to the science of natural products," he says, noting his role is to fundamentally identify and preliminarily test compounds before teaming with pharmaceutical companies to pursue drug development. "It's pretty hard-core science, but fortunately people are interested in it, and they share our vision, they're able to make the connection between our prairies, the plants and the medicines."
Key to that support is the guidance of local Indigenous leaders, and particularly the Blackfoot Peoples, that has led to unique approaches to studying the plants from this region. All plant collections are undertaken sustainably and with permits in order to protect this valuable and fragile ecosystem.
Students prosper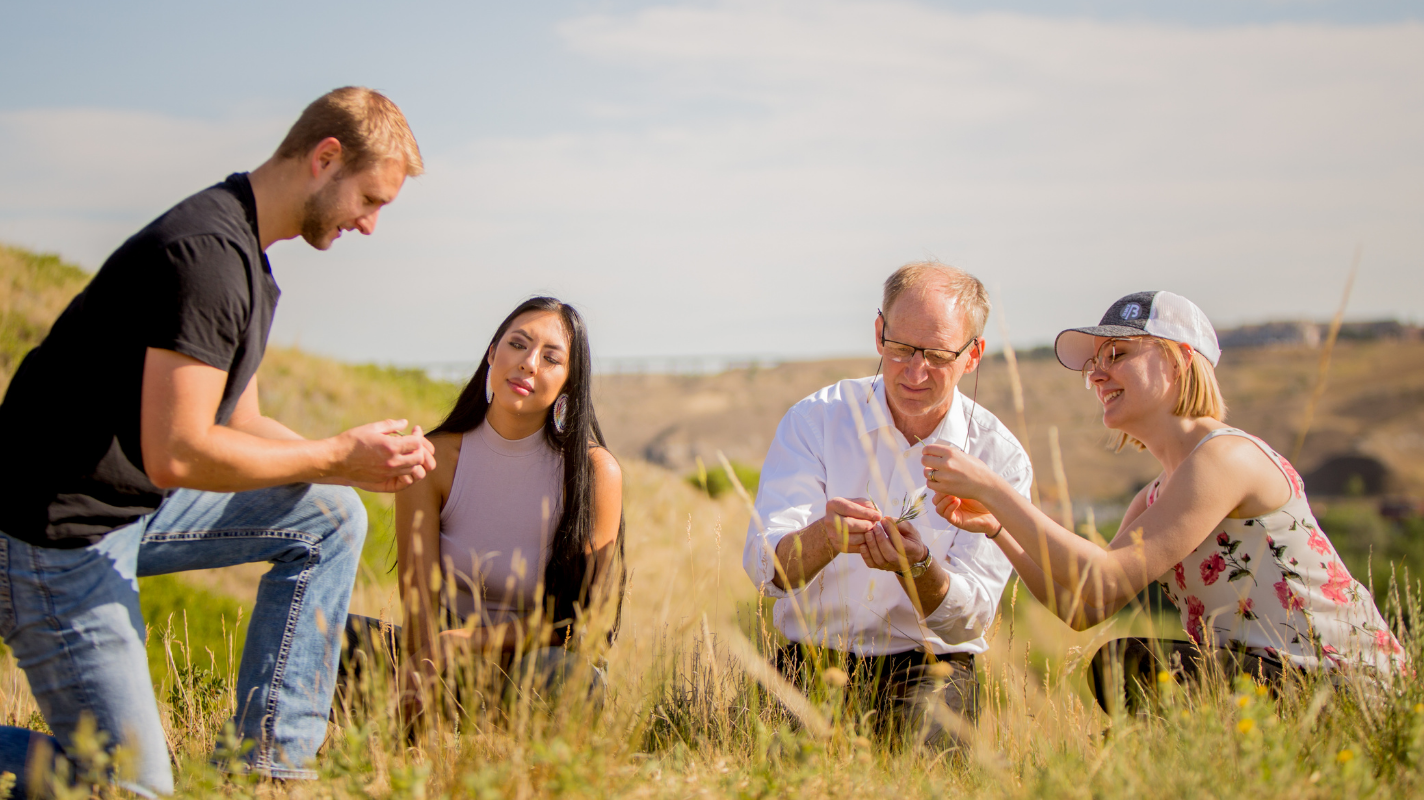 Donor support also plays a key role in giving students opportunities to participate in research, at the undergraduate and graduate levels. The experience they acquire serves them well in their future careers.
"We've had some students who have been with us throughout their entire time here at the U of L," says Golsteyn. "They usually go on to either study medicine, because there has been a renewed interest in natural products in medicine, or find their way into biotech companies. I see my laboratory and our university as a launch pad for students seeking exciting scientific opportunities in natural products."
Golsteyn recognizes that despite a decade of work, he and his group are only just beginning to understand what properties many of these plants possess. With guidance from First Nations knowledge keepers, a host of global collaborators, and an engaged and supportive southern Alberta community, they are excited to see what future discoveries await in natural products.
---
SHINE: The Campaign for the University of Lethbridge launched in 2018 with two main goals: to significantly increase engagement opportunities for alumni and community members and to raise $100 million to propel the entire region forward. Thanks to your support, we have surpassed these goals. More than 20,000 alumni are now actively engaged with the University and, thanks to the incredible generosity of 11,000 donors who made 33,000 gifts, we have raised more than $103 million.
Thank you for joining us to take bold steps toward a brighter future together.