The University of Lethbridge was founded in 1967 because a group of citizens believed southern Alberta warranted its own university. Now, nearly 55 years later, continued community support has enabled ULethbridge to have a global reach.
Nourish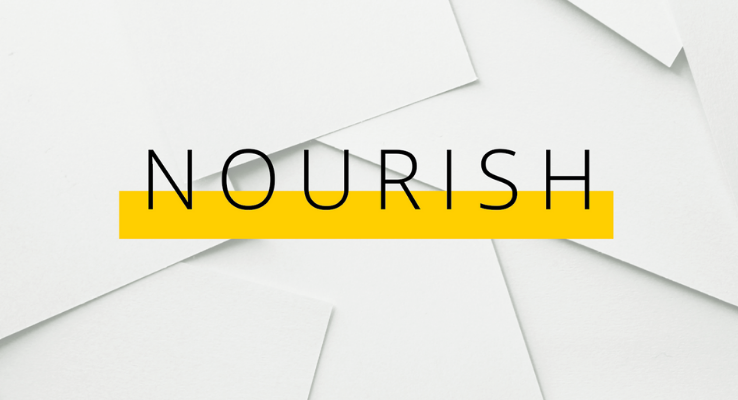 Launched in 2019, Nourish brings together a long-established network of initiatives designed to address food scarcity on our campus.
Recognizing a vital need, our longstanding partner the Community Foundation of Lethbridge and Southwestern Alberta donated $27,000 to the ULSU Food Bank over the last three years, helping ensure food scarcity doesn't impact students' ability to achieve their academic goals.
If you're a student who can benefit or want to get involved, learn more here.
Student project supports invites community support for Streets Alive
A fundraising event initiated by students from the Dhillon School of Business' Integrated Management Experience (IME) program boosted hope in Lethbridge's downtown core. Streets Alive Mosaic was a mural mosaic fundraising initiative designed to benefit Streets Alive Mission. The program focused on building a bridge between human connection, timeless support and inner beauty within the Lethbridge community.
"Overall, the students did a bang-up job," says Mike Madore, IME instructor. "We earned around $11,000 and were able to cover the cost of the mural, plus give Streets Alive an additional $4,000. It's the most money I've seen a group raise in the six years I've been director of program. Net sales, we've never sold $11,000 worth of commitment, so that was fantastic, especially given the pandemic conditions we've been working in the last 12 months."
Dr. Foster James Penny Building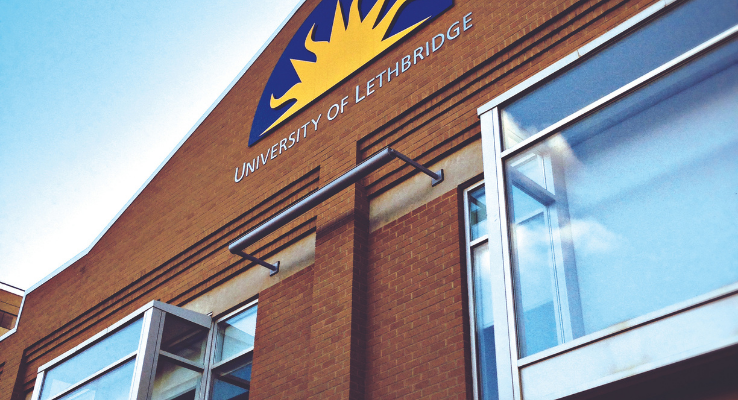 In 2012, W. James (Jim) and Hazel Penny donated the landmark Capital Furniture building in downtown Lethbridge to the University. Honouring their late son, Dr. Foster James Penny, the donation held deep personal significance for the Pennys.
The Dr. Foster James Penny Building has brought the U of L's blue and gold presence to Lethbridge's downtown core. In operation for nearly a decade now, the building provides a gallery area for Fine Arts students, room for community-related events, connects the University to the business community by providing office and meeting spaces, makerspaces for Agility and is home to Volunteer Lethbridge.
Coutts Centre for Western Canadian Heritage
Launched in June 2011 thanks to a generous gift from the late Dr. Jim Coutts (LLD '12), the Coutts Centre for Western Canadian Heritage preserves and celebrates the diverse heritage that is central to the spirit of the West, honouring both its namesake and the land he so admired.
Just east of Nanton, AB, the Coutts Centre is comprised of a quarter section of land on the more than 100-year-old property that once belonged to Jim's grandfather. The quarter section of land includes the original homestead, extensive gardens and restored outbuildings.
This unique property is a living testament to Jim's family history and his own legacy as a community-driven Albertan. The Centre supports community involvement with artist residencies, festivals, weekend brunches and live music, and encourages community use through rentals and event bookings.
In addition to the homestead property, the gifts also included more than 200 items from his personal art collection and holdings from his personal library.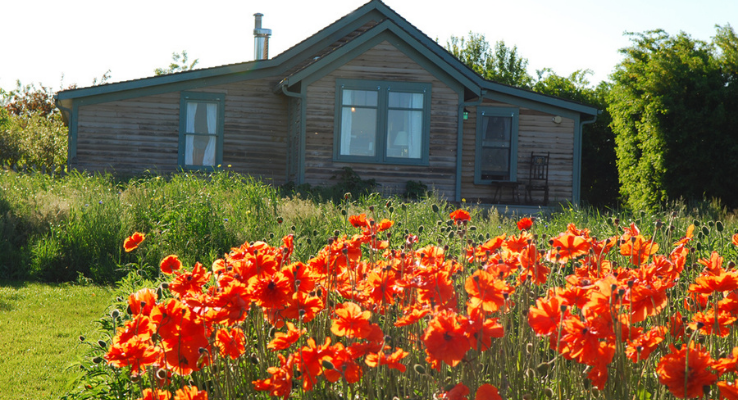 Dr. Margaret (Marmie) Perkins Hess Gallery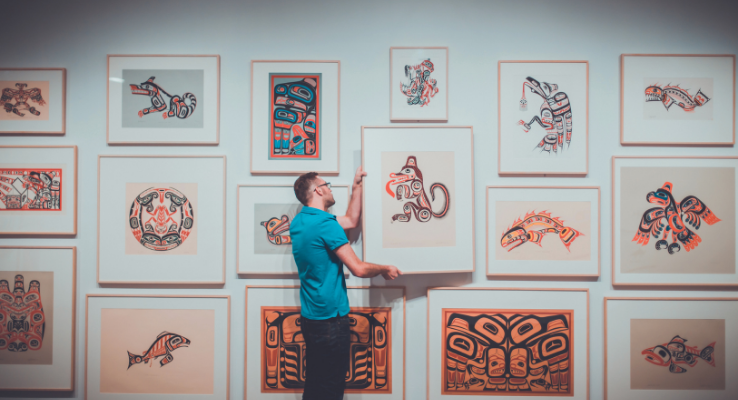 In 2017, the University of Lethbridge Art Gallery (ULAG) received an exceptional bequest from the estate of the late Dr. Margaret (Marmie) Perkins Hess.This is the largest gift of art and cultural properties in the University's history. The diverse collection of more than 1,000 pieces helps tell a story of Canadian and International Art in the 20th Century. Her Canadian collection features work by historically important artists such as: Tom Thomson, Emily Carr and members of the Group of Seven. More than half of the artworks are from First Nations and Inuit artists such as Alex Janvier, Bill Reid, Tony Hunt, Jessie Oonark, Helen Kalvak and many more. Marmie's European collection features works by Pablo Picasso, Georges Braque, Henri Matisse and others.
In addition to renaming the main gallery space as the Dr. Margaret (Marmie) Perkins Hess Gallery, the University has been focused on researching the works and providing access to them through exhibitions and public programs.
The ULAG collection has been enriched by the Marmie Hess gift by adding 275 artworks by female artists, and 931 artworks by Canadian artists of whom 585 are Indigenous artists. The international artists who make up the remainder of the gift range from very well-known artists like Pablo Picasso and Henri Matisse to artworks by lesser-known but welcome additions of work by established career artists.
To date, the ULAG has exhibited 342 of the 1082 Hess pieces (or 31.60%) of the gift.
Many students work closely with the Hess bequest artworks.
Visiting curators work with the Hess and Coutts gifts.
Artworks from the Hess gift were included in a recent art conservation project; some extra care was needed for four important artworks that were part of the bequest. These works include a very early print from 1960 by prolific and influential Inuit artist, Jessie Oonark, as well as a painting by Group of Seven artist, Lawren Harris, a painting by Maxwell Bates, and a painting by one of the founding members of the Canadian Group of Painters, Albert Robinson. These four works were assessed and sent away to conservators Sarah Spafford-Ricci in Vancouver and Lisa Isley in Calgary.
In addition, the Hess gift fleshed out holdings by the following artists, allowing curator David Smith to fill the gallery and give each of these Albertan artists who are part of the Canadian art history canon the opportunity to be featured in their own exhibitions: Maxwell Bates, Roloff Beny, John Snow, A. C. and Barbara Leighton, Margaret Shelton and Walter J. Phillips.
Music in the Making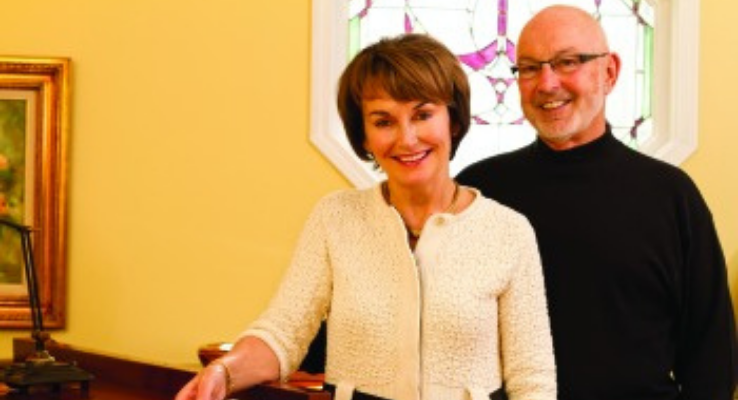 In 2011, the late Lottie Austin and her husband Dr. George Evelyn were the Co-Chairs for Music in the Making, a campaign for the University of Lethbridge Music Conservatory.
The Music in the Making campaign was a way for the couple to show thanks for the opportunities they've had by encouraging others to support something they love — music. Thanks to Lottie and George's efforts to rally supporters of the arts and of the University, the campaign surpassed its fundraising goal of $500,000.
At the time, Evelyn said, "Music in the Making will help provide the support necessary for the Conservatory to continue delivering quality programs and ensure students have access to the equipment and tools necessary to be successful."
He's excited about the opportunities presented by the new downtown location and says, "This is an important step as we continue to grow music in our community."
And it has.
The Conservatory of Music moved to the downtown core when Casa opened in May 2013. Through the Music in the Making campaign, the Conservatory purchased 25 pianos, ensemble and percussion equipment, and many new stringed instruments. By their five-year anniversary at Casa, the Conservatory's enrolments had grown by over 300 per cent. In the fall 2019, for example, the Conservatory had over 2000 regular students attending Casa each week.
The Conservatory also expanded its programming, including a new advanced music academy program for teens with a subsidized fee model to make it affordable and accessible to anyone in the community. And, an important contribution to the revitalization of the downtown core was the Conservatory's free concert series "Lunch & Listen." Between 2013-2019, the Conservatory scheduled and hosted 78 free concerts to large audiences.
Due in large part to the downtown presence, the Conservatory's community networking and collaborations increased exponentially, allowing for joint programming, workshops and group classes with the Opokaa'sin Early Intervention Society, the Allied Arts Council, Housing First, school districts in Lethbridge and area, Fine Arts Council of the ATA, the Lethbridge Symphony Association and many others.
When COVID shut down the Conservatory's in-person operations, almost all private lessons were successfully shifted online, allowing over 35 of the Conservatory's contracted music instructors to continue their work and over 500 private music lessons to be taught each week.
Through the Conservatory's advanced music academy and experienced music instructors offering high quality instruction, over 530 Conservatory students have gone on to register in a U of L course between 2017 and 2020.
Abbondànza endowment provides record number of scholarships to Faculty of Fine Arts students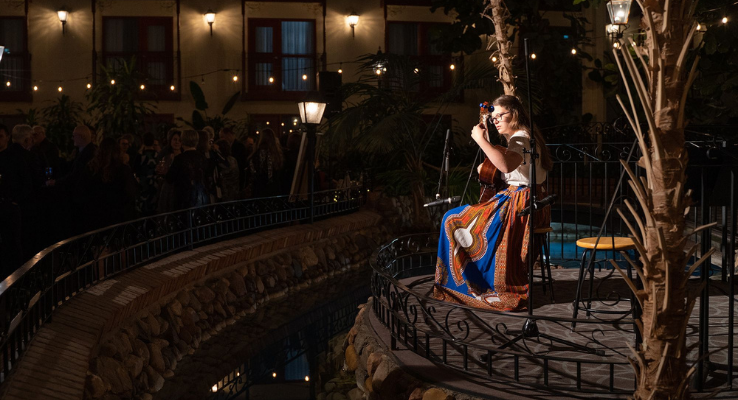 Thanks to 20 years of community support, the University of Lethbridge announced a record number of scholarships from the Abbondànza Fine Arts Scholarship Endowment for the 2020/2021 academic year. This fall, an astounding 30 scholarships were provided to Fine Arts students studying art, drama, music, new media and multidisciplinary programs.
In 2019, the growing endowment reached over $1.6 million, allowing the opportunity to rewrite terms of reference for award distribution and creating new award categories. The endowment, which originally supported financial awards for senior Fine Arts students only, now provides scholarships to entrance, continuing, senior and graduate-level students.
With over 19 fundraising events, the support of 78 sponsors and nearly two decades of community supports, Abbondànza raised $1,754,532 in endowment funds and 155 scholarships were awarded.
Anna Nikolova, who graduated with her MFA in new media in 2021, is one of the Abbondànza scholarship recipients.
"As an international student from a low-income, single-parent family, an education in a prestigious Canadian university such as the University of Lethbridge would not have been possible without financial support," says Anna Nikolova, a new media graduate student. "The Abbondànza scholarship made it possible for me to cover my housing expenses for the upcoming semester and afford additional technology to successfully continue my new media projects, the most important being my MFA thesis."
Looking to the future, the Faculty of Fine Arts has introduced the Fine Arts Experiential Student Success Fund to encourage students to participate in professional and research opportunities. Supporting the growth of this new fund ensures the longevity of internship and residency programs, such as the Medalta Ceramics residency, and internships with Vertigo Theatre and the Whyte Museum of the Canadian Rockies, and will allow the Faculty to expand in new directions to benefit more students.
---
SHINE: The Campaign for the University of Lethbridge launched in 2018 with two main goals: to significantly increase engagement opportunities for alumni and community members and to raise $100 million to propel the entire region forward. Thanks to your support, we have surpassed these goals. More than 20,000 alumni are now actively engaged with the University and, thanks to the incredible generosity of 11,000 donors who made 33,000 gifts, we have raised more than $103 million.
Thank you for joining us to take bold steps toward a brighter future together.