Small in stature but mighty big in heart is how many may describe the office manager of the School of Graduate Studies, Kathy Schrage. After 26 years of dedicated service to the U of L, Kathy is retiring at the end of February. Leaving the place that has played a large role in her life is bittersweet, but for this new grandmother and long-time supporter of the University, she says it's simply the next chapter in her life.
"I first started at the University in 1991 in a three-month contract position in the President's office. Later I moved into the Vice-President's office to a full-time in a permanent position which led to the opportunity to support the new Master of Arts and Master of Science programs that had been approved to begin in 1992. At the time, the Faculty of Education was the only other Faculty that had a graduate program.
"It was such an exciting time to be a part of the University. We had these amazing opportunities to begin to offer to students from all over the globe. The programs have grown and expanded and getting to play a part, even if it's a small one, in the success of students is just a wonderful honour. That's really why we're all here, to serve students and help them along in their journey to a bright and brilliant future.
"I've been very lucky in my career path. I've basically grown with the School of Graduate Studies. I started out providing administrative support at the front desk to now being the Manager of the School of Graduate Studies. I am so fortunate to work with a wonderful team of colleagues, and that's what makes retiring a little bittersweet for me. It's the comradery, the people and the connections that I have made that have made this a great place to work over the last 26 years.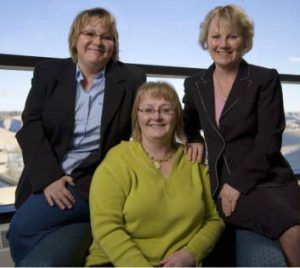 "My sisters, Donna Court and Marion Eastman, are also staff members on campus which makes the University a real family affair for us. Giving back to the University has been something we really believe in as a family. Over the years, my family have tried to give back in small ways for example sometimes driving for Operation Red Nose, serving the antibullying and harassment committee, on some occasions walking for Relay for Life with the University team, and setting up a scholarship in honour of our parents.
"The Gordon and Elizabeth Merrick Scholarship was launched after our mother passed away from cancer in 2005. The award is given to students who help those who are living with cancer. I was lucky enough to be in the crowd at a donor gala one evening when a student was speaking to her experience at the U of L. The student happened to be the recipient of our parent's scholarship that year, which she spoke so eloquently about, and how important the scholarship was to her. You could have pushed me over with a feather when I heard the student mention our parent's names. It made us feel like we really are making some difference for some students.
"Some of the fondest memories of my life are ones I've made at the University and the people I've made them with are so special to me. I know I'll be a bit misty eyed when I walk out of my office for the last time, but it won't be the last time I'll see my friends and colleagues here, I can be sure of that. I am looking forward to spending time with my friends and family, especially my brand-new granddaughter, Avelyn, and my soon-to-be-born grandson. I've been blessed the whole way around in my life and I can honestly say, I've gained far more than I've given."