Providing an exceptional student experience is integral to post-secondary education institutions. While many work towards ensuring this experience in the classroom or lab, there's a number of people in our University community who start working on this experience way before a student steps foot on campus. Alumnus and marketing technical analyst in Enrolment Services, Marcel Jepson (BFA '13), is one of those people.
"Growing up, my mom worked in marketing and helped businesses create logos, brochures and other materials so I used to sit alongside her while she worked at home. We had an Apple Mac computer she'd work with so I've been lucky to have the resources to develop an interest in technology and creating digital spaces.
"I started out using Kid Pix which was this old program on Mac computers in the 1990s. I'd just create websites to play-around with and eventually I got to the point where I wanted to learn more about what else you could do.
"I moved to Lethbridge from Calgary to attend Lethbridge College's Multimedia program and that's where my post-secondary experience started. In our final year of study, Erin Kennett (BFA '07), U of L admissions and portfolio advisor, came to our class to talk about what programs may be of interest to us. After graduating from the College, I enrolled in a BFA of New Media and went on to graduate in 2013.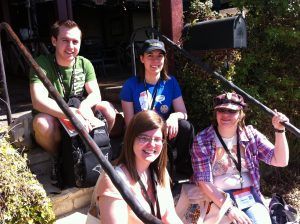 "The highlight of my time as a uLethbridge student was attending the South X Southwest Conference in Austin, Texas. Leanne Elias (BFA '95, MEd '03) organized a group of students to attend the conference and I was just electrified by the possibility of the future after attending. I had never really thought about post-secondary as a career option until I attended that conference. There's just so much to learn and know out there, what better place to work than an institution that is at the forefront of all of that!
"I've always loved keeping up with what's current and trending. Researching what the next big social media tool will be or looking at what content students are engaging with and why. There are so many apps and tools out there to help us communicate more effectively as a society and it's exciting to see how they can be applied to our audiences.
"When I get to see how a marketing strategy or simple social media campaign has been implemented from start to finish, it's incredibly satisfying. I think NSO and Convocation are great examples of this. You get to start that connection and communication on a platform like Facebook with a prospective student and then you get to see them at Open House and then they've enrolled and now they're at NSO! Pretty soon they're crossing the stage! Seeing how the work you do, day-in and day-out, has helped to create a brighter future for someone, just feels really good."