As a liberal education institution, it's not uncommon to come across students who excel in both the arts and the sciences. Never has a truer example emerged than fourth-year Biochemistry major, Elijah 'Eli' Dueck. As he prepares to cross the stage this June, Eli is also readying himself to start his master's program in the fall.
"I've always been drawn to beauty and I try to seek it out in everything I experience. Whether that be the fortuitous flow of well-worded prose or the struggle to peddle my mountain bike up the steep crest of the coulees. I'm especially engaged with expressionism art and poetry. I've been working at memorizing Samuel Taylor Coleridge's poem, "The Rime of the Ancient Mariner" for the past few years. I was finally able to accomplish that challenge recently.
"I feel as though going to university to study art was almost a given for me, but when I was in high school, I had my first real connection to what could be possible with a future in the sciences. It was during Brain Awareness Week that I had the opportunity to participate in a few of the activities on campus. There were several factors that ultimately led me to view science as a career, among them was my continued exposure to calculus throughout grade 12 as well as my learning about the mechanisms of DNA replication.
"Toward the end of high school, I was fortunate enough to be awarded with a Heritage Youth Researcher Summer (HYRS) scholarship prior to enrolling at the U of L where I got to work with Dr. Bryan Kolb and his team. The experience working in neuroscience moved me to switch to biochemistry in my university studies and increased my interest in studying life at the molecular level instead of the holistic scope of neuroscience.
"In my first year at the University, I secured a position on Dr. Ute Kothe's research team. Director of Cooperative Education, Diana Young, was instrumental in facilitating my position with Dr. Kothe. Diana was able to get me in front of Dr. Kothe where I met with her and convinced her to fill out the NSERC forms for my first summer grant. I'm so grateful she did, as I'll now be continuing my studies with Dr. Kothe and her team in my master's program in the fall. The experience of getting to work with world-class researchers as a first-year undergraduate student is truly staggering.
"I think one of the reasons I am able to push and continue with my academic ventures in science is because I get to have the creative release of my arts and philosophy classes. I can just leave everything behind in the lab and focus on putting my imagination down on a canvas or in an essay. I especially prize finding interdisciplinary connections between the things I learn, whether they be from poetry, art, literature or any of my various GLER courses.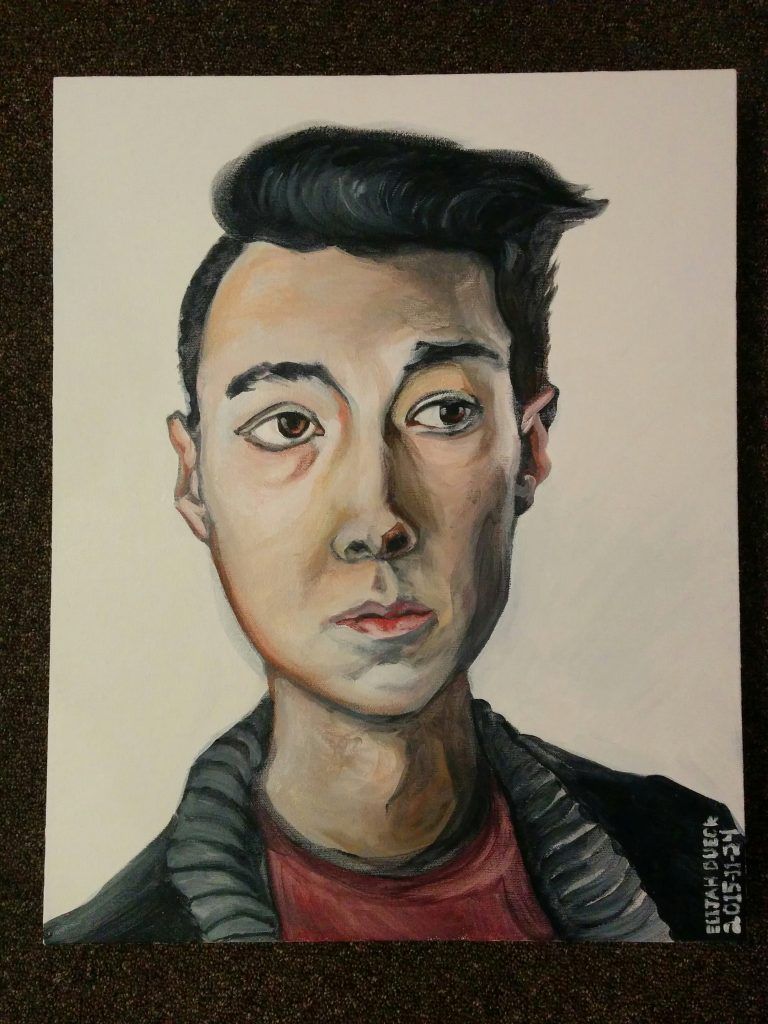 A self-portrait by Eli Dueck.
"The University has been a constant, woven theme throughout my life. My parents Candace and Randy Dueck (BMgt '92), have had careers at the U of L, so some of my earliest memories are from spending time on the campus. When you combine the family ties with the liberal arts opportunities and outstanding research possibilities, the U of L felt like it was custom made for me."