Providing access to exceptional post-secondary education experiences for Indigenous learners has long been a core commitment of both the University of Lethbridge and Lethbridge College. This summer, the two institutions hosted 25 Indigenous youth aged 16-20 with the Outland Youth Employment Program (OYEP). This unique six-week program gives Indigenous youth the opportunity to earn work experience and explore career options primarily in the natural resources sector, with an introduction to what post-secondary institutions have to offer.
OYEP originated in Ontario over two decades ago. Currently, seven camps are being run across Canada with 208 youth participating representing over 100 First Nations, says Paige Hopper (BHSc '21), OYEP's Alberta South supervisor. This is the first time for an Alberta South group from Treaty 7, which allowed one week on the post-secondary campuses to tour and learn about programs and courses that may align with their interests. As an alumna of ULethbridge, Paige says having an OYEP camp in this area was ideal.
"When I heard that we were coming to Lethbridge… it was just such a beautiful connection, especially knowing how connected the University and the College are with Indigenous culture and just being able to have the youth get excited about different options for them," says Paige. "We're super excited to be here and to work with the Piikani Nation. We've been working with some of their Elders, and it's been fantastic."
Deserae Yellow Horn (BASc '17) is the Iniskim Indigenous Relations EleV Education Navigator (Piikani Nation) for the Iksisstowapi Kanakkaatsi (Going All Out Society), which builds community connections within the Blackfoot Confederacy.  She says it's important for Indigenous youth to know what opportunities are available for them in the future. For many, the pathways to post-secondary education and career possibilities are not always clear.
"When I was 16 to 19, I had no idea about many of the programs that were available to myself, as well as scholarships and internships that are available," says Deserae.
"We want to make sure that students know that they have all these opportunities worldwide, whether in the trades, or pursuing a degree or diploma, and there isn't just specifically one path for them. These opportunities are waiting for them, so they don't feel that they must stay at home or that they're roped into staying on the reservation."
Immersed in post-secondary exploration
Following introductory presentations last Monday, OYEP Alberta South participants toured the ULethbridge campus and took part in a variety of activities, including an active round of double ball.
Double ball is a traditional sport played among First Nations in North America, similar to lacrosse. It is played with long sticks and two balls stitched together. The object of the game is to loop the balls onto the stick and pass between players until it is sent through the opposing team's goal post. Led by Siksiikakoan (Blackfootman), Shane McDougall, who is working with Agility, the participants were taught the rules of the game and played an energetic game.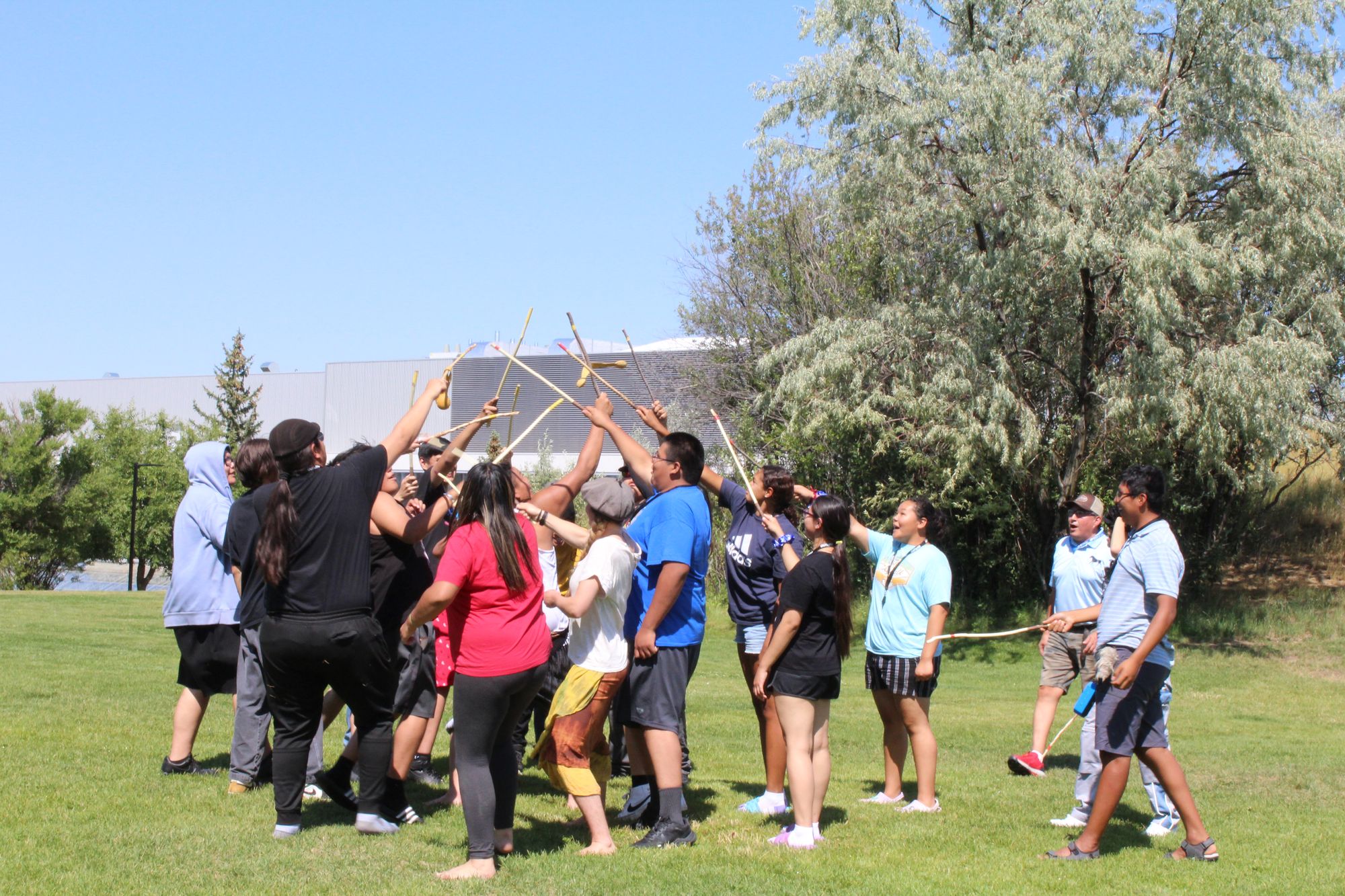 On Wednesday, OYEP participants experienced a presentation and tour of Lethbridge Police Services, before coming back to campus to learn more about the Faculty of Health Sciences, Dhillon School of Business and Indigenous Governance and Business Management programs, as well as the Indigenous Student Success Certificate. They also went on a tour of the ULethbridge Art Gallery, learning about the current exhibitions — Recent Acquisitions in the Hess Gallery and The Shape a Name Takes in the Christou Gallery. Students were able to view several Indigenous artworks currently in the ULethbridge collection.
On Tuesday and Thursday, OYEP students spent their days at Lethbridge College, learning more about the trades programs, traditional medicine plants in the coulees, and several programs in criminal justice and environmental science.
On Friday, the students took part in a Mootookakio'ssin 3D digitizing workshop led by Christine Clark, assistant professor, Department of New Media, and Dr. Josephine Mills, director/curator of the ULethbridge Art Gallery. Each one crafted their own unique sculpture from clay, wire, or any variety of art materials. Then, they learned how to create a digital 3D image of their sculpture, similar to how Mootookakio'ssin has been working with museums to digitize Indigenous artifacts.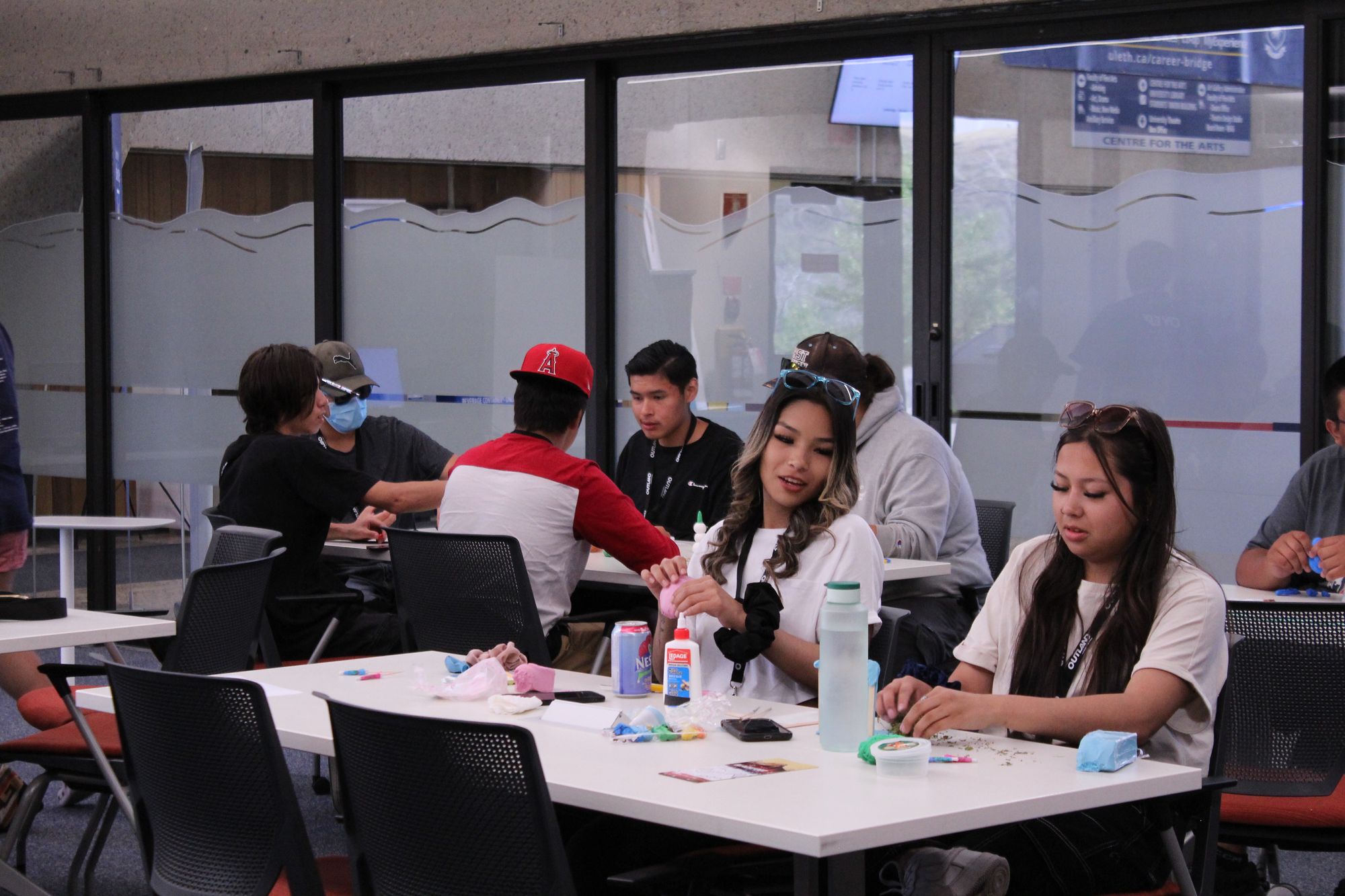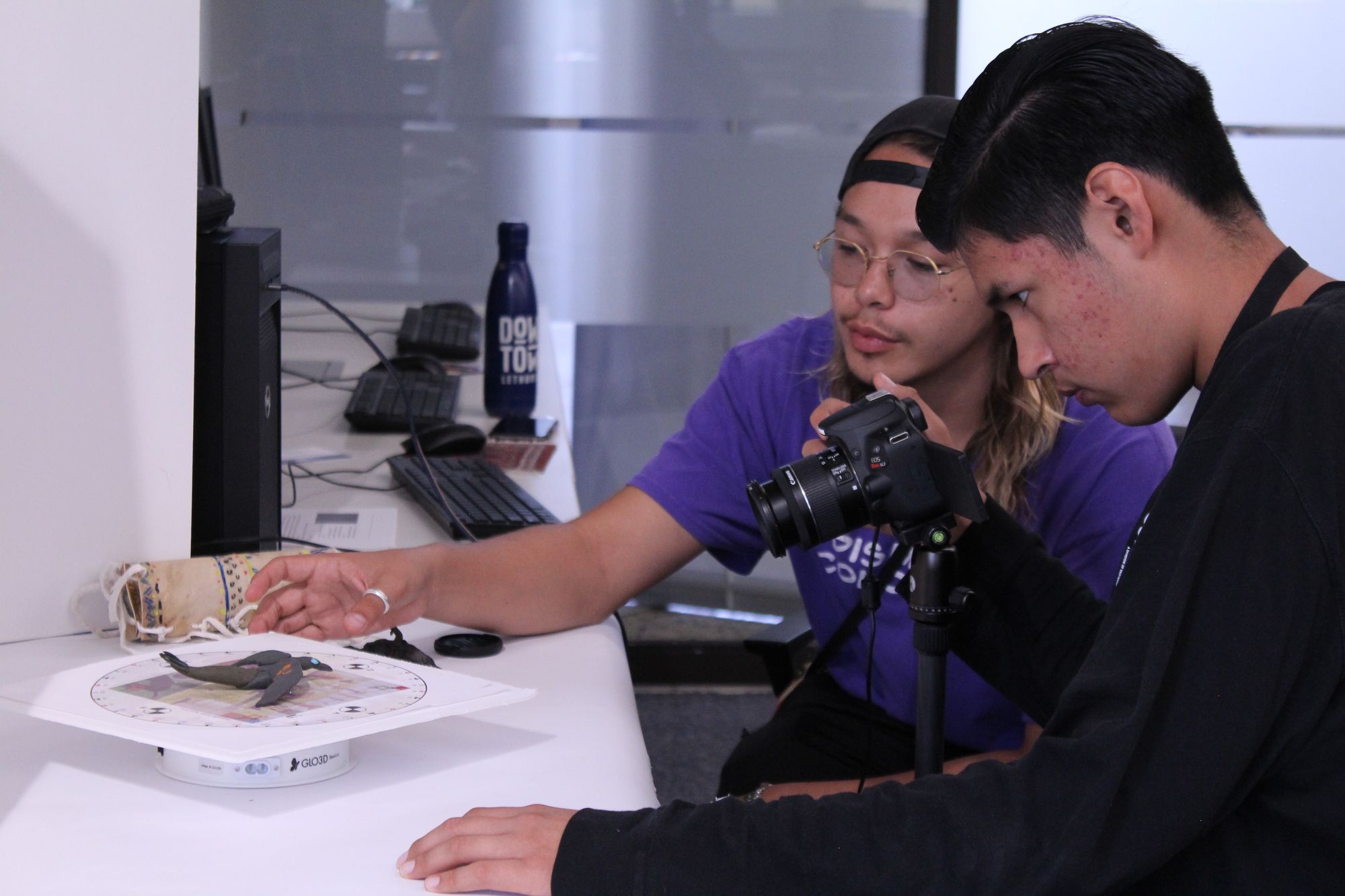 Connecting to Indigenous culture
These opportunites through OYEP have also brought the youth closer to their Indigenous culture. "Depending on the program that you go into, you get an almost completely different idea of what your life has been like up until this point," says Deserae. For example, the Indigenous Governance and Business Management program provides a greater understanding of the importance and impact of Indigenous voices over time.
"A lot of people don't really think about the Indigenous voice from 40 years ago, but what they don't realize is that many of the Indigenous voices—for example, Dr. Leroy Little Bear ((BASc (BA) '72, DASc '04) and how his voice has impacted ULethbridge's programming to this day—have made a profound difference."
Deserae noted how ULethbridge has made Indigenous student services and Indigenous-focused programming available and a priority, along with Indigenous-led career paths. "None of that would have been possible without those small steps that we took 40-50 years ago," says Deserae. "They're not exactly small steps… they're massive steps to lead us to where we are today. A lot of these programs will help those Indigenous students to see the impact that their own individual voices and their voices together have."
Paige Hopper, the OYEP Alberta South supervisor, says it has been a valuable learning opportunity for the participants as well as herself.
"It has been such an incredible experience seeing how connected these youth are with one another and how much they truly want to see each other succeed," says Paige. "Some of these students have never been away from home. It's a big ask for them to come with us for six weeks and to learn and grow with us through that process. It's a really unique opportunity and I'm so honoured to be part of it."
---
😎
Get more than a degree at
ULethbridge
:
- Paid work terms
- Hands-on career & research experience
- International study
- Awards, scholarships and a range of student support
Learn how!