What's in a name? Besides being the primary identification for people and their intellectual properties, names also hold meaning, history, kinship and, in Inuit communities, names are linked with a person's soul. As the latest exhibition in the University of Lethbridge Art Gallery's Helen Christou Gallery shows, names can come in many forms and shapes.
"Our names are a large part of being Inuk," says Ooleepeeka Eegeesiak (BA '19), curatorial assistant for the Art Gallery and curator of the exhibit, titled The Shape A Name Takes.
"An Inuk can have multiple names they are known by that are not on their birth certificate. An atiq, or name, and souls are interlinked. Sauniq, or namesake, is one central concept and practice. When a child is named after someone, they become that person. Family members that have passed and the next generations are connected in this way. These identities are woven into community and kinship."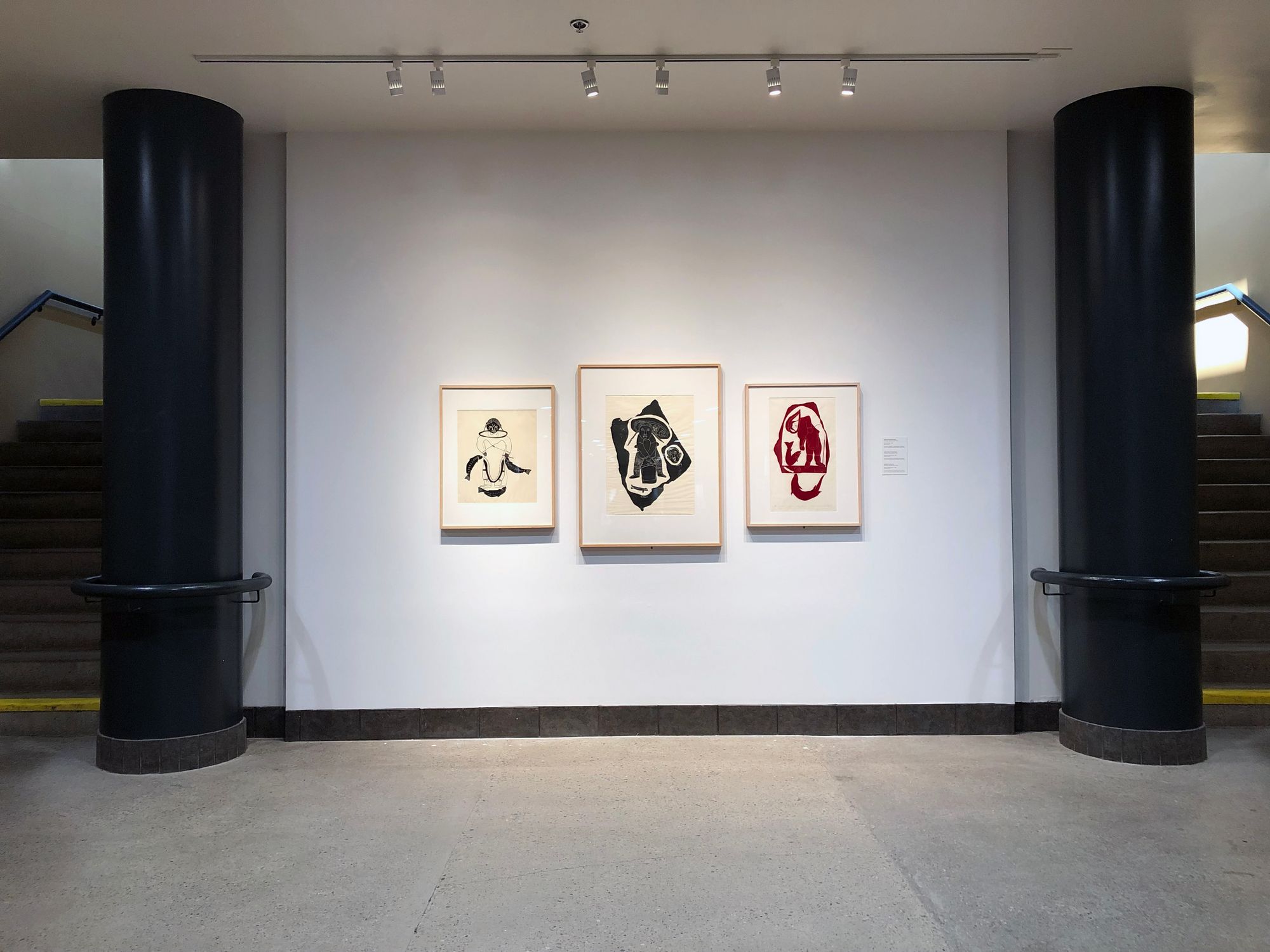 The importance of names fueled Ooleepeeka's desire to identify the 124 anonymous Inuit artworks in the ULethbridge art collection for the exhibit. Unknown artworks are relatively common in collections and are not unique to Inuit artworks, according to Ooleepeeka.
"There are various reasons why the artwork is unidentified—donors may not have provided or known the name of the artist, a miscommunication may have occurred prior to a donation to the collection or the names signed on the artworks are not yet translated and recorded."
As Ooleepeeka made her way through the collection, she was able to attribute 38 artworks, affirming artists' identities and creating a groundbreaking exhibition based on her research.
"Finding out that there were unknown artists really motivated me to look for their names, as the artists could then be recognized, their communities would be known, and their context could be shared," Ooleepeeka says. "I could see how the process was connected to the importance of Inuit names and naming, and that was really impactful to me."
She identified the works through names signed in syllabics on the artwork and through disc numbers. Syllabics, called qaniujaaqpait, is the system used to write Inuktitut, which was an oral language prior to colonization. Disc numbers were individual numbers exclusively assigned to Inuit from the 1940s to the 1970s by the Canadian government, the justification being that non-Inuit administrators had difficulty pronouncing Inuit names. Each Inuk was required to keep the disc on their person, as they were needed daily to make purchases and trades or use any of the Canadian legal, health care and education systems.
Ooleepeeka says the system, which was imposed on Inuit without their consent, was a broad attempt at total colonial control and eroded Inuit traditional naming practices.
"As an Inuk who has lived in Treaty 7, or southern Alberta, for much of my life, tracing these names was a special experience," Ooleepeeka adds.
"Growing up, my dad would mention his disc number, but I didn't quite understand what that meant until I got a bit older. There was always a syllabics chart on the wall in our house, and while I don't speak the language, whenever relatives would call, I would listen to Inuktitut being spoken and wish I could communicate in that way."
Ooleepeeka says an alternative title for the show was "rock bottom", as she had to flip over the Inuit sculptures and carvings to physically check for identification markings. There are several significant and interesting pieces in the exhibit that Ooleepeeka highlights.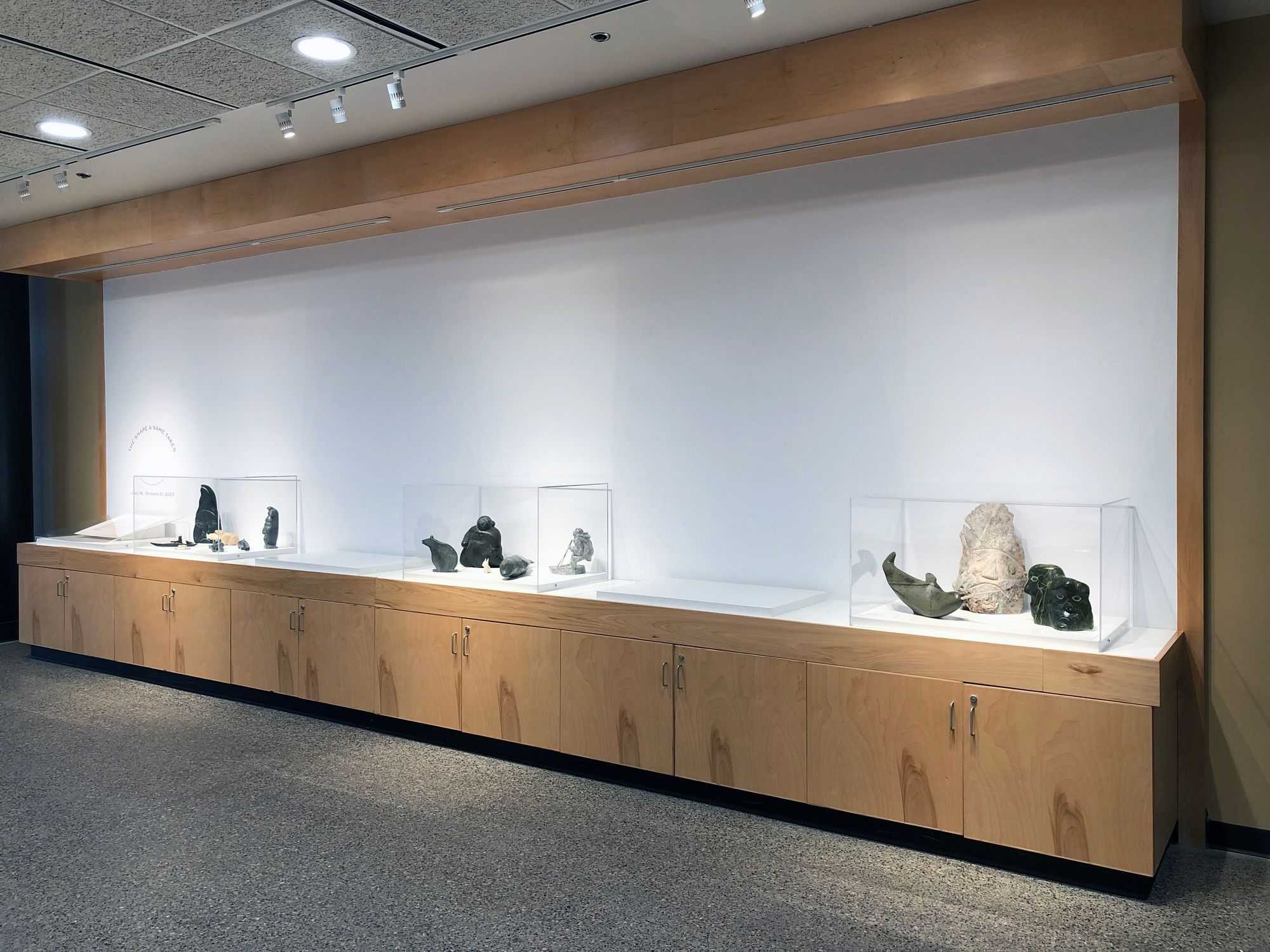 "My personal favourites are Bear by Andy Miki, because I loved learning about his distinctive carving style; and the print Scraping Fat from Skin by Alasi Audla Tullaugak, because of the beautiful tunniit on the floating orb head. Also, definitely check out Pauloosee Audlakiak's Tunirq (Face), which is a whale bone carving, something people don't often get to see in the prairies and has an interesting texture."
The Shape A Name Takes is in the Helen Christou Gallery satellite space until October 21, 2023. The exhibition is free to all and the public are welcome to come and view from 8 a.m. to 10 p.m. daily on the 9th floor below the University Library.
---
🎨
Experience more with the Faculty of Fine Arts
:
• Awards, scholarships & student supports
• Productions, exhibitions, concerts & more
• Applied studies, internships & a range of work experience
• Enhanced education opportunities locally, nationally and abroad
Get involved!