Aaron Stout hiking in the expanse of our beautiful southern Alberta coulees with his sons, Cooper and Dixon. Aaron graduated with his M.A. in Education degree June 2020. His thesis investigated the purpose and practice of history education and further explored, "Can a humanist approach to teaching history facilitate citizenship education?"
In addition to being an instructor with the Faculty of Education whose expertise is Social Studies, Aaron spearheads the Wellness Initiative alongside Dr. Danny Balderson.
With the move to online delivery of our Fall 2020 semester, we still want our Faculty of Education students to be aware that wellness is a key component of our program.
What will Wellness look like integrated into the Fall 2020 semester? In prioritizing wellness each PS I course will include a wellness statement. We will be conducting a social media initiative that will ask students to share how they are prioritizing wellness. These pictures will be posted to Twitter and/or Instagram. We have community partners who will recognize one or two individuals each week. The goal in PS I is to have students focus on their own wellness throughout the semester. We are so happy to have local businesses supporting this initiative. It will be our pleasure to highlight their involvement each week.
On a personal level, can you describe the activity that contributes to your sense of wellness? I thought that going to the gym was one of the best routines that connected you with people. The closure of many of these meeting spaces is necessary given the pandemic that we are living through. Therefore, my fitness routines needed to shift. The coulees of Lethbridge (and my treadmill at home) became a great way to turn off the consistent 'to do' list and allowed me space and time to breath. Fresh air and isolation can be found in a jog through the coulees or a neighbourhood stroll with the dog. Online fitness classes help me to maintain my strength training while running helps maintain my mental health.
What benefit do you receive from this activity? I find that getting outside helps my frame of mind. Whether that be in the backyard, watching my boys bicycle up and down the street, or into the nearby paths, the outdoors allows me to see beyond the computer screen or the news reports. It allows me to enjoy space and family. Activity allows me to appreciate how I can engage my mind, body, and surroundings. It becomes a time of solitude and thought.
Before the state of physical distancing and self-isolation, boxing was a form of wellness for you. Do you have a different activity that you are now focusing on?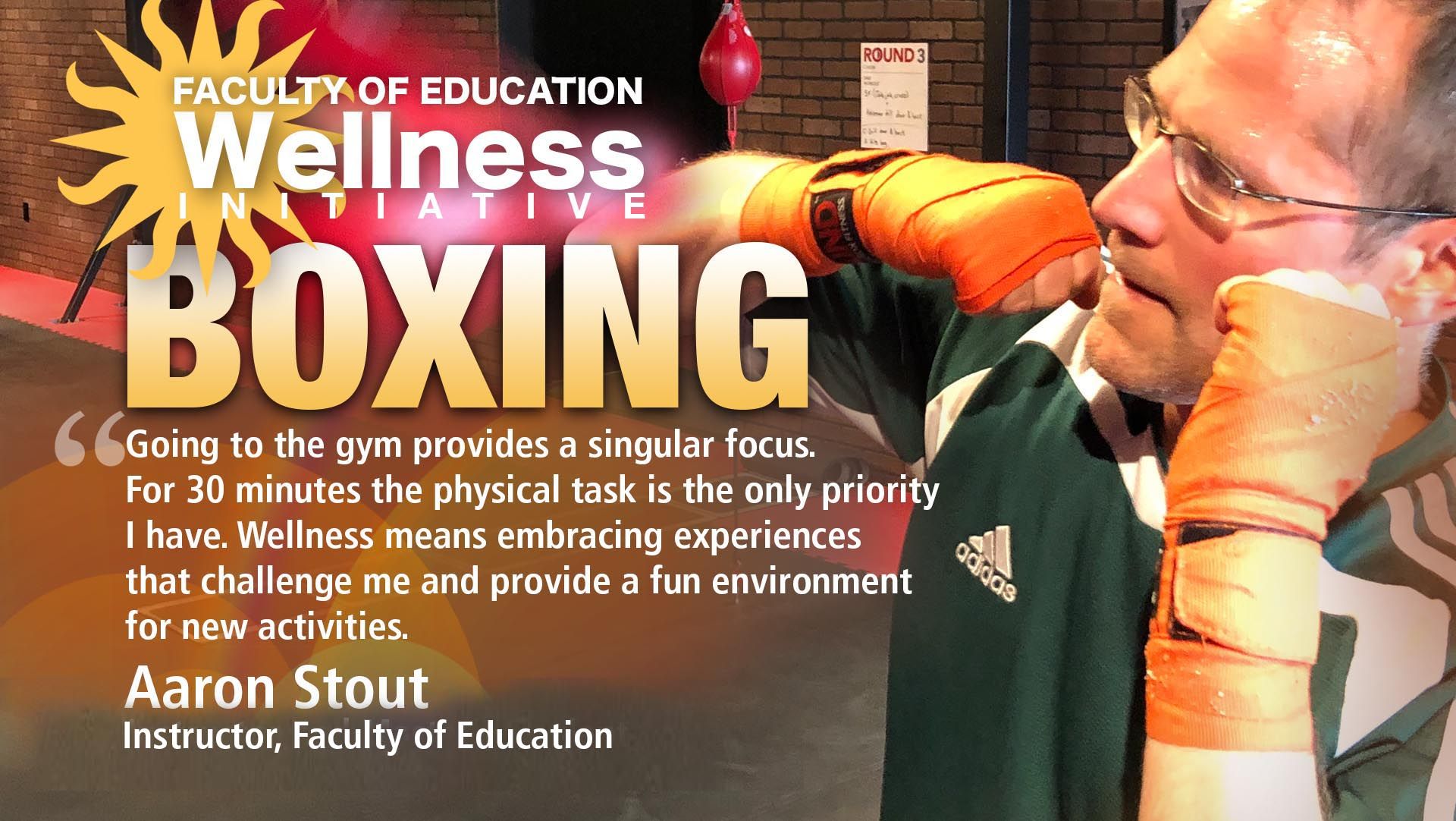 I used to attend a couple of gyms and sought to connect with others in a fitness environment. Needless to say, the relational connection has been replaced with a desire to take a break from visual stimulation. Getting out and running outside is a way of renewing my relationships with others and the work that I do.
________________
Related story links to the Faculty of Education Wellness Initiative series:
• The Faculty of Education WELLNESS INITIATIVE: Supporting a Focus on Health and Well-Being
• Wellness is About Writing: Teri Hartman (BA/BEd '02, current MEd student)
• Wellness is Spending Time Outdoors: Dana Visser
• Wellness is Stillness: Jane O'Dea (dean emerita)
• Wellness is Coping with Stress Through Art and Music: Jenn Pellerin
• Wellness During the COVID-19 Experience, PSII, and Staying Connected: Kelsey Shoults
• Wellness is Being in the Moment: Kenneth Oppel
• Wellness is About Having a Consistent Routine: Alex Funk (BEd '17)
• Wellness is Spiritual: David Slomp
• Wellness is Ranching: Danny Balderson
• Coping with COVID-19: Harnessing our Natural Stress Response
• Coping with COVID-19: Loneliness
Photograph courtesy of Aaron Stout
____________
For more information please contact:

Darcy Tamayose
Communications Officer
Dean's Office • Faculty of Education
University of Lethbridge
darcy.tamayose@uleth.ca
Learn more about the Faculty of Education: Legacy Magazine (2008-2019)
Twitter: @ULethbridgeEdu Website: uleth.ca/education
BecomeaTeacher.ca | BecomeaTeacherAssociate.ca | EdGradStudies.ca