The Faculty of Education Twitter feed has always been pretty active as a frontline information system and professional development hub for the teacher demographic. Now during the pandemic—more than ever. Throughout the transition from school classroom setting to at-home learning, Twitter has been aflutter. Teacher ideas are being shared and parent engagement is evident. A recent tweet from Kari Tanaka of the University of Lethbridge Bookstore expressed how captivated her 11-year-old was with Kenneth Oppel's new book, Bloom—in fact, mother and daughter had stayed up reading cliffhanger upon cliffhanger until 1:00 A.M. One tweet led to another, one follow to another, then to the discovery of Oppel's online read alouds offered to "teachers, educators and students". This Twitter trail culminated in a gracious agreement from the award-winning children's book author to participate in the Faculty of Education Wellness Initiative.
Why was it important for you to read and share with "teachers, educators, and students" on Twitter at this time?
Once schools closed, I started getting requests from teachers who had been in the middle of studying one of my novels in class. They wanted to know if they could continue online, with the teacher reading chapters aloud. Naturally I said yes. But it also occurred to me that I could do my own read alouds, and make them available to everyone -- not just for scholastic purposes, but for bored kids and parents to enjoy at home. Everyone loves being read to, and being told a story.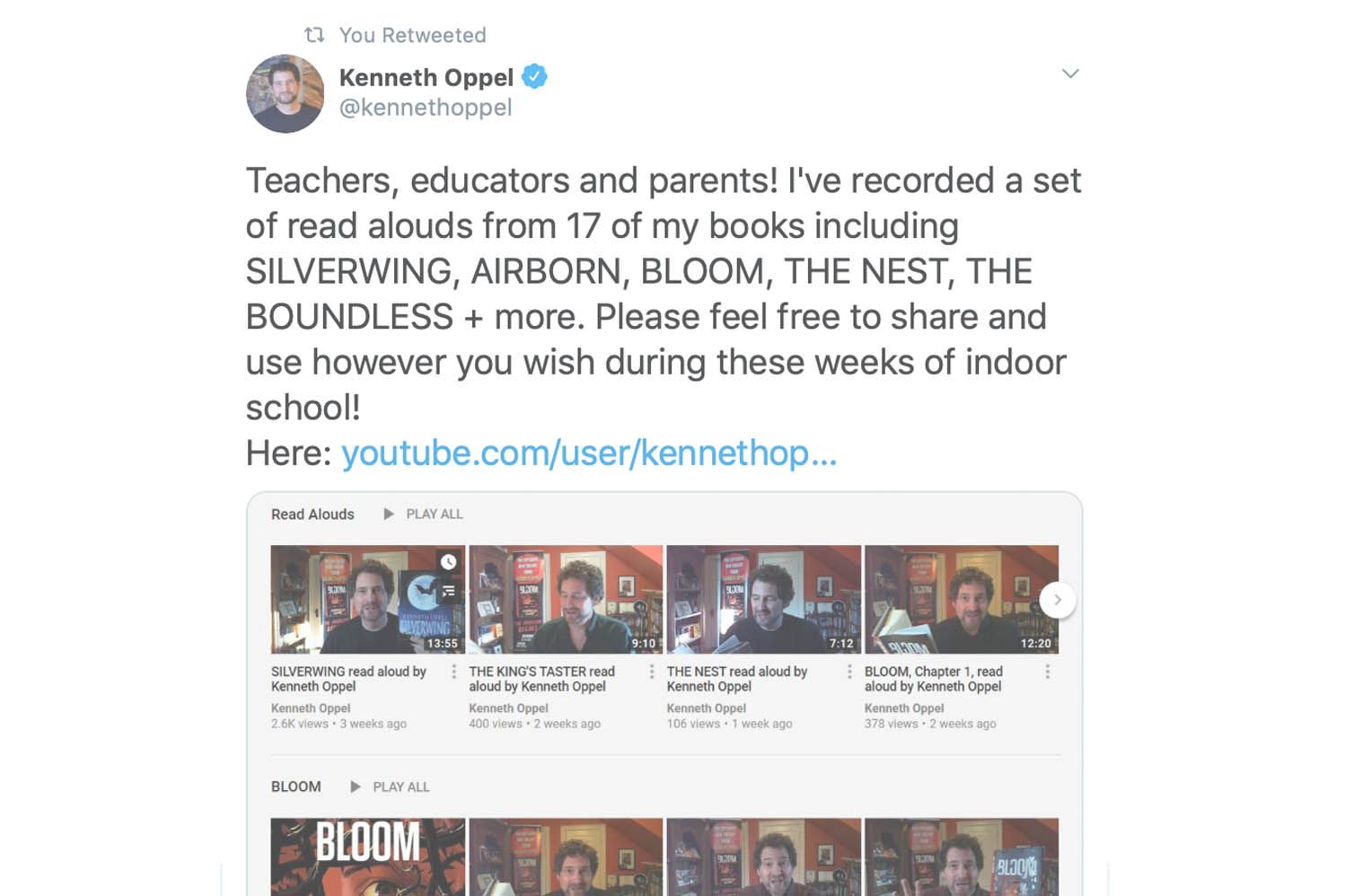 Does writing give you a sense of wellness?
Tricky question for a lifelong professional writer! It's also my career and livelihood, so it's often fraught with anxiety and frustration. But I do know that if I didn't write, a huge part of me would feel unfulfilled and restless. And I also know that when the writing is going well, and I'm excited about the way a story is developing in my mind,  it's incredibly fulfilling.
Did you read a lot as a child?
Yes, but I also watched a fair amount of TV. I loved movies, I played video games, and the role-playing game Dungeons & Dragons. What they all shared was story. And they made me feel that I was a part of that story, and even had an active part to play. So I grew up loving stories, and wanting to tell my own.
...my high school English teacher Grenfell Featherstone taught with an infectious passion.
Is there a teacher that you can remember in relation to books, reading, and writing?
Yes, my high school English teacher Grenfell Featherstone (whose name alone is incredibly literary) and he taught with an infectious passion. He was also kind enough to read and comment on some of my earlier writing, and take me seriously, and help me see that writing could be a possible career.
Can you define a wellness activity that you enjoy?
I'm terrible at "official" wellness activities! I took a wonderful mindfulness course several years ago -- and it was very helpful --  and made the exercises a daily part of my life for several months before lapsing, partially out of busyness, but mostly just plain laziness! Nowadays my approach to  wellness is trying to enjoy whatever it is I'm doing at that moment, and not feel like I should be doing something else. Writing. Reading. Drinking a coffee. Taking a little walk in the garden. Taking a walk in my neighbourhood. Having a lively dinner with my family.
I feel like there is an abundance of events in my daily life that offer me a sense of wellness -- I just have to be smart enough to let myself recognize and enjoy them!
How does your form of wellness benefit your life?
I'm a restless and dissatisfied sort by nature, and often feel there should be something else I ought to be doing, or experiencing, or achieving. So when I let myself enjoy a moment, no matter how small, I feel momentarily freed from these thoughts and impulses.
Before the state of physical distancing and self-isolation, did you have a different activity that you enjoyed?
I'd gotten pretty good at going to my local gym three or four times a week, and I miss doing that. Mostly I miss seeing my friends, going to the theatre, having a coffee or a drink out. Luckily my whole family is under one roof, so the five of us do a pretty good job entertaining each other.
Link to Kenneth Oppel's readings: youtube.com/user/kennethoppel
________________
Related story links to the Faculty of Education Wellness Initiative series:
• The Faculty of Education WELLNESS INITIATIVE: Supporting a Focus on Health and Well-Being
• Wellness is Stillness: Jane O'Dea (dean emerita)
• Wellness is Coping with Stress Through Art and Music: Jenn Pellerin
• Wellness During the COVID-19 Experience, PSII, and Staying Connected: Kelsey Shoults
• Twitter Education Community: Books are a Form of Wellness
• Wellness is About Having a Consistent Routine: Alex Funk (BEd '17)
• Wellness is Spiritual: David Slomp
• Wellness is Ranching: Danny Balderson
• Coping with COVID-19: Harnessing our Natural Stress Response
• Coping with COVID-19: Loneliness
_____________
Writer: Darcy Tamayose | Photo courtesy of Kenneth Oppel/Mark Raynes Roberts
Learn more about the Faculty of Education: Legacy Magazine (2008-2019)
Twitter: @ULethbridgeEdu Website: uleth.ca/education
BecomeaTeacher.ca | BecomeaTeacherAssociate.ca | EdGradStudies.ca