Eighteen Indigenous University of Lethbridge students embarked on an international exchange of a lifetime to Quintana Roo, Mexico, in May. For many, it was their first time travelling away. Though they travelled far, discovering cultural connections and forging new friendships brought them closer to home than ever.
About the exchange
The students were enrolled in a summer course taught by Dr. Michelle Hogue (MEd '04) — INDG 2850: Bridging Indigenous Cultures Between Canada and Mexico. The first three weeks of the course immersed students in the Mayan Indigenous culture at the Universidad Intercultural Maya de Quintana Roo (UIMQRoo). It was the first exchange of its kind for the program, funded primarily through Universities Canada's Global Skills Opportunity (GSO) program, which provides undergraduate students—particularly, underrepresented students—an opportunity to participate in international learning experiences and develop intercultural skills. Additional funding and support were provided by the Mastercard Foundation and the TD Bank, as well as the partnership between ULethbridge and UIMQRoo.
While the UIMQRoo has been sending Mayan students to ULethbridge for exchanges over the past few years, this opportunity was a first for ULethbridge students to visit Mexico.
"I really wanted ULethbridge Indigenous students to have an opportunity to go to a different country and to meet other Indigenous students who might be experiencing the same kinds of things because we often isolate our experiences to our location," says Michelle. "When we talk about residential schools and the resulting impacts and we talk about education more broadly, we tend to talk only about Canada. But I like students to be able to see that there are other experiences from around the world that can inform you and help you see the context of things."
While in Mexico, the students learned about the Mayan culture, studied Mayan and Spanish languages, and worked alongside the Mayan students, visiting their communities and travelling to important sites in the Yucatan Peninsula. Each full day began with an intercultural presentation on an aspect of Mayan culture and UIMQRoo initiatives followed by language lessons, and weekends were an opportunity to explore historical and cultural sites.
"It was a chance to truly bridge their Canadian Indigenous Culture with the Mexican Mayan Indigenous Culture and learn from each other," explains Michelle. "They developed amazing relationships. It was lovely to see them excited about education and engaging with one another. For me, that was important because I wanted them to see that connection. Their Indigenous identity is individual, of course, but it's broad and to see that Indigenous cultures exist around the world is important."
In June, the students presented their learnings in front of an audience of family, friends and peers.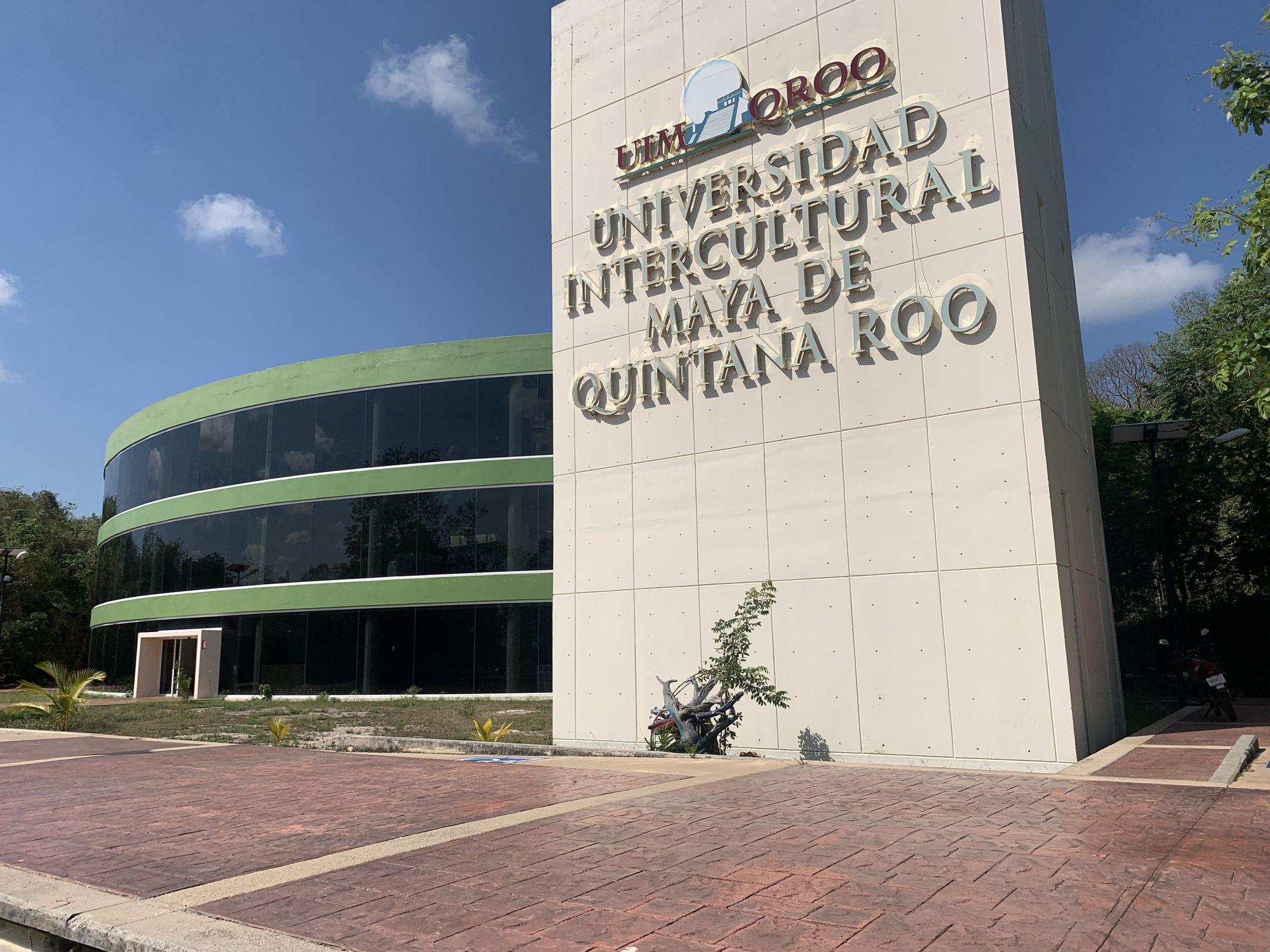 Student Perspectives
From the moment they arrived, Niihtaapookaa (Old Man River Child), Tatiana Weasel Moccasin, a third-year Indigenous Studies / Indigenous Education major, says they were greeted by warm, welcoming people. "That's one of the things that really stuck out for me," she says. "That really resembled Niitsitapi culture—especially how we greet people and we feed them, shelter them and make sure they are okay. I saw the importance of family too. The hotel we stayed at was a family-run business and the food was all homemade. Everyone participated."
Tatiana's favourite part of the trip was going to the Mayan Pyramids. "You see the history and spirituality in these places and it's beautiful. They're so connected to everything, and it was an honour to learn about that." Tatiana was also inspired by the work being done at UIMQRoo on preserving the Mayan Language and culture. "There were several different presentations on preserving the Mayan language and culture. During the three weeks we were there, we took a course on the Mayan language with one of the professors—Alejandro Tuz. I thought that was inspiring and it motivates me to learn my own language, which is Blackfoot. It was an honour to learn Mayan during the three weeks we were at UIMQRoo," says Tatiana.
She says the importance of preserving language resonated with her own Blackfoot culture, such as is the importance of utilizing Elders and their teachings. She explains, "During one of the video presentations I noticed an Elder was guiding the group on how to implement a community garden. The presenter also spoke about the importance of learning from the Elders and following their teachings." Tatiana explained the importance of learning from the Elders in the Blackfoot culture. "In the Blackfoot culture, learning from our Elders is very sacred because they have so much knowledge, so listening and following their teachings is really important."
Tatiana was also impressed by the community health program at the UIMQRoo. "I liked learning about the community health program," she says. "It was interesting to learn about their different plants, many that are used for medical purposes, touring the laboratories, and learning about the midwife program as well."
By creating a video presentation to describe her experience, Tatiana encapsulated the vivid sights, sounds and emotion surrounding the student exchange. "There's a part in my video where there's women and men and they're dancing in the square, celebrating life, and they're wearing their regalia and they have all these beautiful floral dresses on," describes Tatiana. "That really reminded me of our powwows or when we have round dances. Even though there's bad in the world, we still celebrate life and we still acknowledge the strength that our people have."
"They have really powerful ceremonies, and good food and amazing people just all around and, you know, like here, all of that was almost lost due to colonization. So, that really resonated with me—the resiliency that the Mayan people have," says Tatiana.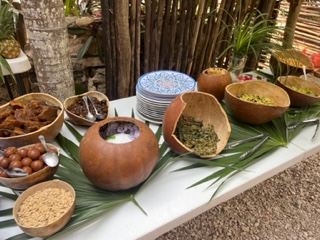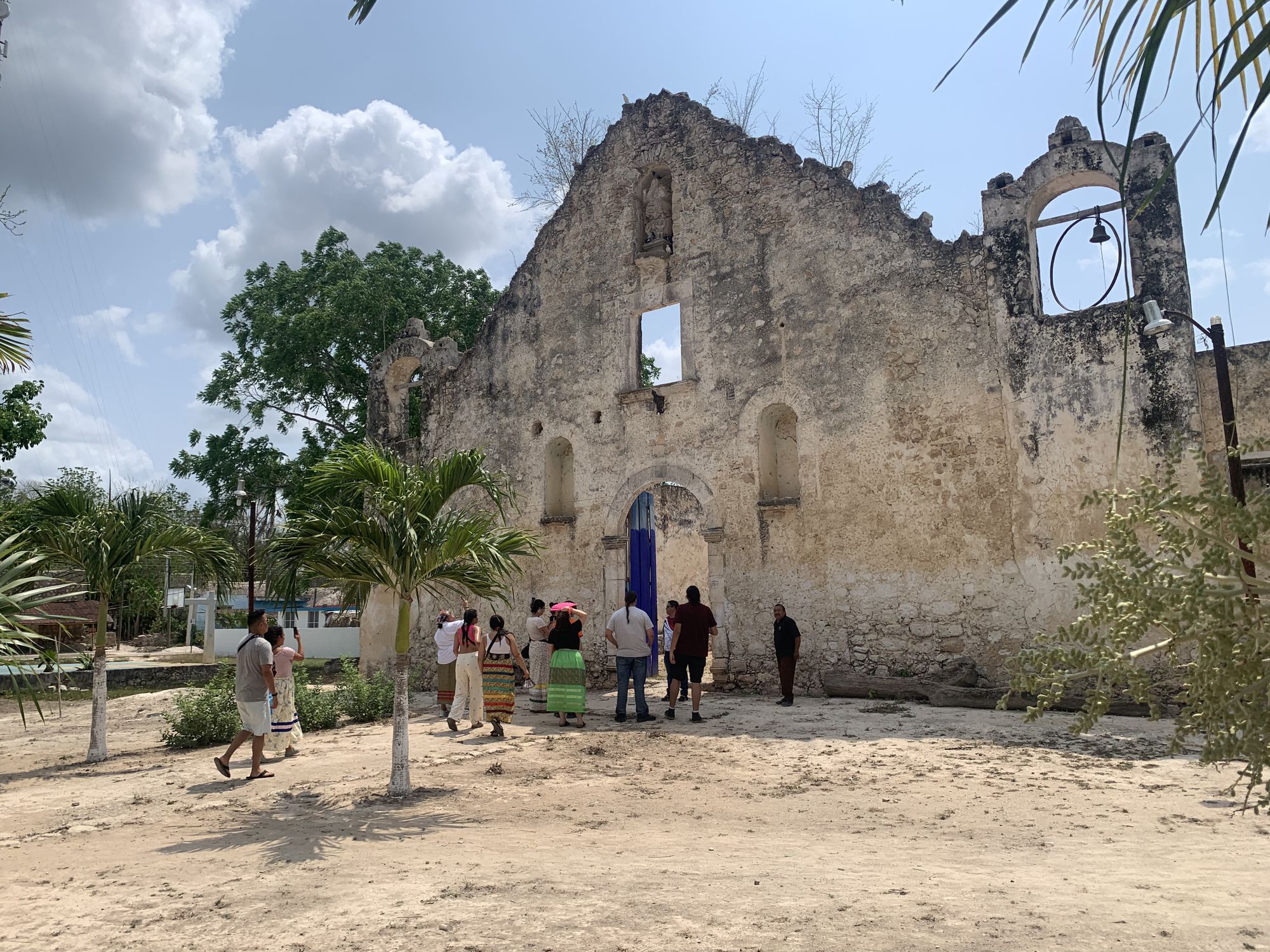 For Nolan Hundseth, a fourth-year English Education major and member of the Métis Nation of Alberta, an international exchange was something he never thought he would experience. The self-proclaimed homebody agrees what stood out most was the warm welcome they received. "I think that was my biggest takeaway and just being able to experience a new way of life even though it was only for three weeks," says Hundseth. "And being able to get closer to my own culture here and my own people, it's really beautiful."
He was also struck by the similarities between Mayan Indigenous and Canadian Indigenous cultures. "Even for me being Métis, they have a similar mixed culture there except they're called Mestizo, which is people who are a mix of Spaniard and Mayan. And that's the most dominant group in terms of numbers in the country. So that was very interesting to see."
Aspen Northwest is Cree from Maskwacis, AB, in her third year majoring in Indigenous Studies. "We really got a full authentic taste of their culture, whether that was food or celebrations, and interacting daily with locals," says Aspen.
During their exchange, the students had an opportunity to visit local tourist attractions including Chichén Itzá, one of the seven wonders of the world. They also took Mayan and Spanish language classes, which helped students practise in real situations with the QRoo students and locals. One key takeaway for Aspen was the challenge in translating one's native language into another. "It's a lot of work and it takes a lot of mental strain," says Aspen. "It made me appreciate immigrants that come to Canada to pick up English as their second language because English is one of the hardest languages to learn."
In addition, Aspen says learning the similarities between Mayan Indigenous culture and North American Indigenous cultures was interesting, from sacred foods to religion and history. "It was really nice seeing the similarities and how much they care for Mother Nature, and how they integrate that into everything that they do, kind of how in Canada, we do the exact same thing."
"At the end of the day, we're a lot more similar than we think even though hundreds of years ago we would have never interacted," says Aspen. "We found the ability to learn from each other, both culturally and socially. We found that we had a lot of similarities. Which was nice."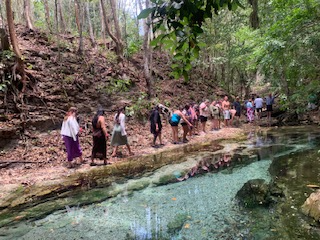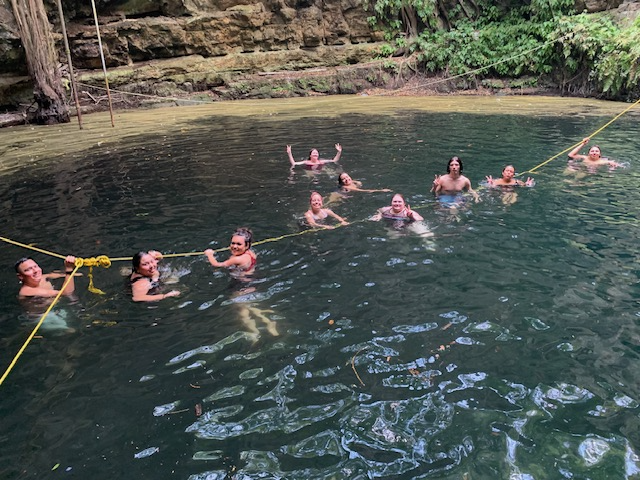 A chance to grow
During their presentations, many students shared their gratitude over the opportunity for this life-changing experience. This unique exchange showed them a different part of the world and allowed them to discover a new Indigenous culture while developing long-lasting friendships.
"It's a wonderful opportunity in general, as far as being a student and being able to do something like that because it is a lifelong experience," says Aspen. "It is very rare even for Indigenous people, as a lot of us don't tend to get off the reservation. It's really a different experience being able to travel, especially with people from your culture and in a big group."
Michelle says she hopes to arrange another exchange in two years, with a chance for some of the students to return as mentors. "They have already built the connection, and I think it's really important for young people to see themselves represented in leadership roles," she says. "So, taking students who have done this before, as mentors, I think would be great."
Tatiana hopes to become one of those mentors for when they return. Like several in the group, she developed close ties with many of the hosts and language instructors in Mexico. "I'll definitely work with this program more and I hope I can go back," says Tatiana. "Thank you for this incredible experience. I'm so humbled, to have been a part of it and to go down there with such an amazing group of people."
"This experience travelling with the University was just so inspiring. It was amazing to connect with the Indigenous people down there and to really learn about their culture and become immersed in it because there are a lot of people that don't even get a chance to leave the reserve. It's a really good way to bridge cultures or connect people together that it really doesn't seem like it's that far away anymore."