Participating in research and her graduate studies supervisor's support has helped master's student Veda Hegde evolve into a strong and independent researcher at the University of Lethbridge, where she has trained a few undergraduate students in the Thakor lab and emerged as a student leader.
I want to return to India at some point and teach and inspire young minds to take up a career in science.
Meet Veda | Creative. Resourceful. Determined.
Program: Master of Science | Major: Biochemistry
Why did you choose ULethbridge?
I was very impressed with the diversity of research work at the University of Lethbridge. But the primary reason I chose ULethbridge was the timely responses, and all the help offered, given that I was an international student, demonstrating that ULethbridge cared for its students. I was extremely happy to accept a graduate position at the University of Lethbridge.
What is your research based on?
My research is based on the effects of tumour suppressor PDCD4 and its interactions with eukaryotic initiation factor 3F. I am also looking into the effect of PDCD4 and eIF3F on anti-apoptotic factors such as Bcl-xL. My primary focus is on glioblastomas and mechanisms of translation initiation. Being involved in this research is very fulfilling and helps me grow. My supervisor has helped me evolve as a strong and independent researcher, and I am very grateful for all his support and guidance.
Veda has been working very hard on a cancer biology project in my lab. She completed this project in a very short time, and we are sending a manuscript out for publication. Further, she has presented three posters so far and won the EDI Scholar WinSTEM Award of Excellence. – Dr. Nehal Thakor, Department of Chemistry & Biochemistry, nominated Veda as a Shining Student
What is your most memorable ULethbridge experience?
My most memorable moments would be attending conferences with my lab mates. We also have lab lunches with our supervisor, which is really fun. I was very happy when I won the best poster presentation for women in STEM at the Chinook Symposium in 2022. I also like the overall environment at ULethbridge, as all the faculty and other students are encouraging and supportive. You form a family here!
What are your hopes/plans for the future?
I would like to graduate successfully with a PhD and continue my academic career as a Postdoc. I want to return to India at some point and teach and inspire young minds to take up a career in science.
What advice would you like to give those who are about to begin their journey at ULethbridge?
Keep your mind open and enjoy the process. Always keep a positive spirit and surround yourself with people who support and encourage you. Make sure you are well prepared in advance.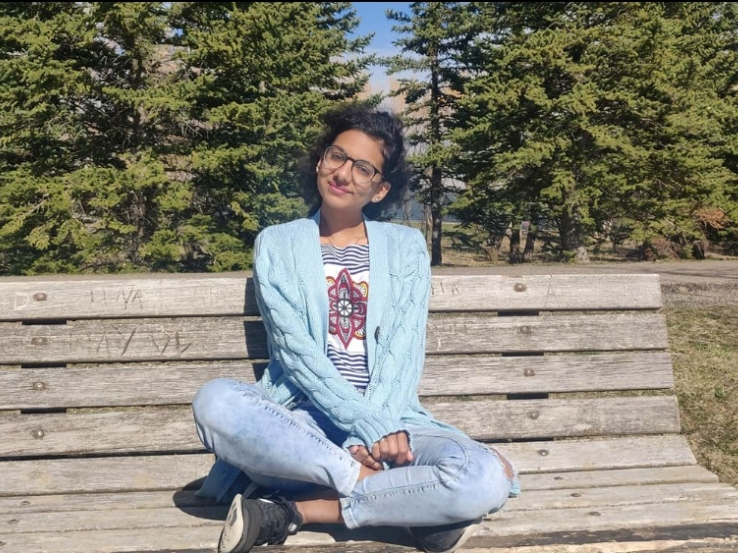 About Shining Students
Shining Students engage inside and outside of the classroom. What makes a student shine may differ from person to person, but they all share a passion for learning. They may be top students, involved in an innovative project, participating in ground-breaking research, playing Pronghorn athletics, fighting for social issues or all of the above! When students find something they enjoy and combine it with what they are good at, they shine.
Each year, the Faculty of Arts & Science's faculty and staff nominate students who exemplify the ULethbridge student spirit. Congratulations Veda!