In her final year of kinesiology at the University of Lethbridge, Leeza Voyevoda decided to throw caution to the wind and take part in Semester at Sea, where she is exploring courses that pique her interest beyond her major. Additionally, she has met people from all around the world with perspectives that have enhanced her own.
Semester at Sea is just as it sounds — close to 600 students board a ship and set sail for a semester of learning in shipboard classrooms, through field experiences and service projects as they visit 11 countries and three continents over the course of 106 days. Leeza is participating in this international educational opportunity as the Brawn Family Foundation scholarship recipient and the Semester at Sea student. She departed Dubai on January 5, 2023, and will conclude her semester by docking in Germany on April 20.
We recently caught up with her to find out how things are going, and she had lots to share with us about this incredible experience.
Currently, I am on the ship just outside of Argostolin, Greece, in order to avoid heavy rainfall and storms on the way to Spain. We left Croatia just a few days ago, and it was incredible. We have a few days of lectures before spending several days in Barcelona, Spain.
Semester at Sea has allowed Leeza to integrate travel, exploration, creativity, and curiosity into everything she does.
It sounds like a dream — living on a ship, travelling in between classes, studying in between countries — however this program has permitted me to sink into a truly comprehensive and experiential form of learning. I already have been so inspired to continue on graduate programs abroad, that I apply for international courses any time I have access to the internet. I will forever strive to remain a life-long student.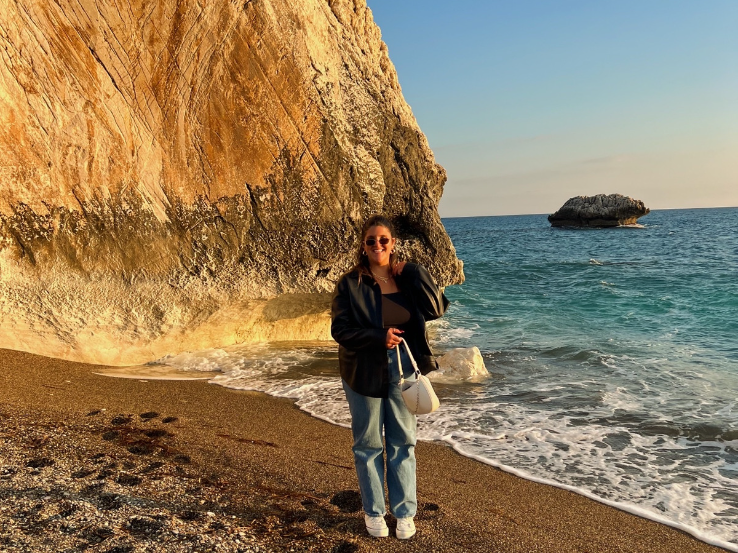 On top of in-country exploration, the experiences on the ship have allowed Leeza to have time with herself and discover a new and consistent thirst for knowledge.
I feel as though I had the itch to explore the world prior to SAS, but this experience has allowed me to feel confident that I belong in a role where I am constantly learning. Rather than graduating and moving on, I want to learn in every single aspect of my life - whether that be emotionally, mentally, academically, intellectually, or more.
Leeza says with confidence that without the Brawn Family, she would not comprehend the impact of consistently having a thirst for knowledge.
To the Brawn Family, I owe a million thank you's. I can only hope that my enthusiasm and passion translates through my words, because I am forever inspired to keep on growing from this entire experience. I have made beautiful friendships, and I have been given the chance to use all I have learned in the past, and integrate it into my learning of the future. Thank you.
Leeza took a chance, applied for the program and funding, and look at her now! She's there. She's living a dream. She's engaged in life-long learning. And, she would like to encourage students to apply for a Semester at Sea.
I have gained a whole chapter of my life that, at this point, I do not think I could live without. I have met beautiful humans, I have learned amazing things, but I also know that this is simply the start of learning through a global lens. Semester at Sea is a gift, but students should remember they are deserving of this opportunity.
💡
The deadline to apply is March 31, 2023.