Inspired by the groundbreaking work experience she did as a student, University of Lethbridge alumna Eileen Sowunmi (BA '22) is paving the way for change in the engineering industry in Canada.
Working as an associate on outreach and belonging with Engineers Canada, she supports her strategic team in building relationships with stakeholders and ensuring that the values of equity, diversity, inclusion and belonging are being meaningfully incorporated into the engineering profession. It's these values of equity, diversity, inclusion and belonging that Eileen learned as a student, which she says enables her to bring them to her professional role.
Gaining crucial skills from work-integrated learning
While a co-op student at ULethbridge, Eileen led the development of the CIBC Navigator program, which empowers students with disabilities to take part in co-op work experiences. Eileen says this rewarding experience inspired her to pursue more work with underrepresented populations.
"Being able to develop this program and consulting with students, employers and other stakeholders to think about ways to support students was incredibly important, because then we started to build this framework that would actually enable students to thrive in whatever particular role they wanted to take on," says Eileen.
"It was really rewarding getting to hear from students. I was contributing to something very meaningful at ULethbridge that continues to serve students, which is super important. In doing that, I was able to realize that this was closer to my heart than I ever thought and it's something that I'm going to continue to pursue."
Eileen says her experience as a co-op student got her thinking about what sort of work she wanted to do once she finished her degree.
"My role with the Navigator program, helping develop resources and toolkits to support students with disabilities, was the point that I realized, yes, I want to go into equity, diversity and inclusion work," she adds.
Mentorship and support while at ULethbridge
Gaining this valuable work-integrated learning experience through the co-op office was a highlight of her time at ULethbridge, as Eileen says it showed her what it would be like working in the corporate world. She adds that connecting with her peers and mentors, even virtually during the pandemic, kept her going through tough times.
"University is a place where you get to meet folks from all walks of life and different backgrounds, and just thinking about some of the experiences that I've had and the people who I've met, who I still keep in touch with today, it's really amazing to see how we're able to connect in different ways. Human beings are very complex, and so being able to build relationships and really connect with people by keeping an open mind is key, because you never know what you're going to learn when you meet someone."
Eileen credits professors Dr. Jason Laurendeau and Dr. Athena Elafros in the department of sociology for supporting her in her studies, and praises the valuable connections she made with Jasminn Berteotti (BSC '96) and Stacey Gaudette-Sharp (BA '03, MA '06) from Career Bridge while a co-op student. She says it was important for her to keep an open mind when it came to trying new things at ULethbridge, which helped shape her in incredible ways.
"It goes back to a lot of the connections that I was able to make. Even when I was a student, my professors put me in contact with opportunities that they thought I would be great for, whether it was research work, or working collaboratively with them, to my co-op experiences as well. All of these experiences beefed up my resume, and that's what enabled me to get into the position that I'm in today," she says.
"It was because I leveraged my networks, my relationships, that experience that employers are always looking for, and was able to carry that into the real world. So, when I finished my studies, I never once felt like I wasn't competent enough or like I wasn't ready to take on the world, because I knew that my experience at ULethbridge had really given me that foundation that I needed to thrive."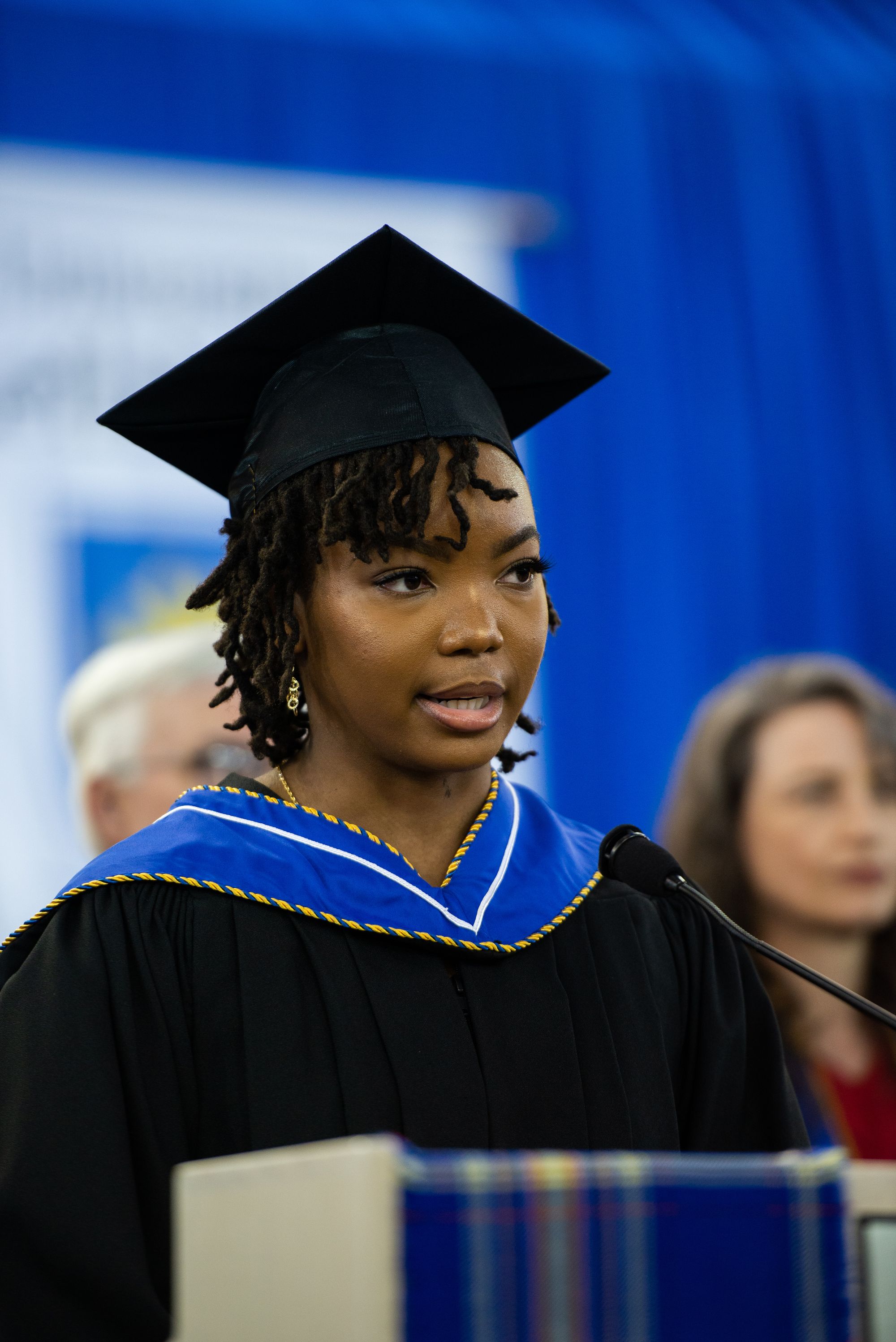 Bringing her skills to her career
Currently, in her work with Engineers Canada, Eileen puts the skills she developed as a student to use by building bridges between her organization and with external stakeholders, such as post-secondary institutions and student advocacy groups like EngiQueers.
"What my role involves is doing outreach work and connecting to those stakeholders, being that bridge, as well as contributing to EDI initiatives. So, as we're thinking about reaching out to a stakeholder, we're thinking about ways to make that more inclusive and thinking about the complexities of it all, applying an intersectional way of thinking about things and recognizing that people's experiences are very, very different."
Eileen adds that she utilizes this knowledge when she organizes events, to ensure that everyone is welcomed in engineering spaces. She is organizing Engineers Canada's 30 by 30 conference, which aims to increase the participation of underrepresented groups in the engineering profession. The initiative encourages employers to be more intentional in their hiring approaches in a move to make the profession more welcoming to all.
Her work in equity, diversity, inclusion and belonging is laying the groundwork for her future. Eileen says she hopes to continue doing work in that area, as it is something she has found a life-long passion for.
"My co-op work experience really was that moment for me where I realized that this is something that I want to continue to do. I hope to go further down that path and get into a graduate program on public policy at some point and really get into a space where I'm in a position where I'm able to contribute to positive change."
---
Throughout the month of March, we will be celebrating international Work-Integrated Learning month by sharing stories, events, best practices and much more. Students can earn a professional development certificate by participating!
WIL occurs at the course or program level and includes the development of learning outcomes related to employability, personal agency and life-long learning.