From the moment she chose the University of Lethbridge for its renowned education program, Sanaa Jiwani knew she was embarking on a journey that would shape her future. The smaller class sizes and close-knit campus community allowed her to form meaningful connections with peers and professors, creating an environment where she could thrive. From being a mentor to engaging in experiential learning, Sanaa has embraced opportunities for growth. As Sanaa says, "Feeling uncomfortable really is a sign of growth." Her story inspires new students to embrace change and pursue their dreams at ULethbridge.
It's important to me, and part of my teaching philosophy, that I take on a mentorship role for the racialized students I work with as a woman of colour in the education field since representation and culturally sensitive pedagogy can significantly impact the student experience.
Meet Sanaa | Passionate. Empathetic. Perfectionist.
Program: Bachelor of Arts | Major: Gen Major Hum/Eng Lang Ed (English/Spanish/Religious Studies)
Through experiential and work-integrated learning opportunities, Sanaa discovered her passion for teaching. From being an online storyteller, igniting interest in literature among young minds, to her role as a guest Spanish language instructor in a kindergarten classroom, Sanaa's experiences have reaffirmed her career choice. Patience, building relationships with students, and overcoming imposter syndrome became her guiding principles.
Among her many memorable experiences at ULethbridge, serving as a Student Mentor at the Ahead of the Herd new student event stands out. Sanaa embraced her role as a leader, connecting with incoming students and easing their transition into post-secondary life. It was a rewarding experience that allowed her to foster bonds and provide guidance based on her own journey.
This mentorship opportunity was very rewarding as I got to foster an environment where new students could forge bonds and ask oddly specific questions about campus life, what to expect, the opportunities available, and much more to an actual student!
Sanaa's professors have played a crucial role in her education, reigniting her passion for literature and teaching. Professors Rhona Harkness and Luz Ospina left a lasting impact, while her PSI seminar professor, Lucy Johnson, provided invaluable support. The guidance extended beyond professors as well, with Asheley Cowie (National Recruitment) and Jaime Takahashi (Student Services) becoming mentors who supported Sanaa throughout her campus experience.
Outside the classroom, Sanaa's love for reading and favourite TV shows, such as The Golden Girls, Criminal Minds, and Gilmore Girls, offer moments of relaxation. Volunteering with religious education organizations and exploring new restaurants and coffee shops fuel her passion for community engagement and culinary experiences.
Looking ahead, Sanaa envisions herself as an experienced teacher, gaining international exposure and working with English Language Learners. As a woman of colour in the education field, she aims to be a mentor for racially diverse students, recognizing the impact of representation and culturally sensitive pedagogy on their educational journey.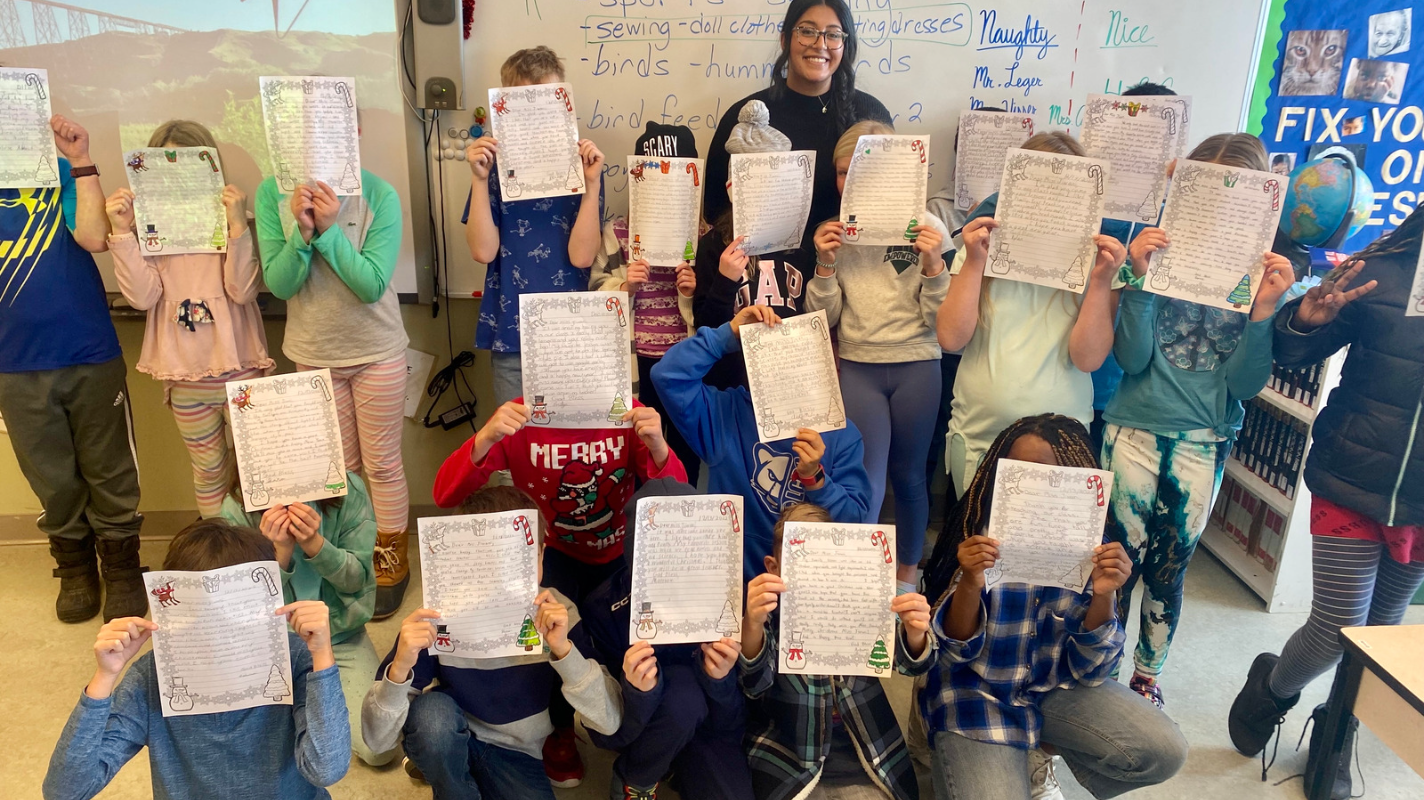 Sanaa's advice to new ULethbridge students is to embrace the changes and unfamiliarity that come with university life. It is within these conditions that personal growth thrives, allowing for the exploration of new perspectives. She encourages students to remember that feeling uncomfortable is a sign of growth, easing anxieties about the uncertain future.
Sanaa's ULethbridge journey is not without its obstacles, but her determination, passion, empathy, and pursuit of academic excellence have propelled her forward. Sanaa embodies the spirit of a trailblazer, innovator, and artist, ready to make a positive impact in the lives of her future students.
About Shining Students
Shining Students engage inside and outside of the classroom. What makes a student shine may differ from person to person, but they all share a passion for learning. They may be top students, involved in an innovative project, participating in ground-breaking research, playing Pronghorn athletics, fighting for social issues or all of the above! When students find something they enjoy and combine it with what they are good at, they shine.
Each year, the Faculty of Arts & Science's faculty and staff nominate students who exemplify the ULethbridge student spirit. Congratulations Sanaa!
😎
Get more than a degree at
ULethbridge
:
- Paid work terms
- Hands-on career & research experience
- International study
- Awards, scholarships and a range of student support
Learn how!