Have you ever felt completely lost, to the point of really not knowing where to start or what to do next? If so, Karina Almeida Villalba can relate. She had all but given up in high school and applied to ULethbridge because she felt like that was what she "should" do. And that's ok. Because at ULethbridge, Karina overcame adversity and became the person she "always wanted to be," thanks partly to unparalleled encouragement from her professors and a supportive environment.
Before coming to university, I thought the best I could hope for was a menial job that I didn't like but paid the bills. Now I am lucky enough to do the thing I love to do. The thing I'm good at! And I know that this is a career I can proudly and confidently pursue.
Meet Karina | Passionate. Ambitious. Dedicated.
Program: Bachelor of Science | Major: Neuroscience
Did you know what you wanted to study before you came to ULethbridge? Has your academic plan changed since you began your studies?
I didn't really have any sort of plan. I ended up applying for a general science and education degree because I had done well enough in the science courses in high school, and teaching is a respectable and stable job, and that was the best I could hope for at the time. After getting diagnosed with ADHD and learning to accept it and use it to my advantage, I realized that I wanted to be a lifelong learner and eventually found my passion for research. After switching my degree to study neuroscience, I am now on my way to becoming a neurobiologist.
Please tell us a bit about your experiential or work-integrated learning at ULethbridge.
This summer, I had the incredible opportunity to participate in not one but two independent studies.
The first was with the public health department at ULethbridge, where we qualitatively analyzed interviews of individuals recovering from addiction and, through this, tried to determine where to allocate resources in the future to facilitate recovery.
This was an amazing experience because this was when I started to discover my love of research in whatever form. I remember how nervous I had been at our first lab meeting, feeling like I had no idea what I was doing and convinced that I would make a fool out of myself. But when it was my turn to present my thoughts and findings for the first set of interviews, I was surprised at how quickly those nerves subsided and how a sense of belonging replaced them.
This feeling was strengthened in my subsequent independent study with the neuroscience department. I will never stop being grateful for this independent study and especially to my supervisor Chelsea Matisz. This project was initially supposed to be for me to animate different metabolic pathways involved in the Gruber Lab's research. However, I put too much pressure on myself to make the animations perfect and to make matters worse, almost a month into the project, my family dog got very sick, and we had to put him down. These pressures took a much bigger toll on me than I had anticipated, making it very difficult to move forward with the project. When I reached out to Chelsea for guidance, she was very kind and understanding. Since she had seen my interest in immunohistochemistry staining and this was the project my friend was also working on, she suggested I do this instead. It was by far the best decision I could've made. The more time I spent in the lab, the more I realized it was my happy place. There was something about clearing wells and mounting brains that put my mind completely at ease and made me feel at home. Being in this lab helped me through one of the hardest times of my life and also helped me find my passion.
Before coming to university, I thought the best I could hope for was a menial job that I didn't like but paid the bills. Now I am lucky enough to do the thing I love to do. The thing I'm good at! And I know that this is a career I can proudly and confidently pursue.
What is your most memorable ULethbridge experience so far?
After being diagnosed with ADHD in my second year and starting treatment, things immediately started to change. For the first time in my life, the amount of effort I put into my classes was reflected in my grades.
However, something about my animal physiology class changed who I am as a person. Before this class, I would never talk in class, approach the professor unless absolutely necessary, and mostly keep to myself unless I already knew people in the class. Before this class, I hid my love of science for fear of being made fun of or thought of as weird.
But seeing how unapologetically passionate Dr. Barley and his TA Lauren Zink were set an excellent example for me. I started trying to get out of my shell more, and when I expressed to them that I wanted to be a teacher after graduating and asked them to help me with this, they gave me nothing but encouragement and support.
For the first time, I felt I didn't have to fold myself into different shapes to please people. It was the first time I felt truly accepted for who I was.
I started to realize what I had to offer and my potential. In the past, I had thought of myself as a very mediocre person, dismissing any accomplishment as luck or as something so easy even I couldn't mess it up. But even that changed as the class went on.
Lastly, the friendships we made in this class are ones I will value for the rest of my life. This was the first time that a friendship from class not only lasted after the class was over but continued to get stronger.
How have your professors impacted your education?
As I said above, I gave up on school halfway through high school, mostly because I was struggling and no one seemed to see it, and as needy as it may seem, I also didn't get any praise when I did succeed, so I started thinking "what's the point."
The professors at this university, especially those in the bio and neuro departments, have shown me so much kindness, compassion, understanding and support.
In my second year, I had classes with Dr. Raquel Trilla, and I felt an incredible amount of shame around her because she was so kind and understanding, but I had done absolutely none of the coursework required for her class. The SECOND I realized that I could focus long enough to get my work done when I took my meds, I started and finished all the coursework for her class in a week (which was pretty difficult since it was the end of November).
When I went to talk to Raquel to explain the situation and ask if there was any chance of her accepting my work, no matter how many late marks she needed to take off, she was more than happy to. In a later meeting to discuss my paper, she told me how proud she was of me because of how much effort I had been putting in and what a difference she saw in me in such a short time.
However, no one has shown me more encouragement and support than Dr. Randall Barley, right from the first time I talked to him about study tips because I wanted to do well in his class. I remember him having me go over one of the more significant concepts in the chapter and saying there was nothing he could correct me on because everything I had said was right. That was the first time I started to believe in my abilities as a student, and my confidence in myself began to grow.
From then on, he has continued to show me a level of support I have never known. No one has ever spoken as highly of me as Dr. Barley has, and it allowed me to internalize and accept those words and sentiments and clear so many of the mental roadblocks that had been holding me back for so long.
When I was unsure as to what my next step should be, he encouraged me to pursue a master's and even sat with me to figure out what my interests were and what programs/supervisors would suit me best as well as what steps to take to best prepare myself. Had it not been for him, I wouldn't have even known that independent studies were an opportunity I should have been pursuing, and I would never have discovered my love of research.
While taking animal physiology, I discovered I was a pretty good artist, and Dr. Barley encouraged me to continue pursuing this, maybe even professionally.
Thanks to Dr. Barley, I have been able to blossom into the person I have always wanted to be.
Karina's academic transformation in the past year has been astonishing, and her passion for learning is absolutely insatiable. – Dr. Randall Barley, Department of Biological Sciences, nominated Karina as a Shining Student.
Is there someone else who had an important influence on your ULethbridge experience?
As I mentioned above, my PI Chelsea has also been significant in my continued personal growth. When I started working in her lab, I was very nervous and afraid of making any mistakes. However, Chelsea created an environment where I felt completely safe admitting to my mistakes and, more importantly, learning from them.
When I first applied for my independent studies, I thought I wanted a PI that was very hands-on and would be right beside me every step of the way, but instead, Chelsea trusted me enough to leave me on my own almost immediately, which meant so much to me.
The longer I spent in the lab, the more confidence I gained in my lab skills and I started thinking that I had finally found my path. It was one thing when I started thinking this, but it became real when Chelsea echoed my sentiments and told me that she also thought I was meant for research.
My friends have also been incredibly supportive. We all learn from and encourage each other and constantly strive to become better versions of ourselves.
Have you received any scholarships and awards? If so, please tell us a bit about how they helped you throughout your studies.
Since my diagnosis, I have received the Canadian Student Grant for Full-Time Students and the Canadian Student Grant for Students with Permanent Disabilities. I have also received the Students' Union Quality Initiatives Bursary. I want to say a huge thank you to the donors because these grants have allowed me to focus entirely on my studies instead of trying to find a job.
Are you participating in any extracurricular activities like sports or the arts? If so, how are these experiences enhancing or complimenting what you are doing in the classroom?
Last year I was one of the event planners for the BioClub, and this year I am one of the Co-Presidents. Not only has this allowed me to connect with new and prospective students, but it will allow me to build a stronger relationship with many of the bio and neuro profs. It has allowed me to continue developing my interpersonal skills and is introducing me to leadership positions.
I have also volunteered with the international centre as a writing tutor and an English Language Partner; this has allowed me to practice my skills as an educator, practicing how to give meaningful and constructive feedback.
As mentioned above, I have also recently discovered my artistic side and used it to illustrate and animate the concepts I studied in my classes, furthering my understanding of these.
I have also continued to develop these as potential teaching aids that professors can use in their classes or provide as a resource to students.
What is the most important lesson you have learned so far at ULethbridge?
After taking my ADHD meds for the first time, I put ridiculous pressure on myself. In my eyes, now that I had been diagnosed and was receiving the treatment I needed, I told myself that there were absolutely no excuses for me not to get straight A's while having a full course load and a part-time job. That's what everyone else was doing, and now that I had my meds, there was no excuse for me not to do the same.
This excessive pressure took a massive toll on my physical and mental health to the point where I was misusing my medication to pull off multiple all-nighters to study for tests. Eventually, the stress became too much for me, and I decided I needed to quit my job for my mental health.
I felt like a failure, but my fear of what I might do if I continued down that path was stronger.
As I started working on putting my mental health first, I realized that a "sweet spot" for me was to take three classes a semester. Reducing my course load allowed me to devote as much time as I felt was required to get my desired grades.
Once I had enough time to invest in each class, I realized how much I LOVED learning. I decided that instead of putting all this pressure on myself to get straight A's, I needed to accept that some things were outside my control. For example, no matter how hard I studied for my biology courses, I would always be a C bio student. Instead of focusing on grades, I needed to focus on learning as much as possible from the class, which would have to be enough.
As luck would have it, as soon as my focus shifted to learning for the sake of learning, I finally started to see those A's that I had so desperately wanted in the past.
What are your hopes/plans for the future?
I will graduate this spring and move onto a summer RA position in the Gruber Lab before starting my master's program in the Fall, followed closely by a PhD
I would love to spend the rest of my life researching the effects that stress has on our development and our ability to cope with everyday situations.
What advice would you like to give those who are about to begin their journey at ULethbridge?
Instead of focusing on getting perfect grades and putting all this pressure on yourself, make your goal to learn as much as possible in each class. We must accept that we all have limits and that some things are just out of our control, and punishing ourselves for those things only hurts us in the end.
Also, as hard as it is to accept everyone fails a class eventually or gets a bad grade, that doesn't make us failures. It provides us with an opportunity to learn and grow. The best thing to do would be to ask your professor for advice; maybe they can clarify their expectations or give you study tips that work specifically for their classes. The profs here really want to see students succeed, and if you ask them for help, they will do their best to support you.
Also, there is absolutely no shame in taking a lighter course load. University is a very rewarding but intense experience; there are an overwhelming amount of things to do and opportunities to take advantage of. Often, taking a lighter course load frees you up to pursue things like independent/applied studies, which are invaluable opportunities.
Quick Answers
Top things to do in or around Lethbridge:
I love going to the Taber Corn Maze every year with the BioClub, playing squash at the college, and going to Park Lake.
Favourite class: Animal Physiology
Favourite social activity at ULethbridge: Bio Club
Favourite place to study: Any study room with my friends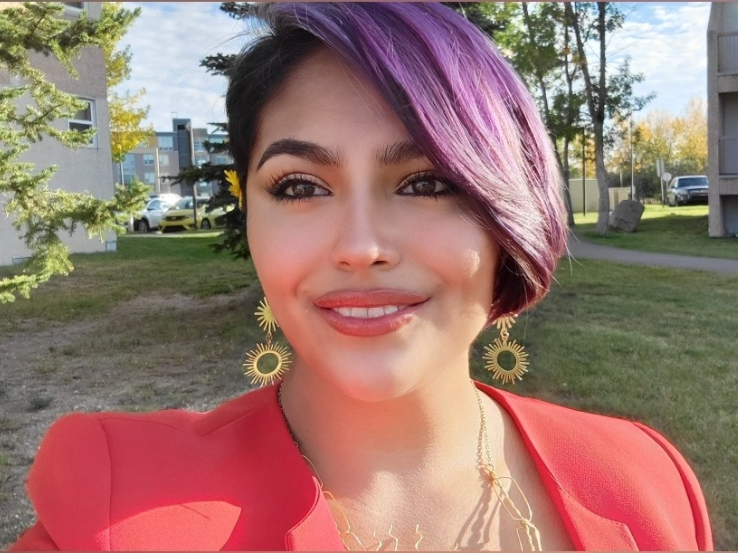 About Shining Students
Shining Students engage inside and outside of the classroom. What makes a student shine may differ from person to person, but they all share a passion for learning. They may be top students, involved in an innovative project, participating in ground-breaking research, playing Pronghorn athletics, fighting for social issues or all of the above! When students find something they enjoy and combine it with what they are good at, they shine.
Each year, the Faculty of Arts & Science's faculty and staff nominate students who exemplify the ULethbridge student spirit. Congratulations Karina!