Rupert Quintana is pursuing a degree in political science. While he says it is taking "longer than usual" to complete his studies, he is still on track and committed to a professional degree in law once he graduates. Rupert chose ULethbridge because it is close to home and because he heard great things from alumni about the quality of education he could expect here.
University prepares you for the world outside by giving you the skills you need to better prepare for real-world battles.
Meet Rupert | Persistent. Patient. Optimist.
Program: Bachelor of Arts | Major: Political Science
What is your most memorable ULethbridge experience so far?
After being stuck online during the pandemic, I believe the most memorable experience is going back in person and meeting the professors and other students.
How have your professors impacted your education?
I've been fortunate enough to have all of my professors impact my education by broadening how I view Canadian politics, the media, and the world in general, especially in international relations.
Mr. Quintana brings to class a wealth of insight as well as a terrific sense of humour. – Dr. John von Heyking, Department of Political Science nominated Rupert as a Shining Student
Is there someone else who had an important influence on your ULethbridge experience?
The most influential person in my education is my wife, Joanne. She is the one who has encouraged me, from day one, to go back to school and pursue my dream of becoming a lawyer one day. And every day, she reminds me to take it slow and enjoy the experience, no matter how difficult it may seem, especially for my age.
What are your hopes/plans for the future?
The plan is to finish law school and become an immigration lawyer and help out local Lethbridge residents with their questions and problems.
What advice would you like to give those who are about to begin their journey at ULethbridge?
I advise new students to soak in as much experience and knowledge as possible. University prepares you for the world outside by giving you the skills you need to better prepare for real-world battles. Also, make connections with fellow students, professors, and staff, for they may become your comrades, leaders, subordinates, and friends after you graduate.
Quick Answers
What do you like to do in or around Lethbridge?
Spend time with my wife at home or go to new restaurants to try their specialties.
We own a small photo booth business called "Wacky Shots," which keeps us busy during the wedding and holiday seasons.
I'm also involved with freemasonry, and we volunteer and do fundraising in and for the community.
Favourite class: International Relations: Lord of the Rings
Favourite place to study: There is a spot by UHall with a chair facing the coulee that I go to before my morning classes. Otherwise, I'm usually at one corner of the Library's main floor.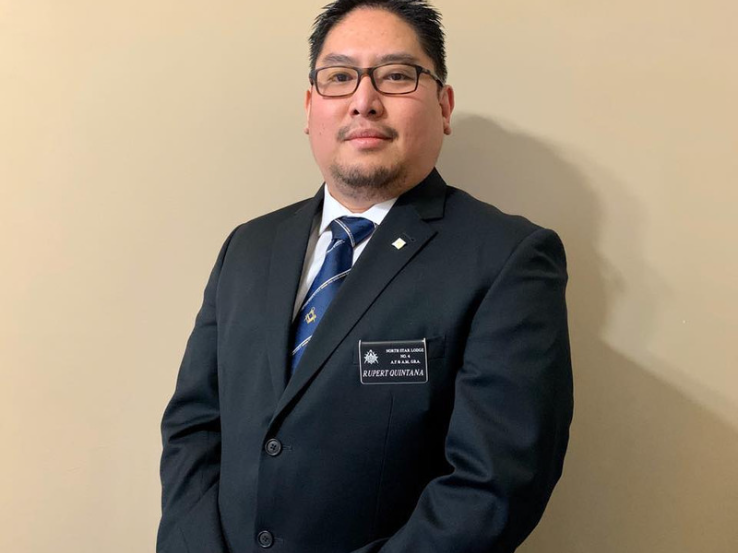 About Shining Students
Shining Students engage inside and outside of the classroom. What makes a student shine may differ from person to person, but they all share a passion for learning. They may be top students, involved in an innovative project, participating in ground-breaking research, playing Pronghorn athletics, fighting for social issues or all of the above! When students find something they enjoy and combine it with what they are good at, they shine.
Each year, the Faculty of Arts & Science's faculty and staff nominate students who exemplify the ULethbridge student spirit. Congratulations Rupert!