Many things drew Ciara Russell-Baker to ULethbridge, including its close-knit community and phenomenal recommendations from alums. But the thing that sealed the deal was attending Open House, as everyone she met was incredibly encouraging. Ciara's love for history goes back as far as she can remember. This passion for history continues to flourish because of the professors who encourage and inspire her.
My professors have impacted my education and worldview by constantly challenging and encouraging me to think critically. It can be easy to think one way and believe it is correct, but my history classes taught me that there are many ways to see the world. Therefore, they have taught me to be open-minded and to think critically.
Meet Ciara | Virtuous. Determined. Charismatic.
Program: Bachelor of Arts | Major: History
What is your most memorable ULethbridge experience so far?
The most memorable thing so far is the kindness of the professors. My university experience has been interrupted several times (COVID and the strike), but one thing that never changed was the professor's kindness. They continued to motivate and inspire me, even through a zoom call. I am very grateful for that experience.
How have your professors impacted your education?
I have met many professors who help me succeed and inspire me. They have reinforced my passion for history, even through a zoom call, and have never failed to make me laugh. These professors have impacted my education and worldview by constantly challenging and encouraging me to think critically. It can be easy to think one way and believe it is correct, but my history classes taught me that there are many ways to see the world. Therefore, they have taught me to be open-minded and to think critically.
Ciara is a passionately engaged student whose work for the History Club throughout the pandemic has been instrumental in keeping a sense of community during trying times. - Amy Shaw, Department of History, nominated Ciara as a Shining Student.
Is there someone else who had an important influence on your ULethbridge experience?
The students at this university are some of the kindest individuals I have ever met. I have been incredibly lucky to make some amazing friends at ULethbridge. My advice for making friends: sit next to someone in class and introduce yourself! Everyone is new and slightly anxious on the first day of classes, but introducing yourself and making friends with those sitting around you is crucial. I met one of my close friends on the first day of classes in the first year, and now in the fourth year, we are still just as close.
Have you received any scholarships and awards? If so, please tell us a bit about how they helped you throughout your studies. Do you have any words of thanks we can share with donors?
I have received the Jason Lang Scholarship twice, along with several other general scholarships and entrance awards from the University. I have also been on the dean's list every semester since the Spring of 2020.
Thank you for encouraging and supporting me as a student. Not only did scholarships help me financially, but they also positively impacted my mindset and motivation. Thank you for making me feel important and special and inspiring me to create amazing things!
Are you participating in any extracurricular activities like sports or the arts?
I am currently the President of the History Club. This role enhances my experiences in the classroom, as it has allowed me to make amazing friends (and study partners) and also pushes me to stay organized. Handling extracurriculars can sometimes be challenging; therefore, this experience has taught me to stay organized on all my tasks. Additionally, the closeness of professors to the club has also helped me create positive relationships with professors, even with some professors I had never even had a class with!
I am also a Resident Assistant at the Piikani House, where I take on security shifts, plan events for my floor, and build connections with residents! These responsibilities have improved my leadership and planning skills. I have organized, planned, and succeeded in creating fun events while also growing my communication skills with my residents.
What is the most important lesson you learned during your time at ULethbridge?
The most important lesson I learned while studying at the University of Lethbridge is to ask when help is needed. Whether asking questions during office hours or taking advantage of University resources (such as academic workshops and counselling), there is so much help here. This university wants to see every single one of us succeed, so use the resources that are meant to help you!
What are your hopes/plans for the future?
I plan to graduate with my BA in history and later obtain my Bachelor's of Education. From there, my dream is to move to British Columbia and start my teaching career. I aspire to become a thoughtful and passionate teacher in my classroom, as the professors here have inspired me so much. I look forward to teaching my passion.
I also want to travel, especially to Japan!
What advice would you like to give those who are about to begin their journey at ULethbridge?
My main advice would be to participate in all the fantastic opportunities campus offers! There are constantly fun and knowledgeable events occurring on campus, whether arts and crafts in the library or attending the writing centre. In my first year, I strayed away from participating in these resources, including clubs. Still, as I have grown up, these resources have given me an amazing sense of community and knowledge. Once again, the university is here to help you succeed! So take in all the resources they have for you. Additionally, fun events (such as clubs) can relieve stress and allow you to make lasting friendships. You will never know if you like something until you try it, so try it all!
Quick Answers
Top things to do in or around Lethbridge:
Go for walks in the Coulees in the fall
Eat waffles at Sonder Coffee Bar
Have a picnic in Henderson Lake Park
Favourite class: History of Canada since 1939
Favourite social activity at ULethbridge: My favourite would be intramurals! Last year I was on a floor hockey team, and it was so much fun!
Favourite place to study: The study rooms in the library!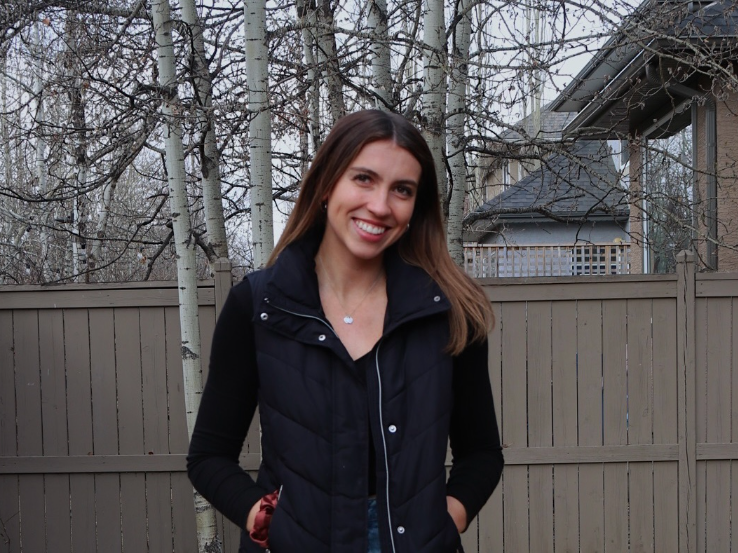 About Shining Students
Shining Students engage inside and outside of the classroom. What makes a student shine may differ from person to person, but they all share a passion for learning. They may be top students, involved in an innovative project, participating in ground-breaking research, playing Pronghorn athletics, fighting for social issues or all of the above! When students find something they enjoy and combine it with what they are good at, they shine.
Each year, the Faculty of Arts & Science's faculty and staff nominate students who exemplify the ULethbridge student spirit. Congratulations Ciara!
😎
Get more than a degree at
ULethbridge
:
- Paid work terms
- Hands-on career & research experience
- International study
- Awards, scholarships and a range of student support
Learn how!