From a very young age, some people know exactly what they want to do when they "grow up." For Ashley Vuong, her calling was to become a teacher. And while she changed majors from biological sciences to chemistry after her first semester, she has never wavered from becoming a teacher.
I chose ULethbridge because of its education program! I had a presenter come to my high school when I was in grade 12, and as soon as they talked about their pristine education program, I was hooked.
Meet Ashley | Go-getter. Altruistic. Strong-willed.
Program: Bachelor of Science / Bachelor of Education | Major: Chemistry/ Science Education
Please tell us a bit about your experiential or work-integrated learning at ULethbridge. What were your three biggest takeaways from participating?
I had the opportunity to do my PSI last fall at a middle school, teaching grade 6 math and science! I also volunteered my time to help co-coach the senior girl's basketball team. This incredible experience was probably the highlight of my academic career. My three biggest takeaways from this experience were that:
I'm definitely on the right career path. It taught me that a classroom is where I want to be, and a teacher is what I want to become.
It's okay to make mistakes! I'm somewhat of a perfectionist and tend to beat myself up when I do something wrong. My PSI experience taught me that mistakes are okay because the whole point is to learn!
Stay organized. It is easy to get lost in all the assignments, tasks, events, etc. Keeping multiple calendars for myself helped me organize everything that I needed to do.
What is your most memorable ULethbridge experience so far?
Definitely my PSI. My cohort was amazing, and is where I made lifelong friendships and made the most connections. Every time I walked into my class and saw my cohort, I felt as if I was being welcomed into a family. My in-school practicum experience was also invaluable, and nothing could replace the experience I had. I built relationships with so many of my students and my TA. I couldn't have asked for a better placement.
How have your professors impacted your education?
The majority of professors at ULethbridge are honestly amazing. They genuinely care about you and your education and make an effort to get to know you as a person. They consider your personal life and things that may be going on for you and try to accommodate as best as possible. They understand that students are human beings and may sometimes need a little extra support. The two professors that have stood out to me as exemplary throughout my academic career are Wayne Lippa and David Slomp. I was in Wayne's analytical chemistry courses and labs for other chemistry classes. He's the sweetest man ever and has been incredibly helpful; everyone should take a class with him if they get the opportunity. David was my PSI seminar teacher as well as my university consultant for my practicum. David has greatly impacted how I approach education and has really moulded me into the student teacher I am today.
Ashley absolutely crushed it in my CHEM 2410 (Analytical Chemistry I) lecture and then followed that up by getting the highest mark in the follow-up course, CHEM 3410 (Analytical Chemistry II), the semester she took it. - Wayne Lippa, Department of Chemistry & Biochemistry, nominated Ashley as a Shining Student.
Have you received any scholarships and awards? If so, please tell us a bit about how they helped you throughout your studies.
Yes, I have received a few! I've received the Alexander Rutherford Scholarship, the Jason Lang Scholarship, the Loren Hepler Memorial Scholarship, and the University of Lethbridge Scholarship. These scholarships have helped me tremendously throughout my studies. As we all know, university students are typically broke and eat gross instant noodles for dinner to save money. I live away from home and on my own, and these scholarships have helped me incredibly. I want to say a big thank you to the donors for believing in me and seeing that I have something to offer. It is an honour to have received these scholarships, and I greatly appreciate you all.
Are you participating in any extracurricular activities like sports or the arts? If so, how are these experiences enhancing or complimenting what you are doing in the classroom?
I am the Education Undergraduate Society (EUS) president at the University of Lethbridge this year! Being in this position has been a blast so far, and it feels fantastic to be making a difference in the lives of Faculty of Education students. It has been enhancing my leadership skills and building up my confidence. It has helped me find my voice and taught me much about the world of education. A perk of being president is being the student representative at numerous education committees and ATA conferences. At these gatherings, I gain an insane amount of knowledge that I then apply to my everyday life and the classroom.
What is the most important lesson you have learned so far during your time at ULethbridge?
The most important lesson I have learned so far at ULethbridge is not to push yourself past your breaking point. Listen to what your body and mind need, and engage in self-care. If you focus solely on academics and not other aspects of your life, you'll drain yourself and burn out. I found this out the hard way and have been working harder and harder each day to listen to my own advice and take care of myself. It's all about balance.
What are your hopes/plans for the future?
Five years into the future, I can envision myself moving into my very own apartment (or house!) with my dog and an additional golden retriever. I hope to be a high school chemistry teacher and possibly make music in my spare time! I have dreams of travelling Europe with my partner and exploring different cultures and sceneries. I have high hopes for my future, so keeping my fingers crossed to make them come true!
What advice would you like to give those who are about to begin their journey at ULethbridge?
Get to know the bus routes!! This is very important as parking at the university can be a little pricey. Getting to know the bus routes helps you save money, as UPass is included in your school fees.
Invest in a planner. Organizing your assignments and tests keeps you on track and will profoundly improve your performance in school.
Make connections! It might be difficult to put yourself out there, especially when you don't know anyone, but stepping outside of your comfort zone will help you make friends. New place, new you!
Explore campus. The campus can seem massive and intimidating, so exploring it often and getting the hang of it will definitely ease your anxieties.
Quick Answers
Favourite class: Introduction to Philosophy (PHIL 1000), Elementary Linear Algebra (MATH 1410), or Educational Psychology (EDUC 3502)
Favourite social activity at ULethbridge: Dirty Bingo
Favourite place to study: The EUS office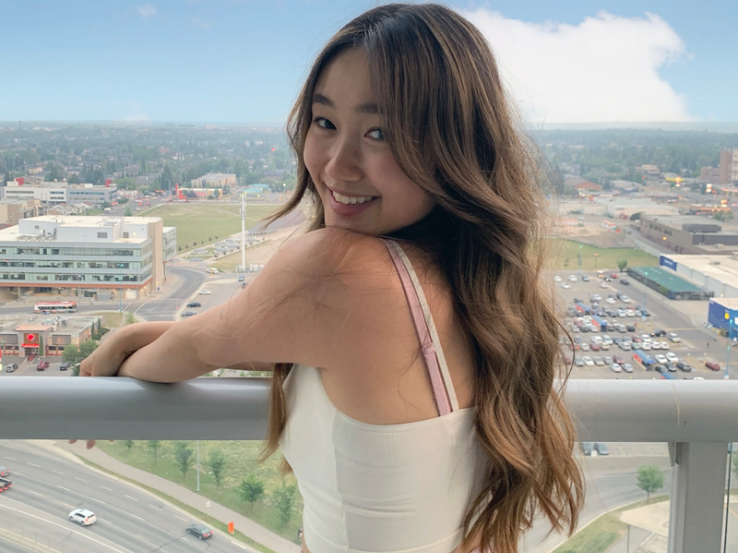 About Shining Students
Shining Students engage inside and outside of the classroom. What makes a student shine may differ from person to person, but they all share a passion for learning. They may be top students, involved in an innovative project, participating in ground-breaking research, playing Pronghorn athletics, fighting for social issues or all of the above! When students find something they enjoy and combine it with what they are good at, they shine.
Each year, the Faculty of Arts & Science's faculty and staff nominate students who exemplify the ULethbridge student spirit. Congratulations Ashley!
😎
Get more than a degree at
ULethbridge
:
- Paid work terms
- Hands-on career & research experience
- International study
- Awards, scholarships and a range of student support
Learn how!