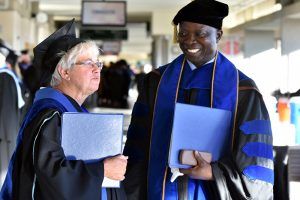 The buzz on campus is almost palpable when Convocation is on the horizon. From the wonderful grounds keeping and caretaking teams who ensure the campus is prim and proper, to the convocation committee who is busily ticking off the last minute details from extensive to-do lists. One man who is especially thrilled to see convocation coming, is Dr. Olu Awosoga (Health Sciences).As the Convocation Chief Marshal, Olu has many responsibilities and duties leading up to the big day, but he also has the honour of leading the convocation march with the U of L mace in-hand, from University Hall up the hill to where years of hard work will finally pay off for hundreds of deserving students.
"Convocation is a time to celebrate and rejoice with our graduands. A favourite quote describes Convocation as, 'a time to celebrate the challenges, hard work, and achievements of our students as they reach the ceremonial 'finish line' of their program.' As we celebrate the U of L's 50th anniversary, we reappraise the important role the University in the life of many alumni that have passed through this great institution and their contributions to various communities in southern Alberta, province-wide and internationally.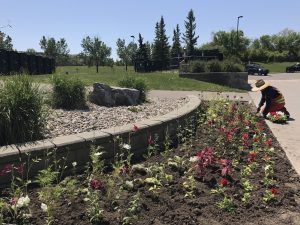 "The work that goes into Convocation behind the scenes is busy and plentiful. The Convocation committee members are terrific people to work with. They are volunteers who are disciplined in their commitment to serve and are so well organized in their duties. The committee is very proactive in anticipating probable issues and how to respond to them for an efficient planning and successful event. I enjoy working with Trish Jackson (Student Engagement), Heather Fudge (Student Engagement), Jodie Gallais (President's Office) and Sheena Olson (President's Office) (just to mention a few) during the weeks preceding convocation because you can rest assured they are on top of every aspect involved. There are many departments and people involved in pulling together Convocation and the committee receive the utmost support from almost every area of the University. It's truly exemplary.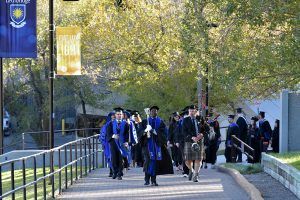 "There is nothing quite like the moments before a procession starts. There's an incredible energy about the students. They're excited, nervous, relieved and feeling a range of other emotions. It's almost like a wedding day, everyone is so happy to be there.
"I am always delighted and honoured to share this exhilarating moment with our graduands as this marks the end of a significant era and the beginning of another in their lifetime. It reminds me of my time, the feeling of relief and accomplishment. It is a well-deserved proud moment of their hard work all through the years."