Seeing the world is likely something women's head soccer coach, Fred Trinh (BA '00), was destined to do. As a young boy, he and his family were among the last wave of Vietnamese boat people to arrive in Canada in the 1980s. After leaving a beachside refugee camp in Indonesia, the Trinh family stepped off the plane in Calgary and then finally settled in Yellowknife. Fred had already seen more of the world as a child than many adults would ever come to experience. When it came time for Fred to start his post-secondary education, he packed his bags for another adventure and found himself at the University of Lethbridge.
"When I was looking at universities, I knew I wanted to learn at a smaller institution that was far enough away from my friends and family that I could be independent, but still close enough to visit and somewhere that I had lots of opportunities to get involved in the community. The U of L ticked all of those boxes and even though I don't think I knew it at the time, it was the liberal education component that really sealed the deal. I was interested in computer science but I also loved the political scene and I was really involved in sports and recreation activities, so the U of L was a perfect fit.
"I actually first heard about the U of L because of the 1994 Pronghorn men's hockey team that won the CIS championship that year under Mike Babcock. It was such a great story and that's what put the university on my radar. Now today, I get to sit in Mike Babcock's old office! I'm actually what you'd call a trend killer because the last four or five guys who've sat in this office before me have all gone on to be professional hockey coaches. Unless something drastic happens, I'll be in no danger of continuing that trend.
"When I'm teaching in the classroom or coaching on the field or even out on the road recruiting, the one thing I try to get across to students is that university should be the place where you get to know yourself. Find out who you are and become comfortable with yourself. Yes, it would be great to get a job immediately after you've graduated and I'm not trying to say you shouldn't consider that as a factor, but university is where you build some of life-long relationships and where you find out what your passions are.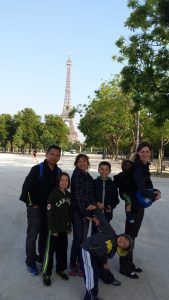 "My wife, Rebecca (BSc '03/BEd '03) and I really try to teach our five kids that lesson of building relationships with people too. We love to travel with them and we've been blessed enough to see so many countries around the world. The best part about travelling with children is that you get to experience everything through their eyes. Meeting new people and trying to communicate with them even though you may not speak the same language, seeing new environments and eating new foods. Eating ice cream wherever we go is always a favorite activity of theirs. They still talk about how amazing the ice cream in Turkey was!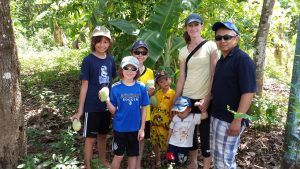 "The University is such a big part of our lives. Rebecca and I met here, we're both alumni, almost all of the kids activities are here and of course, I work here! Even with all of the crazy schedules we have with the kids, my office hours are often extended because the kids will have swimming or climbing wall practice so I just stay and get more time to be available to my students.
"When I talk to friends or family members who live in big cities, I always walk away feeling so blessed. I can get from my house to my office in seven minutes on my bike. I don't have to sit in traffic for hours or be 'sardined' on public transit with hundreds of other people. I get to enjoy the weather, see my kids grow and learn, watch my students and players really embrace the opportunities they're afforded and I get to be an involved and engaged member of the community. All right here on campus."