As the six members of the EleV Navigator Team prepare to go into the Blackfoot Confederacy communities of Kainai, Piikani and Siksika, they are being given a traditional sendoff.
In following traditional protocol and to set their paths forward in "a good way", Elder Francis First Charger, Niinaisipistoo (Owl Chief), and Elder Cathy Hunt, Staah'tsi'naims'skaa'ki (Thunder Pipe Woman Under the Sky), advised that a Blackfoot name be given to the navigators as a true honour to welcome them into their roles as community liaisons.
Elder First Charger honoured the team with the name Iksisstowaapi Kanakkaatsi (Going All Out Society) [ig-sis-tow-ah-ph gah-na-gaat-see].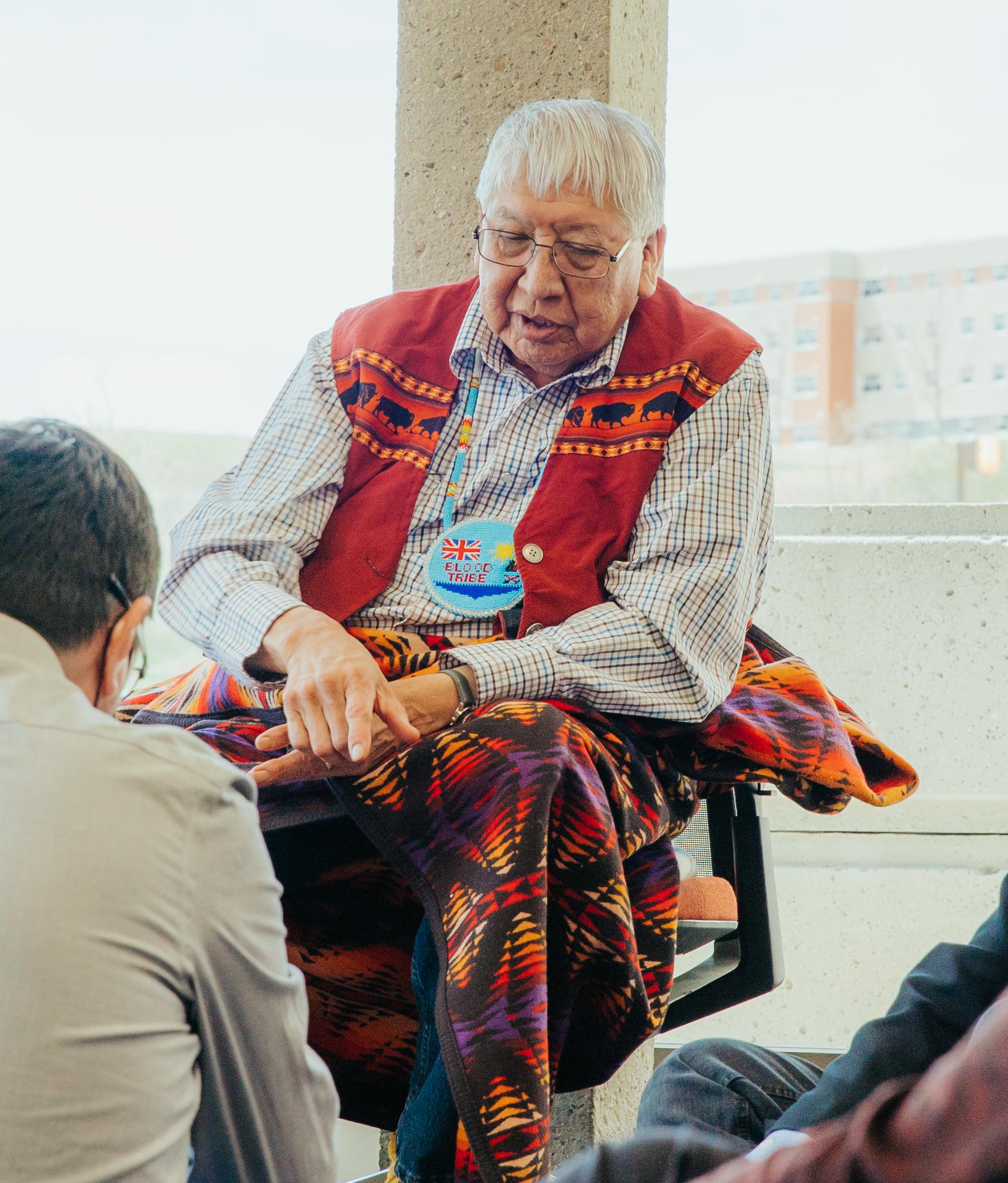 Navigator name pronunciation
This name encompasses the enthusiasm the team has and reflects how they work together as a family to support their mission and goals in their communities.
"With this name, I looked at each of the individuals and I found they have a lot of fire in them, and that they all really want to do a good job. They're spending a lot of time with us Elders, asking how they should approach this, and trying to find a way to go all out."
Elder First Charger adds there is no direct translation for the name, but it reflects the fire he sees in the navigators and how he sees them going all out in their work.
"They're really interested in going into the community, encouraging people to get their education for post-secondary, and so forth. They've asked us how they should do that, and we've provided that for them. It's going to be very exciting to see what they're going to do."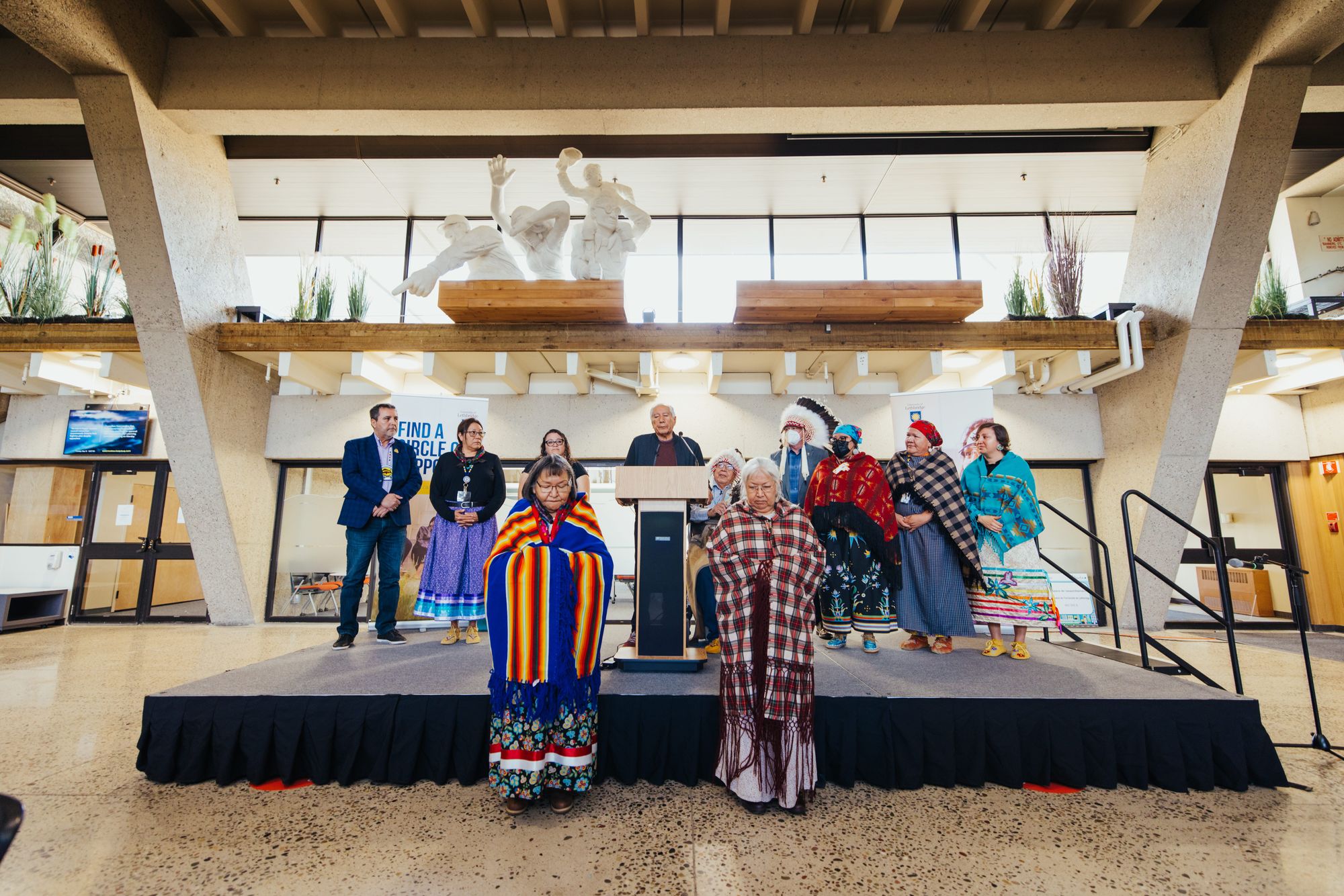 The Navigators
The primary focus of the EleV Navigator Team is to enhance opportunities for authentic relationship building and provide in-community supportive services and communication to guide Indigenous learners along their education and career pathways. Shanda Webber (BA '05), Naamoipiiksii (Hummingbird), ULethbridge manager of strategic Indigenous learning initiatives, says the team is grounded in Indigenous teachings and ways of knowing.
"Our navigator team understands that everyone in the community plays an important role in assisting youth to navigate their way to post-secondary and beyond," Shanda says.
"Navigators are the community liaisons, the advisors and co-creators who will be working with community to make sure their voices and priorities are heard. They will help forge a path where we can work together for the success of our students."
Three education navigators work within the Blackfoot Confederacy Nations to create and deliver support services to improve the academic success and retention of Indigenous students pursuing post-secondary education. One navigator operates in each of the respective Blackfoot communities of Kainai, Piikani and Siksika.
Three employment navigators work with students to assist in their transition from students to prospective employees in their chosen fields. Similar to the education navigators, one employment navigator is stationed in each of the Confederacy communities.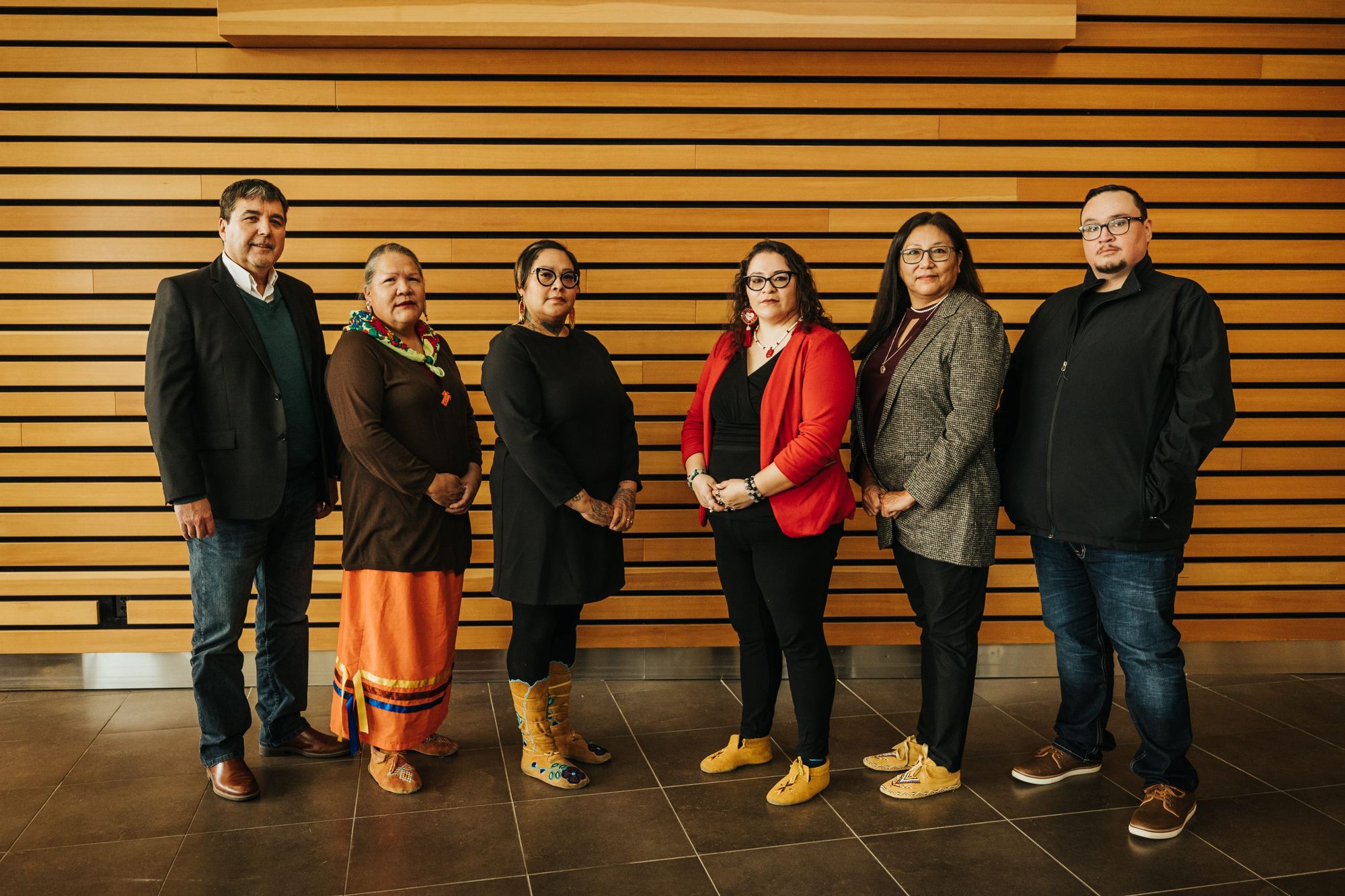 Jill Chief Calf (BA '12), Aakohpoisskiiaakii (Face Painted Many Times Woman), is the education navigator for the Kainai Nation. In her role as a navigator, she connects students in the community with outside entities to help them explore their educational opportunities. Jill says having their Blackfoot name will be grounding to their work.
"We're working in two worlds, our home communities, and a Western world. As somebody who is from Kainai, I've been shown and taught that having our name is that identity that connects us. Having that is important because people are going to understand who we know, where we're coming from, and it gives us that sense of belonging and purpose. We are leaving that legacy."
Ek-Kanakii Mekaisto (MEd '14), Natoykanasoyakii (Sacred Lightening Woman), is the employment navigator for the Siksika Nation. In her role, Ek-Kanakii helps students and youth use their education to support their employment goals and help them enter the workforce in their chosen fields. She says it's very powerful to receive a Blackfoot name, and there is always a story to the name.
"When we talk about naming, it's in our hearts. It makes our group stronger, and to be able to collaborate and help each other in our journey is very special. I can't describe the feeling that the name gives me. It really connects our people closer."
The Naming Ceremony
Following the naming ceremony, Dr. Leroy Little Bear (BA '72, DASc '04), Iikaisskini (Low Horn), marked the occasion with a praise song. After a feast, the navigators prayed with Elder First Charger and with the University Pipe, as well as had the opportunity to have their faces painted in ceremony.
The naming ceremony is the first step to prepare the navigators to enter their respective communities with positive intent. The purpose of the ceremony is to gather the community together to witness the bestowing of the name and recognize the name publicly. Shanda says naming ceremonies carry great significance in Blackfoot culture.
"Every name has a meaning. Every name has a story. And once bestowed that name, it is now the individual or group who carry that name to hold true to the meaning and story of the name. I know the navigator team will hold our new name in high regard and honour our role in community."
Naming ceremonies are an honour and a responsibility for all parties. The giver of the name has to reflect and contemplate on a name to provide the recipient and choose a name that tells a story. Elder First Charger says for him, it is a holistic process.
"I give it a lot of thought. I even ask a few people. I try and find out what the most appropriate name could be. With myself, I usually use my spiritual ways or some of my good fortunes. I look at the person, or the project or whatever it is, what they want to do and how those individuals are."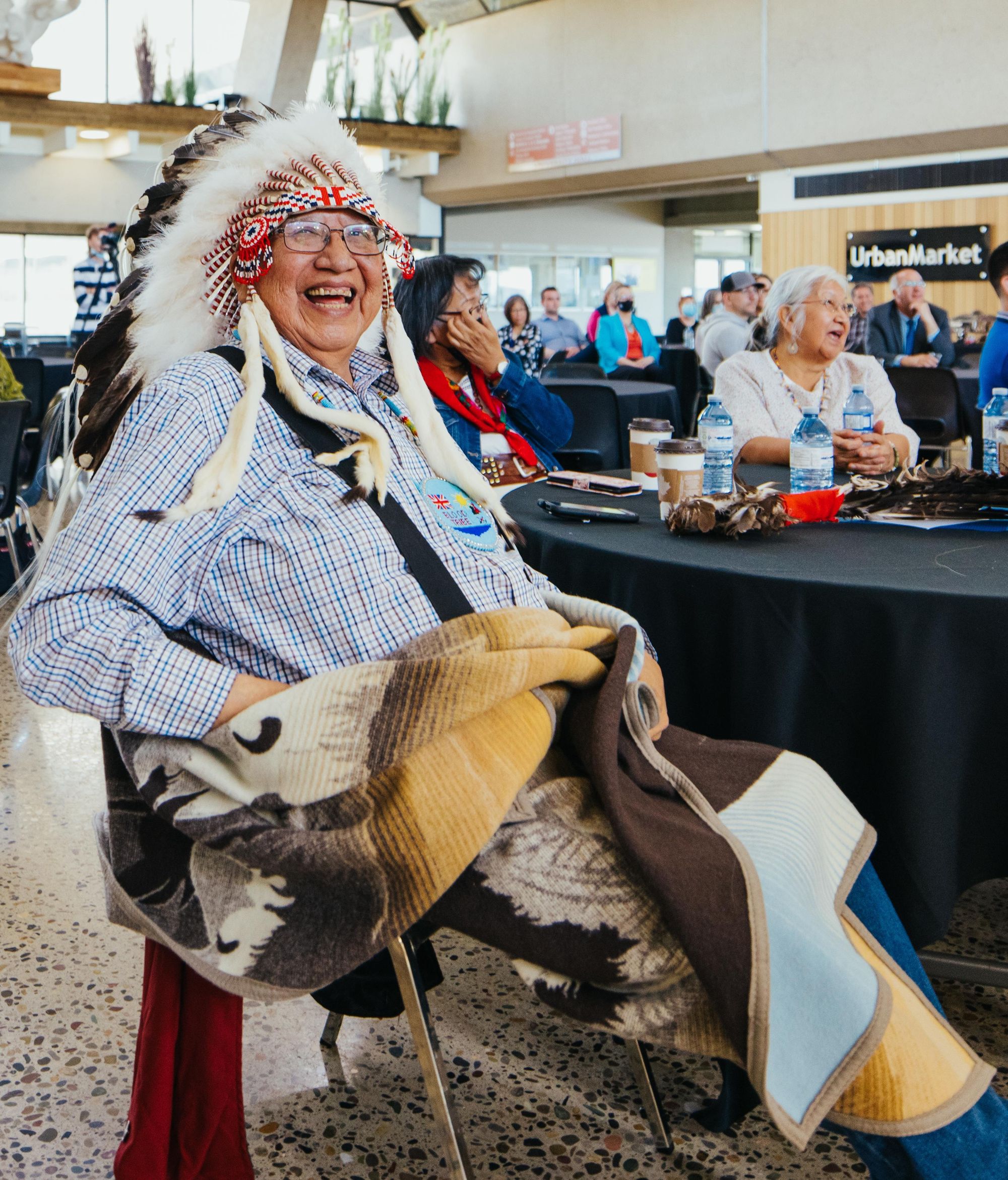 Going into the community in a good way
The navigators make up a part of the larger EleV Team, which form part of ULethbridge's Iniskim Indigenous Relations Team and are responsible for strategic planning and initiatives in partnership with Blackfoot political leadership and the Kainai Nation, Piikani Nation and Siksika Nation.
The EleV partnership between the Blackfoot Confederacy and ULethbridge is supported by the Mastercard Foundation and was established in 2019 to create opportunities for Indigenous youth and bolster supports to ensure their success.
ULethbridge President Dr. Mike Mahon, Iipisowahsi (Morning Star) says as we move out of the pandemic there is significant momentum behind the EleV partnership as it reengages with the Blackfoot communities.
"The navigators play a crucial role in this process of relationship building and it's exciting from my perspective to see this team beginning to fully immerse into community to assist students as they further their education. Their work is also supporting the creation of employment and economic development opportunities through the sharing of connections and resources with the Blackfoot Confederacy."
The navigators will begin their work in their communities through a series of meet-and-greet sessions over the summer, buoyed by a new name that aptly captures their significant place in the EleV program.
---
Meet the University of Lethbridge EleV Team
Building Community Connections within the Blackfoot Confederacy