Kirsty McFadyen's (BSc Co-op '23) journey at the University of Lethbridge is a testament to the power of perseverance and interdisciplinary learning. Through her dedication to scientific discovery and the invaluable mentorship of Dr. McCune, Kirsty discovered her passion for plant ecology and conservation.
I am beyond grateful for Dr. Jenny McCune's mentorship during my degree. Dr. McCune sparked my interest in plant ecology, which was fostered as an honours thesis student and a summer research assistant in her lab.
Meet Kirsty. Passionate. Inquisitive. Ambitious.
Hometown: Livingston, Scotland
Program: Bachelor of Science | Major: Biological Sciences
What is your most memorable ULethbridge experience?
My most memorable ULethbridge experience was during a research outing to Waterton Lakes National Park as I paused to catch my breath at Lakeview Peak. As I took in the scenery, I realized that this was the kind of work I could pursue in the future.
What is the most important lesson you learned during your time at ULethbridge?
The most important lesson I learned at ULethbridge was the value of perseverance. With resilience in the face of setbacks, and a willingness to keep on trying, I was able to overcome many challenges during my degree.
What have you gained from the liberal education experience at ULethbridge?
At ULethbridge, the liberal education experience has broadened my knowledge in subjects beyond my major. This interdisciplinary approach fostered my interest in anthropology, which I then pursued as a minor.
Is there someone specific who had an important influence on your ULethbridge experience?
Dr. John Bain, Director of the University of Lethbridge Herbarium (LEA), first introduced me to the study of plants and herbarium collections. Under Dr. Bain's guidance, I worked as a research assistant on LEA's flora inventory project in the Castle Provincial Parks - bushwhacking through dense vegetation and scrambling across scree slopes in search of some of Alberta's most unique plant species.
Did you receive scholarships and awards? If so, please tell us a bit about how they helped you throughout your studies.
I am grateful to have received the NSERC Undergraduate Student Research Award and Chinook Summer Research Awards, which facilitated four summers worth of research experience. I was lucky enough to work on projects which studied trail and fire impacts on plant communities and documented floristic diversity in the Rocky Mountains. These awards also gave me the opportunity to work in southern Ontario on species-at-risk projects involving plant translocations and population demographics.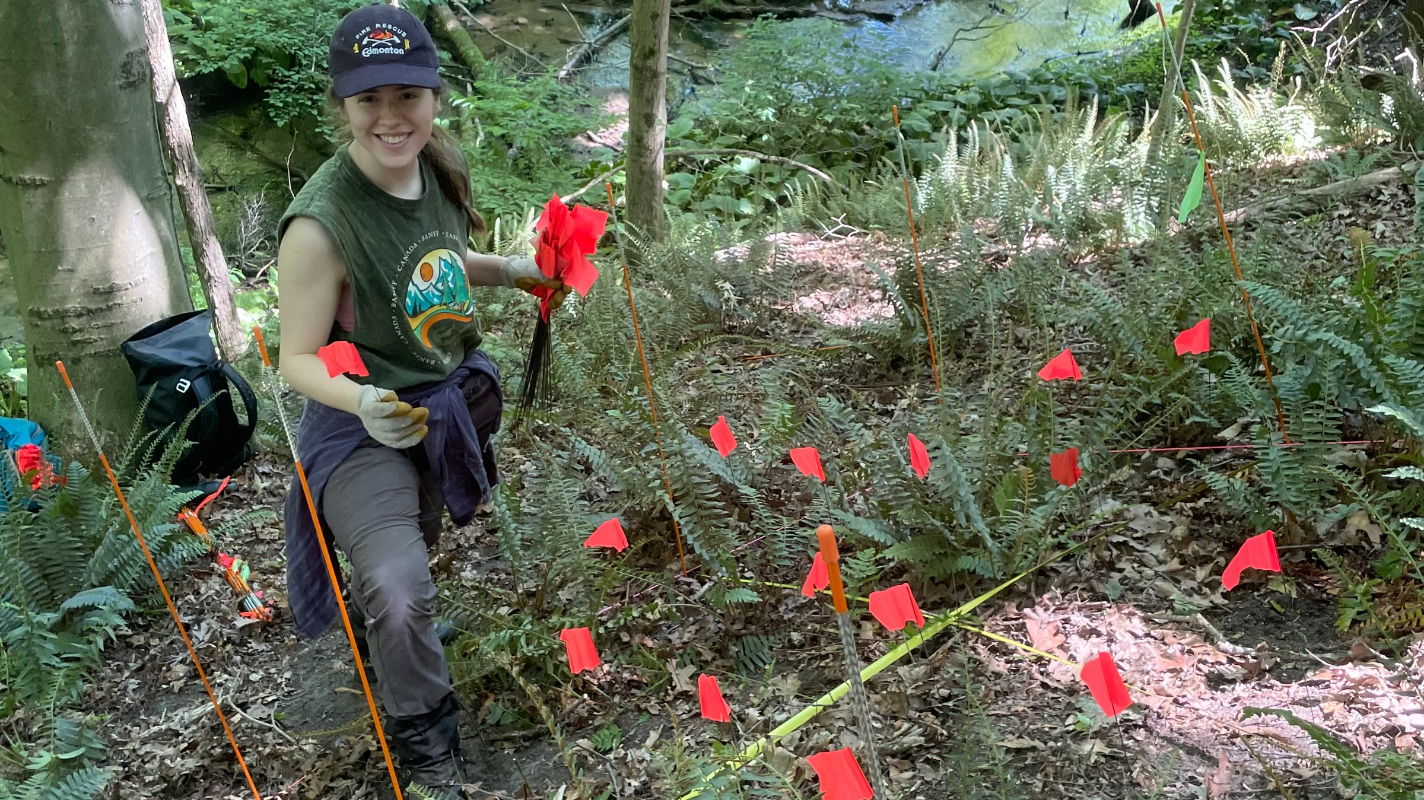 What are your hopes/plans for the future?
I plan to take some time off from school to gain additional work experience before conducting graduate studies in plant ecology or conservation.
What advice would you give to those about to begin their journey at ULethbridge?
I would encourage those about to begin their ULethbridge journey to take advantage of the different programs and concentrations that ULethbridge has to offer! My involvement in the Department of Biological Science's Research Internship Concentration and the Co-operative Education program really enriched my undergraduate experience.
---
Congratulations on your graduation from ULethbridge, Kirsty! As you embark on the next chapter of your journey, we have no doubt that your passion for plant ecology and conservation will continue to guide you. Your plans to gain additional work experience before pursuing graduate studies are commendable, as they will further enrich your knowledge and skills.
☎️
Welcome to the ULethbridge Alumni Family! Remember to stay in touch.
Stay connected with classmates, share your successes, mentor future ULethbridge students and enjoy Alumni perks and benefits!
Update your contact information with
Alumni Relations
.
Find us on
Facebook
,
Instagram
or
LinkedIn
Read more
about your fellow alumni.