Amy Cran (BA '23) is no stranger to stepping outside of her comfort zone. While she was hesitant at first to pursue an independent study, Amy says doing so led to many experiences and connections within the University of Lethbridge and beyond that enriched her undergraduate experience and solidified her path in anthropology. Amy also spent last summer walking the streets with SAGE Clan patrol, conducting research into how the grassroots organization assists people experiencing homelessness and/or addiction, which built the foundation for her honours thesis.
My time at ULethbridge taught me the importance of trusting yourself. There were many times when I experienced imposter syndrome and was afraid that I was too young, too early in my degree, or too inexperienced to do some of the things I was doing. In the end, I always seemed to prove myself wrong, and have gradually learned to trust my own abilities with the encouragement of my professors and peers—if not to test the limits of my comfort zone.
Meet Amy. Thoughtful. Passionate. Determined.
Hometown: Medicine Hat, Alberta
Program: Bachelor of Arts | Major: Anthropology
What does this academic recognition mean to you?
Being awarded this gold medal is a significant honour, particularly knowing that I am part of a cohort of so many talented and hardworking students who were a great source of inspiration to me throughout my degree. It also represents a capstone to my time at ULethbridge and a chance to reflect on all the experiences I had while pursuing my Bachelor of Arts. During my degree, I was often so busy and invested in the work I was doing that I didn't necessarily take the time to pause and reflect on just how far I'd come. Receiving such enthusiastic encouragement from my professor to apply, and ultimately being selected, have made me proud of my hard work and reassured me that I am on the right path.
What is your most memorable ULethbridge experience?
It is really difficult to narrow it down to just one experience, but if I had to choose, I would have to say conducting fieldwork for the first time for my honours thesis, which centres on a grassroots, Blackfoot-led outreach organization called SAGE Clan Patrol (Serve, Assist, Guard and Engage) which assists people experiencing homelessness and addiction in Lethbridge. This past summer, I completed three months of fieldwork supported by a Chinook Summer Research Award, which allowed me to put into practice the things I have learned in the lecture hall and really experience what it is like to work as an anthropologist "in the field."
It was such an incredible experience to not only work on a topic that is very close to my heart and see the final product come together, but also to have the opportunity to think seriously about my methods and begin to form my identity as a researcher.
Academically, it was also very rewarding to work closely with my supervisor, thesis committee, and members of the Community Bridge Lab, who all supported my project in different ways and together made the experience so rich for me. On a personal level, I have also made lifelong friends with volunteers—this experience has solidified for me the value (and necessity) of true collaboration between researchers and their communities.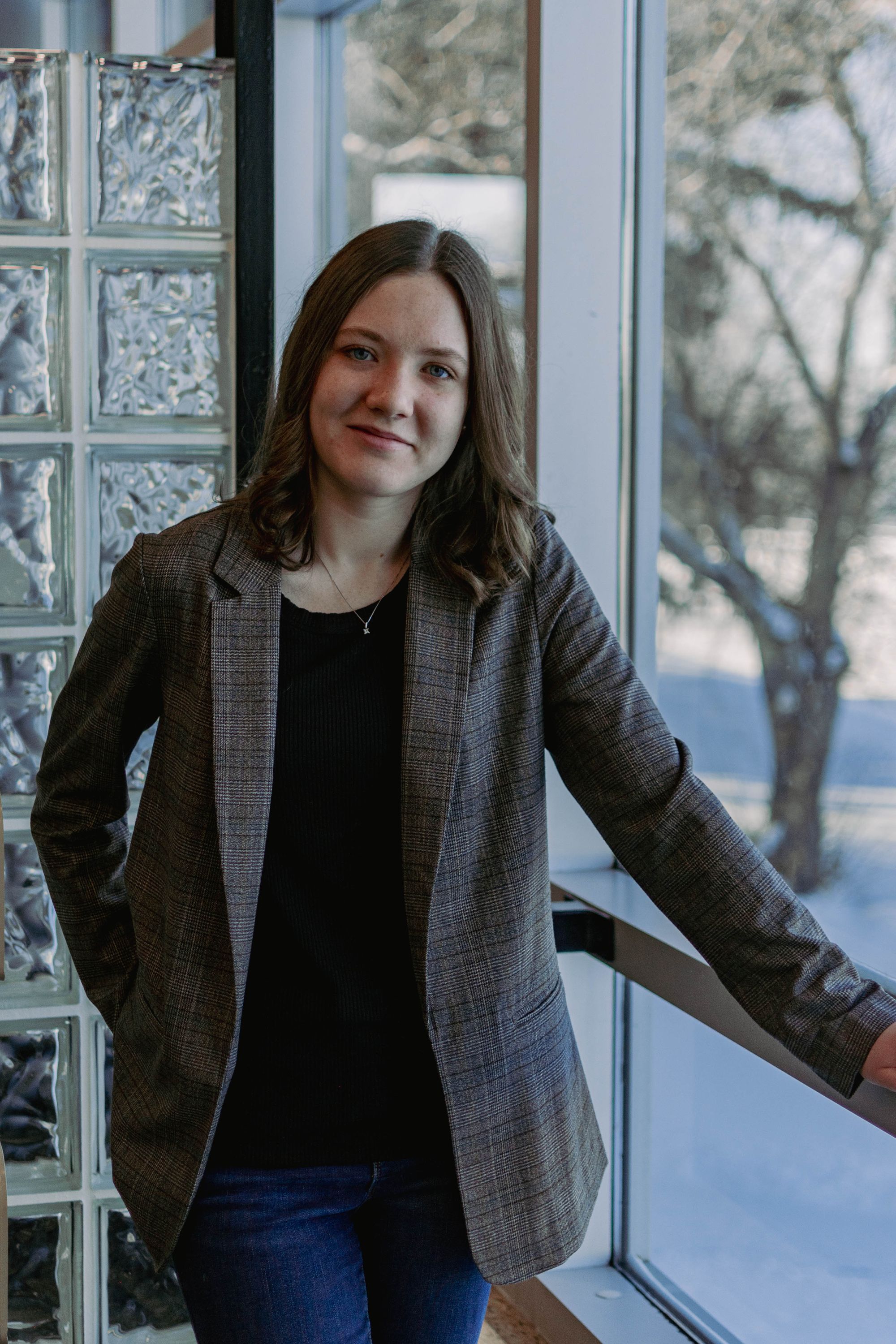 Is there someone specific who had an important influence on your ULethbridge experience?
I have been fortunate to meet and work closely with a number of undergraduate, graduate, and faculty researchers who all impacted me in different and important ways.
I count myself lucky to be part of the Department of Anthropology, which is tirelessly supportive of students and deeply invested in their success—in the lecture hall and beyond.
Dr. Patrick Wilson has been my supervisor nearly since I became an anthropology major, and I can never thank him enough for his support and faith in my success. From my point of view, supervisors have a very delicate job that requires balancing critique with encouragement, and Dr. Wilson was a true mentor in helping me to sharpen my thinking and writing while also managing to make me feel proud of my work. Dr. Steve Ferzacca has also been a much-appreciated sounding board throughout my degree and offered an initial nudge towards anthropology that I will always be grateful for. Dr. Jan Newberry has always been a major source of encouragement, and I am so glad to have had a professor who is so willing to challenge the hierarchies embedded in knowledge production with students at her side. Dr. Julie Young has similarly been incredibly supportive, and always takes seriously students' expertise and role in knowledge production, something that has made working with her as a research assistant so rewarding. Finally, I was fortunate to find a wonderful community of community-engaged, multidisciplinary social science scholars within the Community Bridge Lab, and I am deeply grateful for the friendship, practical advice, and encouragement of students and faculty members.
What are your hopes and plans for the future?
In the near future, I hope to continue travelling South America and visiting the places that I have come to love by reading about them in my anthropology classes (I recently spent a month in Cuenca, Ecuador!). I plan to apply to graduate school in anthropology for the Fall 2024 cycle and hope to someday pursue a career in academia.
What advice would you give to those who are about to begin their journey at ULethbridge?
Get to know your professors, and don't be afraid to reach out if there is an opportunity that interests you! I was initially very hesitant about pursuing an independent study, but reaching out to my eventual supervisor ended up changing the trajectory of my degree— it led to a second independent study, the opportunity to publish, an honours thesis, and many connections within the University and beyond that enriched my undergraduate experience and made me even more certain of my choice to study anthropology. My other piece of advice would be to get to know the library resources! I owe our librarians a massive debt of gratitude for all the times they have tracked down articles for me or helped with my citing troubles. I think they are some of the unsung heroes of our University.
Congratulations, Amy!
---
☎️
Welcome to the ULethbridge Alumni Family! Remember to stay in touch.
Stay connected with classmates, share your successes, mentor future ULethbridge students and enjoy Alumni perks and benefits!
Update your contact information with
Alumni Relations
.
Find us on
Facebook
,
Instagram
or
LinkedIn
Read more
about your fellow alumni.