The COVID-19 pandemic brought to light the courage and commitment that nurses work under every day and showed the important role that nurses play in the community. The Canadian Nurses Association (CNA) has themed National Nursing Week 2021 #WeAnswerTheCall to showcase the many roles nurses play in a patient's health-care journey. In recognition of National Nursing Week, the University of Lethbridge is honoured to share a sampling of stories from our nursing students, alumni and faculty to showcase how they, and nurses everywhere, answer the call.
To all nurses, we say thank you.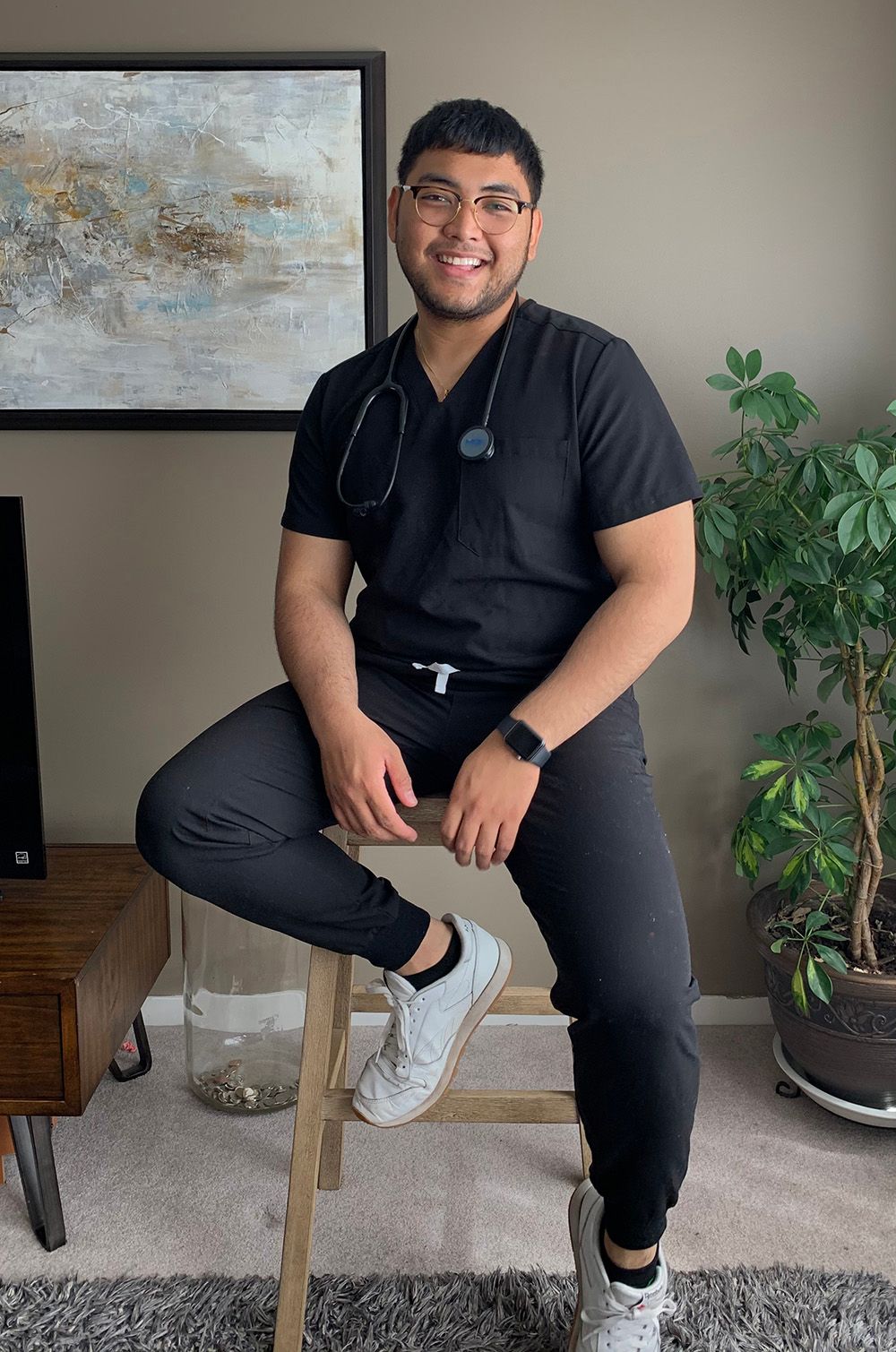 "I believe that uLethbridge nursing students embody Lethbridge's motto, Let there be light. Every room that they enter in, whether it be a patient's room or a community, there is a light that they carry!
Nathaniel Lopez
uLethbridge Nursing student
uLethbridge Nursing Students' Association President
Why did you choose nursing?
I choose nursing because of my parents. Right after high school, I was pursuing a career in the culinary arts. However, my dad had a heart attack and my mom had gastrointestinal problems. I remember talking to the healthcare professionals and I had such a hard time understanding them due to my lack of education. So I decided to pursue nursing so that I can help my family navigate these situations. In addition to that, I have always been a people-person and I am passionate on helping people, especially on their most vulnerable moments.
Who has inspired you on your journey. Why and how?
A lot of people have inspired me on my journey! But the major ones are my family, friends, nursing instructors, and my patients. My family and friends have always been my support system that helped me through my nursing school journey — they listen to my rants, cry with me during tough times, and have always reminded me of why I pursued nursing in the first place. One of my other inspirations are my professors and nursing instructors. The NESA Faculty has some really amazing, sympathetic, and intelligent professors and instructors. They have inspired me to never settle for mediocrity and reach my best potential. Nursing school is not easy; but, with the right people, its definitely easier!
What has your education experience been like at uLethbridge?
My educational experience at uLethbridge has been amazing. Personally, the NESA (Nursing Education in Southwestern Alberta) program is one of the best nursing programs in Alberta, nay, in Canada. With the unique structure of the NESA program (having the first two years at Lethbridge College and the last two years at the University of Lethbridge), I have learned both the practical side and the theoretical side of nursing, called praxis. On the other hand, the NESA program has some remarkable faculty members who are immensely knowledgeable in respective field of nursing and are esteemed and celebrated registered nurses across Canada.
The motto of our school is "Let there be light"; I believe that uLethbridge nursing students embody this! That every room that they enter in, whether it be a patient's room or a community, there is a light that they carry!
What has it been like studying nursing during the pandemic?
Honestly, it has not been easy studying nursing during a pandemic. One of the most enjoyable things in nursing school is going out there in the world and experience things with lens of a nurse. However, some of our nursing clinicals were turned into online due to placement scarcity and safety issues during a pandemic. However, the NESA Faculty and support staff had worked hard to provide the students online experience that are still transferrable to the real world. Another adversity that I believe every student faced this year was the lack of interaction from our support system and the adverse effects of these on our mental health. One of my favourite things to do is study with my nursing friends. Due to the pandemic, this was very limited and forced us to innovative with our study rooms (for example, we would often FaceTime and virtually create a study room).
Why did you combine your program with nursing and mental health?
I am minoring in Mental Health, not necessarily in the hopes of pursuing a career in psychiatric nursing; but, educating myself and broadening my knowledge of mental health. I grew up in a household where mental health was not even recognized and there was a lot of stigma regarding mental illnesses. After being saturated with nursing theories and ideologies, I became passionate in learning about mental health and being an advocate for people who experience mental illnesses.
What does the Nursing Students' Association do, and what kind of opportunities are there for students to get involved?
The Nursing Students' Association (NSA) is a student-led organization that promotes professionalism, education, social activities and advocacy creating a sense of unity and community among the members of the NESA Program. For example, last year, we hosted a Nursing Speaker Series where experienced nurses in their respective fields would talk about their experiences and provide tips and recommendations for students who have an interest in that field. The NSA also host social events that promotes networking and building connections. Hopefully, this will actually be a thing for the upcoming school year!
There are numerous ways you can get involved with the NSA, as a uLethbridge nursing student. One of the ways you can get involve is through our Peer Mentorship Program, where experienced 3rd an 4th year nursing students mentor the 1stand 2nd year nursing students; and BNAD year-ones are mentored by BNAD year-twos. Like I said, we are a student-led organization so all of our executives are NESA students. We still have some executive positions that needs to be filled. If you are interested, email us at nsa@uleth.caor follow us on social media, @uleth_nsa.
What advice would you share with anyone wanting to pursue a career in nursing?
My advice is to find your WHY! (Why am I going to nursing school? Why should I pursue this career?). Finding out my 'why' and rooting myself to it was crucial, especially during tough times! There are numerous instances where I would doubt why I would pursue this career; however, I would always go back to my 'why'!
The theme for this year's National Nursing Week is, #AnswerTheCall. What does that phrase mean to you?
There are two ways I interpreted the theme #AnswerTheCall by Canadian Nurses' Association:
One is that I believe that nursing is a 'calling' and I answered mine! Growing up, I was surrounded by amazing nurses from both sides of my family and I knew the sacrifice that nurses made for their clients (that is why I initially did not want to go into nursing). However, I saw the honourable work and the compassionate, sympathetic side of nursing that compelled me to pursue it.
Two, is that I #AnsweredTheCall to work as an Undergraduate Nurse at Carewest Fanning Centre in Calgary, during the pandemic. I distinctly remember that our continuing care facility declared its first outbreak on my very first day of working last May 2020. A year later, I did not regret answering my calling to work and help ease our strained healthcare system.