The Undergraduate Research in Science Conference of Alberta (URSCA) is a celebration of Alberta's scientific discovery and innovation at the earliest stage of postsecondary education. Gone are the days when most researchers began their original research at the graduate level. Increasingly, student-focused, research-intensive institutions are not only encouraging hands-on research in the laboratory and the field at the undergraduate level but are also providing a wide range of experiential education opportunities. Bright, liberally-educated minds are our future – and they are putting theory into practice in laboratories and the field across this great province.
Dr. Orla Aaquist, Assistant Professor of Physics at MacEwan University, founded URSCA in 2015, with the inaugural theme "Exploring Undergraduate Research." Since then, the growing conference has been successfully hosted by Kings University, Mount Royal University, the University of Lethbridge and the University of Calgary.
This year, the 6th Annual URSCA conference was initially scheduled to return to MacEwan University. However, due to concerns over public gatherings during COVID-19, the conference was in jeopardy of being cancelled. That is until Aaquist put a call out to all partner postsecondary instructions across Alberta to find out if there was an interest in moving URSCA 2020 online. Incoming Dean of the Faculty of Arts & Science at the University of Lethbridge, Dr. Matthew Letts, took the call, hoping to provide students with a venue to disseminate their research. Although a face-to-face gathering was out of the question, they realized that nothing was stopping them from moving URSCA to an online format.
To empower the next generation, it is essential to provide opportunities for budding researchers to gain experience in the public dissemination of their work, as they become members of a community of scholars. It bodes well that Alberta universities understand this need and celebrate this form of experiential learning. - Dr. Matthew Letts, incoming Dean of the Faculty of Arts & Science
The organizers quickly mobilized and were able to deliver an exceptional conference experience within a few short weeks. This effort didn't come without challenges. They had to figure out how to achieve a top-notch conference experience without the usual element of place. And they had to do it on a very ambitious timeline. What would an online conference look like? Would there be any interest? Would anyone come? And then there was the technology. How would it all work? They figured it all out, and by all accounts, it was an overwhelming success, attracting 220 attendees – the largest event yet!
I wanted to say thank you for putting this conference on. I was really looking forward to URSCA and was then disappointed when it was cancelled due to COVID. So thank you so much for running it online and adapting to the current situation. It was great! - Mikayla, University of Calgary
Catharine Reader led the organizational efforts, with help from Tony Montina and others. Their focus was to ensure that everyone, but especially the students, had a positive experience. For many, this was their first time presenting their undergraduate research, and they were asked to do it online, which came with a new set of challenges and pressures. Brad Reamsbottom and Layla Lahiji from the U of L Teaching Centre stepped up and offered three separate drop-in help sessions to address any technical concerns with the online format. Organizers also grouped abstracts into themes, to ensure that all attendees got the most out of each session they attended. Judges and moderators from all across Alberta were matched to sessions within their area of knowledge, so they could ask meaningful questions to encourage further growth and development for our presenters.
Thank you so much! It was such a pleasure to have this as my first conference in science! You and all the other coordinators did an amazing job organizing a social distancing event! Truly a great experience for undergrads interested in research, and I can't thank you and the team from Lethbridge enough. - Matthew, Mount Royal University
URSCA 2020 was hosted online by the University of Lethbridge on May 25-26,2020. Students delivered one hundred and fourteen oral and poster presentations from eight postsecondary institutions from across Alberta. It is estimated that we had a record attendance of close to two hundred and twenty people participate over the two days. This number included presenters, judges, moderators, hosts and guests.
The conference opened on Monday night (May 25th) with U of L Tier I Board of Governors Research Chair and computational chemist, professor Stacey Wetmore, who presented "The Things Computers Can Teach Us About the Chemistry of DNA and RNA."
The next day, the formal conference kicked-off and attendees were treated to what could only be described as excellence in undergraduate research, as students participated in sixty oral presentations and fifty-four poster presentations throughout the day. Forty-two awards were handed out, with representation from all of the schools involved.
Conference organizers were proud of the hard work that Alberta students have done in the lab, in the field, on their computer and, recently, in the safe confines of their homes during a pandemic. We are living through some challenging times right now, so the Faculty of Arts & Science was pleased to be able to provide students with an opportunity to safely disseminate their work and socialize with students with a diversity of related interests from across the province of Alberta. The quality of the presentations was exceptional, which is a testament to the students' dedication to research, and to the support, they receive from their faculty supervisors.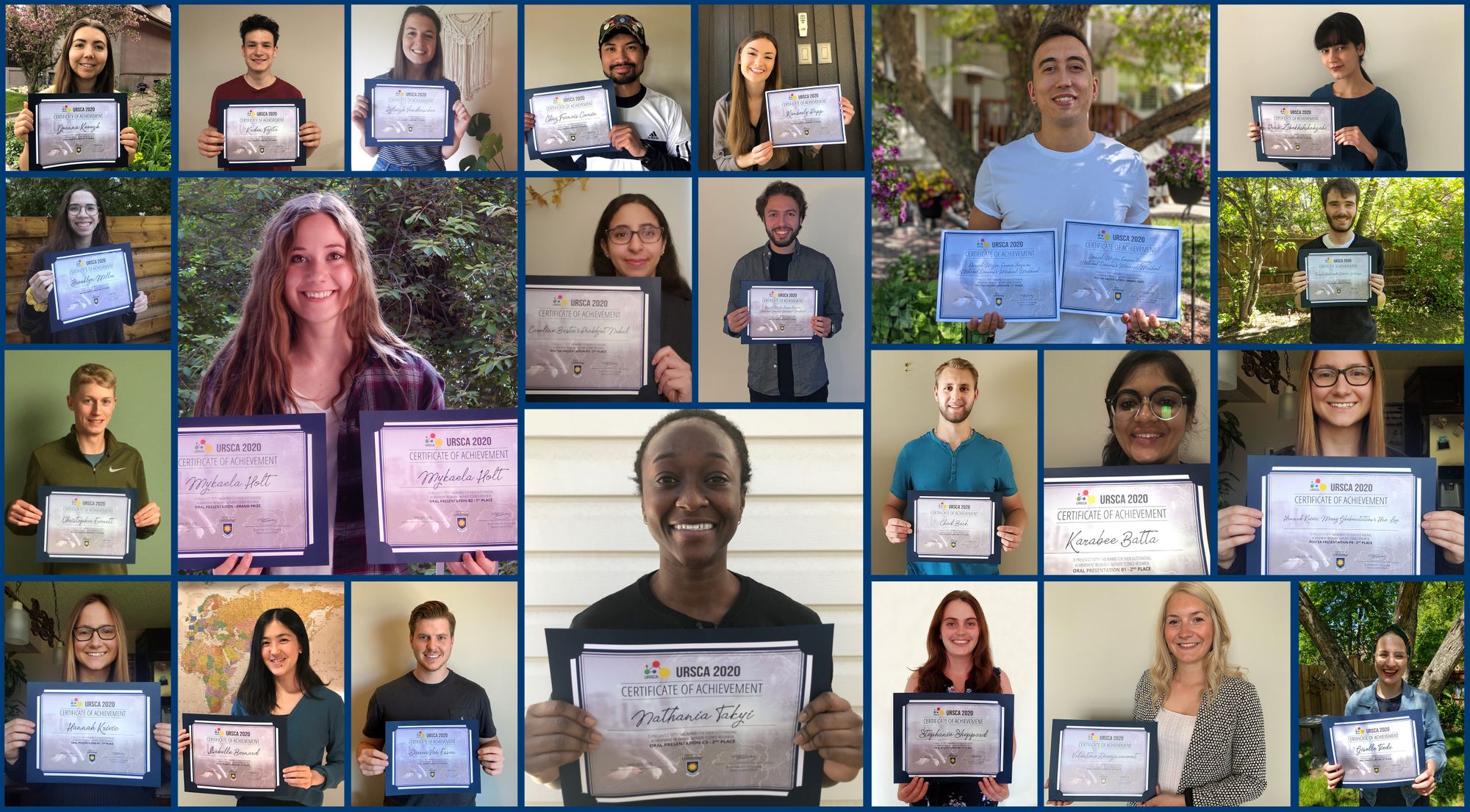 We are humbled by the number of our colleagues from across Alberta who stepped forward to volunteer throughout the conference. They volunteered to review and group abstracts and to serve as hosts, moderators and judges. We acknowledge the collaborative efforts of all participating Alberta postsecondary institutions in making URSCA a successful experience for undergraduate research students. Thank you! – Catharine Reader, Director, Marketing & Communications, Faculty of Arts & Science
Next year, URSCA is scheduled to be hosted by Concordia University of Edmonton. Champions of this event hope that it will be able to be held in person, but nothing can stop Albertan students and faculty, who will be ready for anything that comes their way.
Contact:
Catharine Reader (catharine.reader@uleth.ca)
Director, Marketing & Communications, Faculty of Arts & Science
Dr. Matthew Letts (matthew.letts@uleth.ca)
Incoming Dean, Faculty of Arts & Science