New University of Lethbridge Chancellor Terry Whitehead (BA '94) had no idea what he didn't know when he began his first semester as a ULethbridge student in 1987 — what he soon discovered changed his life and set him on a path of discovery he's still walking today.
Whitehead, named the University's 15th chancellor on Wednesday, March 15, 2023, is an accomplished business executive and entrepreneur, philanthropic donor, exuberant supporter of the arts, volunteer, board member and Edmonton Oilers fan. To say he's well-rounded would be selling him short, and to understand who he is today is to understand the transformation he experienced then.
Whitehead's journey to ULethbridge had been linear to that point in his life. A local kid, he graduated from Lethbridge Collegiate Institute and enrolled in business studies at Lethbridge College. He played two seasons with the Kodiaks men's basketball team, earned a business diploma and turned his eyes across the river, intent on leveraging his transfer credits as he pursued a management degree.
It sounds dramatic to pin a life change on one moment in one liberal arts elective but in his own words, "As cliché as it sounds, it was a Dead Poets Society kind of moment." Whitehead describes a pivotal conversation in a first-year English class with instructor Robert Morrison (BASc (BA) '83, 2013 Alumnus of the Year) where the group was really getting into text analysis of short stories and discussing the broader context outside the actual story and how it reflected the author's world experience at that time.
"It really opened my mind to the power of literature and storytelling. It was exciting, and I knew right then that I wanted to do more of it," says Whitehead.
He took more English classes, as well as political science, theatre and economics, the list went on — his curiosity was sparked. The linear vision he once had of his educational future suddenly broadened. It wasn't long before he was encouraged to audition for his first play, where he secured the part of Alonso in Shakespeare's The Tempest. As off Broadway as it was, the jock basketball player was now a student actor who suddenly was introduced to a new kind of team, where whistles and play calls were replaced by props and stage directions.
"You arrive on campus, and the world just opens up for you. You might come in thinking you're going to do this one thing and then you discover there are so many other opportunities to explore, and you gain confidence and just run with it," says Whitehead.
"I recall attending student plays, art exhibitions and grad recitals for music students and being blown away by the talent. Those experiences really ignited an appreciation for the talented artists who attend our campus and the outstanding faculty who inspire them. You go to a Horns game or a concert or a play and you just dive into the student experience and it's intoxicating."
Motivated, Whitehead fully immersed himself in campus life and all it had to offer. He worked as sports editor for The Meliorist, served a term as Students' Union vice-president and then president and began to see the world through a broader lens.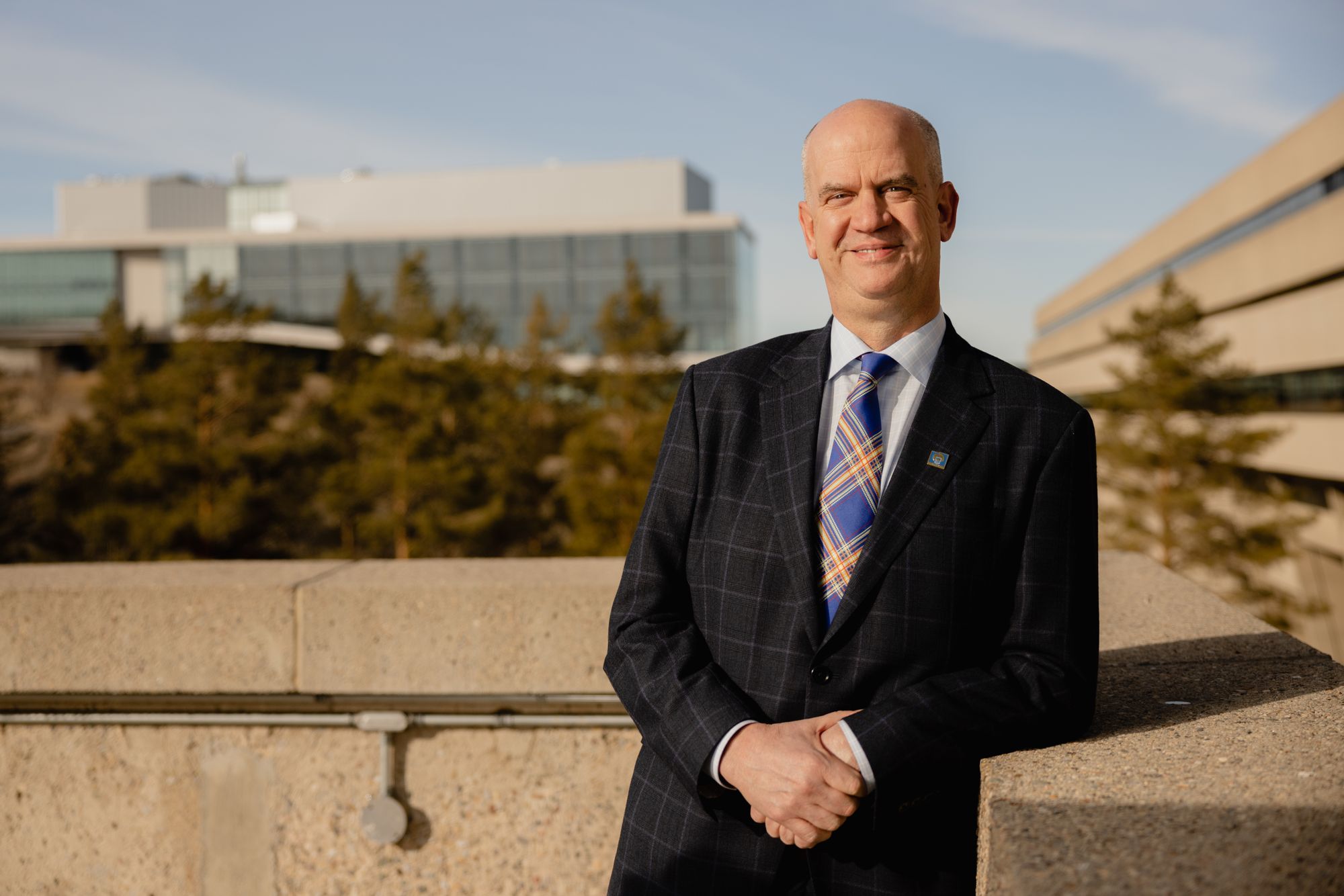 "Coming here really changed my perspective on everything, changed my worldview. I'm so grateful for the liberal education experience — it really inspired my curiosity for and gave me the critical thinking skills to apply to the bigger world," he says.
His experiences soon shaped his career aspirations. His first job out of school was an administrator and business manager for New West Theatre, the largest not-for-profit professional theatre company in southern Alberta. In fact, New West would be a harbinger for many of Whitehead's future roles, alternating between for-profit and not-for-profit ventures. He later joined Theatre Calgary and the Arts club Theatre Company in Vancouver, where he now resides.
Currently, he is a managing partner for Alexander Whitehead Executive Search, a boutique executive search and management consulting firm. All the while, he has continued to support not-for-profit entities with pro-bono work as part of the firm's community investment commitment.
His support of ULethbridge has never wavered, and as involved as he was as a student, his ties as an alumnus are ironclad. Administratively, he has served as a member of the Board of Governors and as Chair of the Advancement Committee.
He now gravitates to the role of chancellor, which he sees as an opportunity to take his work to another level. Already the philanthropic impetus behind the creation of such initiatives as The Bridge Prize (Canada's only national short story writing contest for post-secondary students), the Play Right Prize (annual student one-act playwriting competition), HistoriCity (annual student historical essay competition), the Pronghorn Citizenship Award, and most recently the Spirit Prize (annual award recognizing excellence in visual arts by an Indigenous student), Whitehead says his connection to ULethbridge is a sincere recognition of how his time as a student shaped his future career and opened his world view.
Whitehead is excited looking forward and eager to share his experience with today's generation of students. He has walked their walk after all.
"I'm mindful that I'm quite a bit older than our students but I'm hopeful they'll see that I, the Senate, the board, the institution overall really cares about their academic experience and the life experiences that come outside the classroom," he says. "I'll do my best to encourage student leaders and the everyday student to make the most of this opportunity while they're here — this is such a fantastic institution."