Jonathan Le May (BSc '23) wasted no time exploring research opportunities in the Department of Neuroscience once he arrived at the University of Lethbridge. Little did he know how important rats would rank as part of this experience. Jonathan will receive the Silver Medal of the Governor General during the Spring 2023 Convocation.
Receiving this medal is a tremendous honour for me. For me it's a representation of years of hard work and dedication, as well as a reminder of all the amazing professors who went above and beyond to support and guide me throughout my education.
Meet Jonathan | Curious. Enthusiastic. Adventurer.
Program: Bachelor of Science | Major: Neuroscience
Why did you choose ULethbridge?
I chose Ulethbridge for two main reasons. I had heard that the neuroscience department was the best in the nation—additionally, the small class sizes and research opportunities that ULethbridge offered.
Did you know what you wanted to study before you came to ULethbridge? Has your academic plan changed since you began your studies?
I did! I've wanted to go into medicine since high school, and I've had a love of neuroscience and psychology since then as well. My plan has stayed the same throughout my studies.
Please tell us a bit about your experiential or work-integrated learning at ULethbridge. What were your three biggest takeaways from participating?
I've done several independent studies in a single neuro lab. Without a doubt conducting research in Dr. David Euston's lab is my most memorable experience at ULethbridge. Working with rats has been particularly interesting, as I went from having never seen a rat in my life to holding them daily. It is always a great conversation starter when I tell people I teach rats how to gamble.
My three biggest takeaways are:
Hands-on / focused learning can be much more engaging and fulfilling than passive learning.
Opportunities are out there for you to push and develop yourself if you're willing to go outside your comfort zone.
Getting involved in labwork is an excellent way to make meaningful connections with your professors and other students.
How have your professors impacted your education?
The professors at ULethbridge have been phenomenal, and they have impacted me in so many different ways. Dr. Euston has been an integral part of my experience at ULethbridge, and working in his lab has been my most memorable experience during my time here.
Jonathan stands out for both his intelligence and willingness to help others. – Dr. David Euston, Department of Neuroscience, nominated Jonathan as a Shining Student.
Additionally, Tyler Bonnell has nurtured my love of data science and programming, a completely new interest for me. It has led me to want to further develop my skills in data science and pursue an internship in it upon graduation.
Have you received any scholarships and awards? If so, please tell us a bit about how they helped you throughout your studies.
I've received multiple awards, such as the Louise McKinney scholarship, The President's Scholarship, and Arts & Science and Excellence, among others. All of these scholarships have profoundly impacted my ability to study as I don't come from the most well-off background. I am extremely grateful for these and the NSERC Undergraduate Student Research Awards that I received, which allowed me to develop my love of research while working over the summer.
What is the most important lesson you have learned so far at ULethbridge?
The most important lesson I've learned is that you can succeed at anything if you are persistent enough to improve. I've often felt daunted by a task, but I have succeeded at a variety of new things through consistent work.
What are your hopes/plans for the future?
I am applying to medical school and hope to become a capable and confident physician one day.
What advice would you like to give those who are about to begin their journey at ULethbridge?
My advice to a new student would be to focus on two things. The first and most important when first coming in is to learn strategies that will help you succeed and excel in your studies; it's important with everything going on to remember that you are at university to grow your knowledge. Secondly, make sure you intentionally use your time to enjoy the university experience. It's a once-in-a-lifetime opportunity, and the memories you make during these years will last with you throughout your lifetime.
Quick Answers
Top things to do in or around Lethbridge:
I love to run in Lethbridge; I discover so many hidden gems and parks every time I go out.
I also really enjoy climbing, both at the University and at Coulee Climbing.
Finally, my favourite thing to do is to visit Waterton and go hiking or climbing outdoors.
Favourite class: Data Science and Analytics in Python
Favourite social activity at ULethbridge: Climbing / Recreational Basketball
Favourite place to study: Study rooms / Dry lab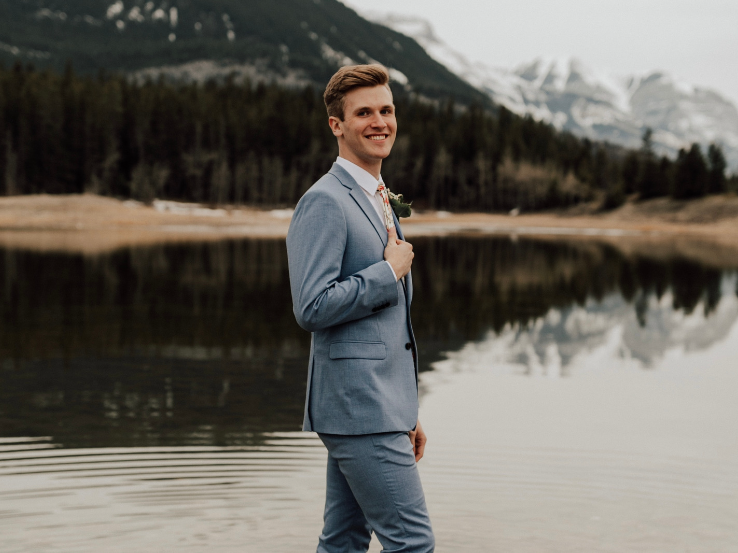 Congratulations Jonathan!
☎️
Welcome to the ULethbridge Alumni Family! Remember to stay in touch.
Stay connected with classmates, share your successes, mentor future ULethbridge students and enjoy Alumni perks and benefits!
Update your contact information with
Alumni Relations
.
Find us on
Facebook
,
Instagram
or
LinkedIn
Read more
about your fellow alumni.