As the turbo prop airplane descended towards the Lethbridge Regional Airport in the Fall of 2009, Dr. Mike Mahon was struck by the landscape unfolding beneath him — its unique contours and openness laid out in stark contrast to the urban centres of which he'd grown accustomed.
As first impressions go, this one would prove to last — perhaps because it foretold what was to come for Mahon, an opportunity he never knew existed until it was presented to him on a broad, beckoning canvas.
"I remember that first flight into Lethbridge to meet with the search committee and just seeing the landscape was so interesting for me," says Mahon, the University of Lethbridge's sixth president and vice-chancellor, as he reflects on a 13-year career in the role he will soon be concluding. "When the search consultants called to see if I'd be interested in exploring the presidency at the University of Lethbridge, it was honestly something I hadn't thought of. After going through that first interview and the discussions we had, I got more and more excited about the potential of this place and the opportunity."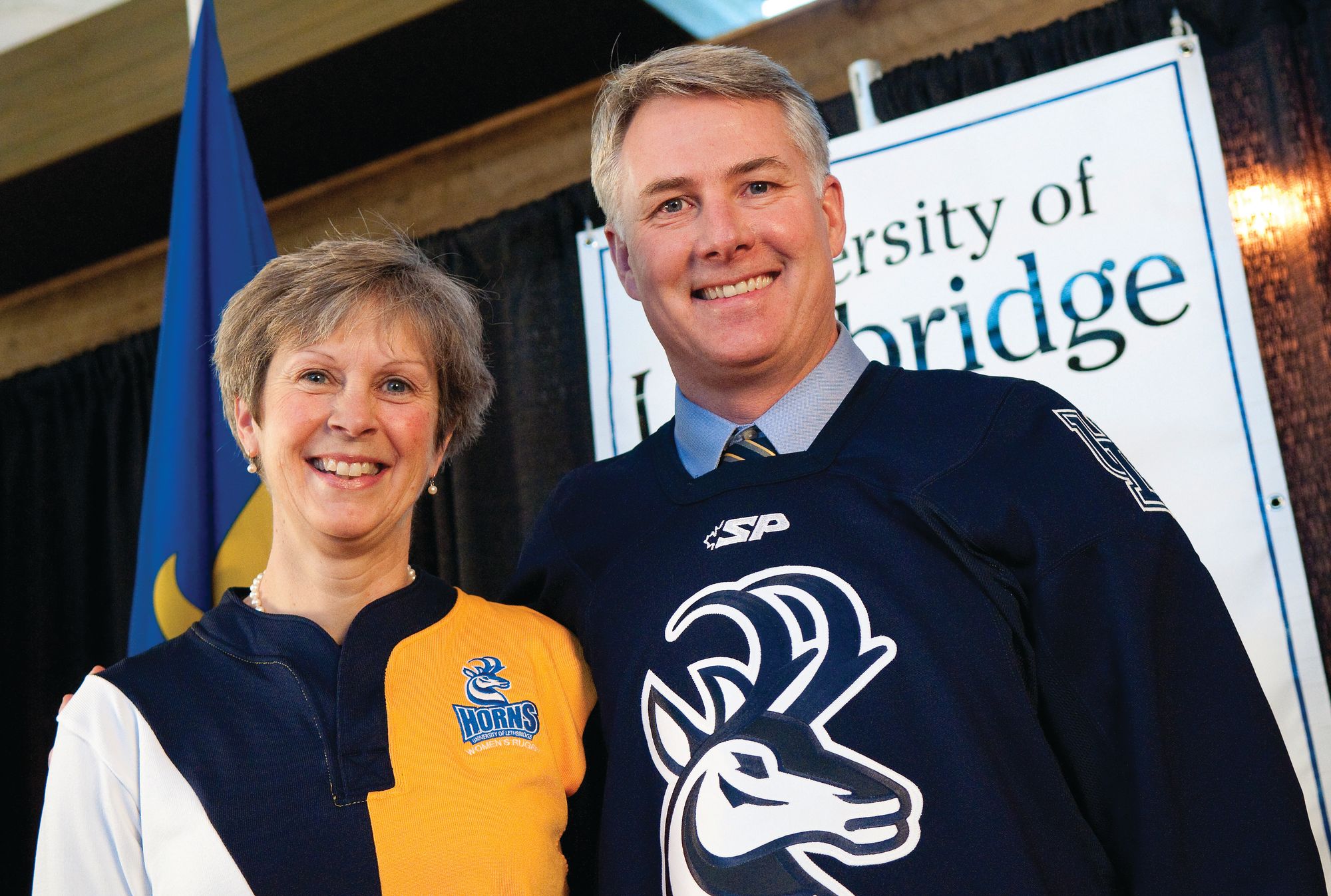 The opportunity Mahon recognized would manifest itself over the years in the launch of the Destination 2022 Strategic Plan, a historic capital campaign, new buildings, programs and partnerships, along with a renewed commitment to the liberal education ideals that serve as the foundation of the ULethbridge experience. The University grew under Mahon's leadership in multiple ways, and while Mahon couldn't predict just how the University would evolve over his tenure, he recognized early the capacity for growth was here — and he saw it through the people he met in those early days.
"I think what stood out for me was the real enthusiasm and commitment to the essence of the University — which was a university dedicated to the student experience and dedicated to liberal education. There was a passion that I heard in people's voices," he says. "I wanted to come to a place where the community saw a future of growth, evolution and innovation — and that's what I saw here."
The most obvious testament to the University's expansion over Mahon's tenure is the realization of Science Commons. Its sheer magnitude, at 38,500 square metres, has literally changed the way people see ULethbridge. What it represents however, is even greater than its physical profile.
The initial discussions about Science Commons took place during Mahon's first month on campus and it would take years of advocacy before funding was secured to begin its construction. It took a concerted effort by groups within ULethbridge along with valued stakeholders from the broader community. When the doors opened in Fall 2019, ULethbridge celebrated the arrival of Canada's most advanced facility for science education and research. It also celebrated the relationships that made it happen.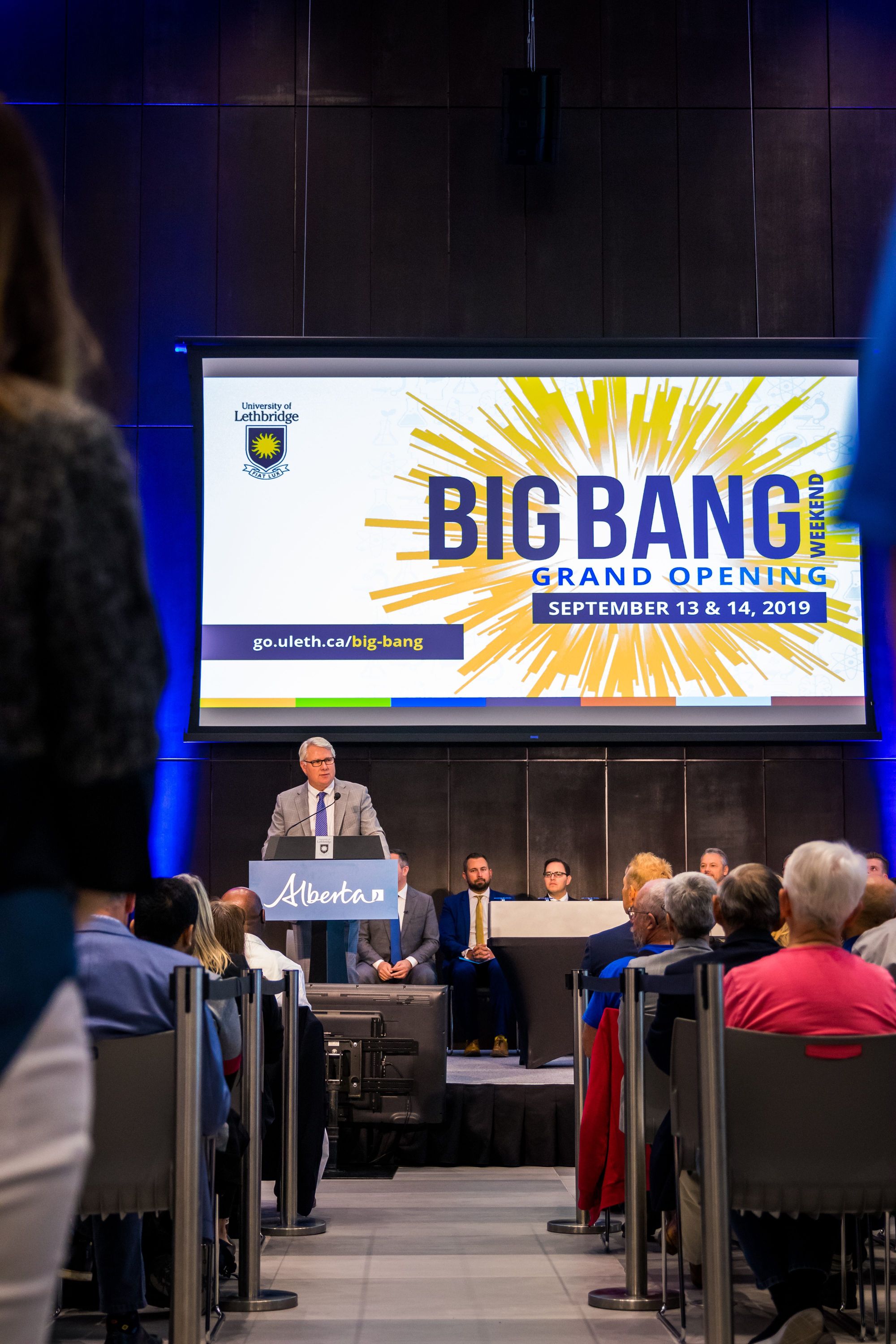 "Science Commons symbolizes a number of things. Obviously, it highlights the importance of new infrastructure for the sciences that we needed, but it also symbolizes our commitment to equity, diversity and inclusion, our commitment to interdisciplinary and transdisciplinary work and our commitment to the community," says Mahon. "We have one of the few science buildings in North America that has a laboratory dedicated to K to 12 students, and on any given day, you can find groups of young kids learning about science and finding a university campus is a fun place to be."
It is that theme of relationship building that permeates many of Mahon's memories and marks the realization of so many ULethbridge pride points. From establishing southern Alberta's most popular Family Day free- for-all, Play Day, to committing to a comprehensive Indigenization strategy — cultivating relationships has been at the heart of it all.
"The University's relationship with the Blackfoot community goes all the way back to our first official president, Dr. Sam Smith (LLD '90), who asked Dr. Leroy Little Bear (BASc (BA) '72, DASc '04) who was an undergraduate student at the time, what could the University do to be more inclusive," says Mahon. "In my early days, I sat down with Leroy and asked him the same kind of question — how can we do better and what can we do to support the Indigenous community to ensure they see this as their home."
In 2011, long before the Truth and Reconciliation Commission released its Calls to Action, ULethbridge articulated its plan to better support Indigenization on campus through the work of Little Bear, Roy Weasel Fat and Dr. Jane O'Dea. The Mastercard Foundation gift and birth of the EleV program, designed to tackle education barriers for Indigenous youth and support economic opportunities, followed. In recent years, Charles Weaselhead became ULethbridge's first chancellor of Indigenous descent, Little Bear was appointed Vice-Provost Iniskim Indigenous Relations, the Iikaisskini Gathering Centre was relocated to the heart of campus and record numbers of Indigenous students have graduated.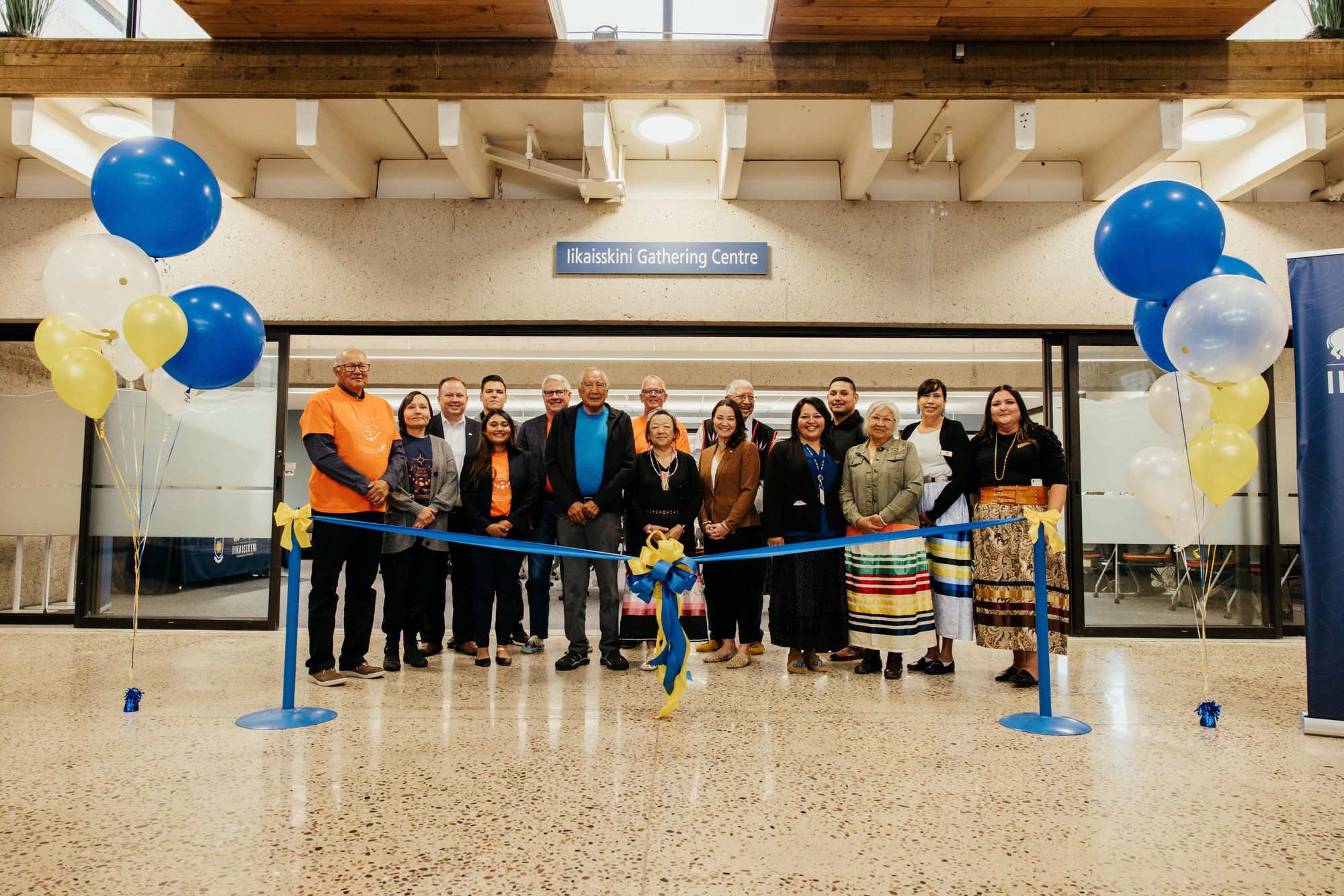 Mahon, who was gifted the Blackfoot name Iipisowaahsiiyi (Morning Star) when he was inducted into the Kainai Chieftainship in 2012, recently participated in an Iniskim Transfer Ceremony where he was given a sacred buffalo stone by Elder Francis First Charger.
"It was a very personal ceremony and a moment to celebrate all the things we've done together with the Indigenous community to ensure we continue to see the University as a vehicle to support truth and reconciliation," says Mahon. "I was quite humbled when I received that buffalo stone and along with being inducted into the Kainai Chieftainship. Those are moments that will stay with me the rest of my life."
In reflecting on his tenure, Mahon credits the support he received in helping the University thrive and how it will keep ULethbridge in good stead moving forward.
"From the outset, the things we accomplished happened because of the collective, not because I was president but because there are great people on this campus who all have this vision for the evolution of the University," he says. "I'm excited that Dr. Digvir Jayas will be the next president. There are so many opportunities we are on the cusp of beginning and he's coming to a university that is going to continue to grow and evolve."
When asked to sum up his experience at the University of Lethbridge, he never hesitated.
"Community is the word I would use to describe the University. We are a community of students, a community of scholars and more broadly, a community of people dedicated to higher education and maintaining access to higher education," says Mahon. "Our university wouldn't exist if not for the community that came together and rallied around this idea of having a university in Lethbridge. For me, community we are as an institution."
That community will be on Mahon's mind as he concludes his time as president and vice-chancellor, grateful for how he and his family were welcomed in 2010 and made to feel so comfortable in the 13 years since.
"On behalf of Maureen and I, and our family, thank you for being so welcoming to us. This community has been so important to us in terms of the friendships we've developed and the experiences we've had. We owe you a debt of thanks."