Saren Moore transferred to the University of Lethbridge from Grande Prairie Regional College after hearing about the fantastic anthropology department. He has no regrets. Faculty from the department have influenced his inspirations, viewpoints, and ideas for future work in the field by providing him with diverse educational experiences that have shaped his way forward.
As anthropology is a holistic discipline that looks at the big picture and the details, I find value in every experience that complements my learning.
Meet Saren | Listener. Scholar. Adventurer.
Program: Bachelor of Arts | Major: Anthropology
Please tell us a bit about your experiential or work-integrated learning at ULethbridge.
My work term at Taiga Heritage Consulting LTD was part of a self-initiated co-op. I'd become part of the company as a seasonal worker while I was attending Grande Prairie Regional College. Working as archaeological surveyors, we test areas slated for developments like logging, roads, and occasionally oil. It's physical work, hiking in and out of blocks, usually for several kilometres in a day, and we don't always finish that block. But we also do projects with schools in Grande Prairie and the High Level area, inviting kids out to excavate. We do both educative excavations and surveying work projects with various parties from the Dene Tha First Nations.
When I first got into this job, it was mainly about staying organized and doing the labour. It wasn't until I started pursuing my degree that my interest increased, but until I got into the co-op program, I didn't really find my passion for the work and re-spark my love of learning. Thanks to the design of the program, you spend a lot of time reflecting on where you are and where you want to go. You make goals and learn how to structure them in a solid plan to succeed. Even when things don't go as planned, the experience itself is highly valuable. I started asking more questions at work, with people in my company and in other parts of the industry, and in response, my bosses became more like my mentors, and it's been an all-around positive environment to encourage my growth. Now, I'm looking forward to future projects more than ever as I graduate soon.
Participating in co-op opened my eyes to how the practice of reflection revealed how much there was still to learn even though I performed a job I had been doing since 2017. I had no idea how many opportunities there really were around me, and I regretted letting them pass me. Co-op taught me to believe in myself despite those moments when I did not. As long as I keep trying, I will always find my way.
What is your most memorable ULethbridge experience so far?
My most memorable ULethbridge experience so far has been participating in the various clubs on campus, especially during my first year. People were always very welcoming, and being among peers who shared interests with me was terrific. Cauldron Club's Tarot Nights still hold a special place in my heart and taught me the use of tarot as a reflective tool and the power of intention.
How have your professors impacted your education? Have any professors changed how you view the world or what you want to study?
The vast majority of my professors have been dedicated to my learning and success. Your professors will often do all they can to help you. Those in the anthropology department have especially influenced my inspirations, viewpoints, and ideas for future work in the field. Drs. Andrea Cuellar, Patrick Wilson, and Jerimy Cunningham have been strong influences as I have taken numerous classes with them on topics I hope to pursue after graduation. Drs. Jamie Mackenzie, Jodie Asselin, Steve Ferzacca, Catherine Kingfisher, and Jan Newberry have provided me with diverse educational experiences that have shaped my way forward.
Is there anyone else who had an important influence on your ULethbridge experience?
There are so many! Everybody wants you to succeed. University administration, various staff, the health centre's outstanding team, and counselling services all want the best for you. The excellent staff in the health centre have taken great care of me as I work to keep my body and mind in harmony for continued success and happiness. The co-op team, especially Erin Kennett and Stacy Gaudette-Sharp, have helped me with such an amazing and eye-opening experience. Faculty of Arts & Science Academic Advisor Jacinda Weiss kept me on track during one of my most challenging moments. My dear friend Imogen Shakespeare often convinces me to explore new opportunities and encouraged me to join the co-op program.
Have you received any scholarships and awards? If so, please tell us a bit about how they helped you throughout your studies.
Yes, I received the James R. Genge Work Experience Scholarship this year, and previously I received two U of L scholarships, both of which have helped cover my tuition costs. Receiving scholarships allowed me to focus on my studies and self-improvement rather than worry about finances or finding employment to support myself during the semester. To the donors, thank you for allowing me to focus on doing what I love and exemplifying the generosity I hope to one day put back into the world.
Are you participating in any extracurricular activities like sports or the arts? If so, how are these experiences enhancing or complimenting what you are doing in the classroom?
I often look for extracurricular opportunities on a short-term or one-time basis. These opportunities provide a needed break for fun and to learn interesting skills. As anthropology is a holistic discipline that looks at the big picture and the details, I find value in every experience that complements my learning.
Most memorable is the kayaking lessons offered at the University, which also inspired the topic of my Methods of Craft Production paper on the history of kayak crafting, and the inspiration to fully pursue material culture studies in anthropology.
What are your hopes/plans for the future?
I hope to finish my last full year here, then work in Grande Prairie in archaeology before going on exchange in Japan for my final Japanese language course. In the meantime, I hope to pursue opportunities with my professors to gain anthropological field experience. The company I work for is also exploring options to work with the Dene Tha First Nations.
What advice would you like to give those who are about to begin their journey at ULethbridge?
Talk to your professors, and if you need help, get it sooner than later. They are usually super understanding and want you to succeed in their courses. Go on an international exchange in your first few years if you can. There are many options for classes that will count towards your degree. Pick the GLERs you think will be fun and enhance your ULethbridge experience, not just whatever gives you the easy A. Join clubs. Join the co-op program, especially if you plan to work in the summers anyway. They have tons of resources to help you get a job that will be awesome, and if you've got something already, see if you can make it into a self-initiated experience, you'll get so much more out of it. Check out CKXU and get a "friends" card; it supports student radio and gives sweet discounts to a lot of places, including coffee and pizza.
Quick Answers
What are the top three things you like to do in or around Lethbridge?
I enjoy the occasional lunch at Tacos Made in Mexico, taking in the culture through cuisine.
I am an avid walker, and I enjoy that Lethbridge has the most parks per capita of any city in Canada.
Lastly, I enjoy taking advantage of the arts and museum culture in the city, as well as the pop-up experiences. For example, I recently attended the Sake Tasting at Nikka Yuko Garden.
Favourite class: ANTH Methods of Craft Production
Favourite social activity at ULethbridge: Conversation Cafe with the Japanese Exchange Students
Favourite place to study: Home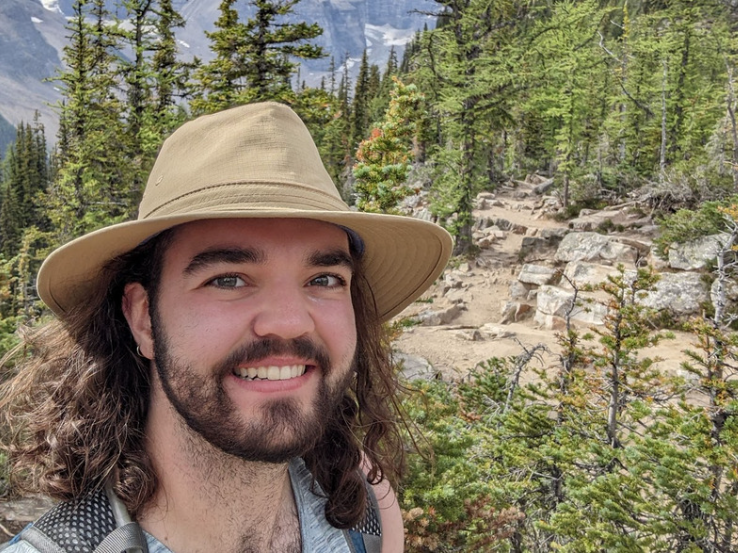 About Shining Students
Shining Students engage inside and outside of the classroom. What makes a student shine may differ from person to person, but they all share a passion for learning. They may be top students, involved in an innovative project, participating in ground-breaking research, playing Pronghorn athletics, fighting for social issues or all of the above! When students find something they enjoy and combine it with what they are good at, they shine.
Each year, the Faculty of Arts & Science's faculty and staff nominate students who exemplify the ULethbridge student spirit. Congratulations Saren!