When Kailyn Baum arrived on campus, she was thrilled to discover a diverse biological sciences department with incredible facilities in the Science Commons and opportunities for practical learning on and off campus. Despite already knowing that a degree in biological sciences at the University of Lethbridge would set her up for a future in veterinary medicine, she joined the Co-operative Education program to broaden her scope of career possibilities and try new experiences.
Getting hands-on practical experience from various workplaces helps you learn and narrow your focus. Co-op is so worth it!
Meet Kailyn | Adventurous. Smiley. Bright.
Program: Bachelor of Science | Major: Biological Sciences
Please tell us a bit about your experiential or work-integrated learning at ULethbridge.
I am involved with the co-op program at ULethbridge, which has introduced me to experiential learning in a biological laboratory.
My main co-op position at Defense Research Development Canada (DRDC) primarily entails laboratory components, specifically assessing the effectiveness of a commercial immunoassay to detect biological toxins in various sample types. I work with a technician to develop a workflow for running tests, and we are creating a statistical database for scientific evaluation by defense scientists to be used for handling unknowns and for use in diagnostic procedures. Outside of the lab, I've had the opportunity to participate in and assist in facilitating training with DRDC while they were hosting the precise response NATO training exercises over the month of July.
What is the best part of your job at the DRDC?
Having the NATO training going on was amazing timing for me to be involved with the biological department and observe/participate in the full scale of the exercises with Bio Training Safety Officers (BTSO). By completing mandatory training courses for the student position and attending emergency response training sessions earlier in my co-op term, I could check off the necessary boxes to participate in the exercises under the direct supervision of other coworkers. As a result, I was able to observe the NATO task groups work at their exercises/training from within the scenarios rather than an outside observer which was very rewarding. Also, due to my hard work, diligence and competencies, I was able to be the acting BTSO during a non-live scenario and take responsibility for the trainees should anything emergent arise. The entire experience was rewarding, and hearing my co-workers tell me I was able to participate further than other students due to my aptitude was very fulfilling.
How has this co-op experience helped shape your career direction?
I think lots of folks innately know they enjoy teaching or training in their career roles while someone like myself was happily surprised about how much I enjoyed the teaching opportunities while participating in training sessions with DRDC. Getting the chance to share my biological knowledge and speak with a variety of individuals, from those with basic biology proficiency to those with many years of scientific research background, was a great way of realizing my potential as an educator. I was not only able to teach groups but also able to learn from the trainees as well which expanded my scientific worldview beyond what I've so far been exposed to during my undergraduate education.
What are the greatest takeaways from participating in WIL?
One of my greatest learning takeaways from participating in co-op is making those theoretical connections from coursework to practical skills completed in a working environment. This has enhanced my skills in laboratory techniques and helped familiarize me with lab machinery. Being involved in co-op has allowed me to participate in employee engagement by observing different biology sections, developing knowledge relevant to my position, and better understanding the STEM industry. It has also allowed me to build a network, enhance personal communication, create a personal profile within a new organization and develop professional relationships with diverse scientific minds. Being involved with the co-op program has been the most memorable and influential experience I've had at ULethbridge.
What is the most important lesson you have learned so far at ULethbridge?
Get involved with co-op sooner than later! I wish this opportunity had been available to me during my first degree. Biology is a large science division, and there are many career avenues and possibilities. Getting hands-on practical experience from various workplaces helps you learn and narrow your focus. Co-op is so worth it!
How have your professors impacted your education?
The professors at ULethbridge are wonderful and bring forth many different backgrounds and scientific experiences. There are diverse and well-rounded faculty in all departments, making courses unique and interesting. They provide new perspectives and help grow students' worldviews.
Is there someone else who had an important influence on your ULethbridge experience?
Stacey Gaudette-Sharp has significantly influenced my ULethbridge experience, especially as it pertains to the co-op program. She was critical in promptly getting my co-op involvement set up so that I could apply to co-op positions, particularly an 8-month co-op position with an organization I was most interested in. She assisted me along the way with all my documents and application. Stacey kept me informed in the process, supported me with resources, and maintained communication during my co-op term.
Are you participating in any extracurricular activities like sports or the arts? If so, how are these experiences enhancing or complimenting what you are doing in the classroom?
I played for the ULethbridge Pronghorns Ringette team during the 2021/2022 season, which was a tremendous physical relief from student life of studies, sitting many hours in class, and completing homework.
What are your hopes/plans for the future?
I hope to attend veterinary school and find a position in mixed animal practice.
What advice would you like to give those who are about to begin their journey at ULethbridge?
Join co-op! So many opportunities are available, and it will help you decide what you want to do before graduating. You get to try on careers before you buy!
Quick Answers
What are the top three things you like to do in or around Lethbridge?
The proximity from Lethbridge to the mountains is a huge bonus as there are so many opportunities to camp, hike and mountain bike.
There are really great local coffee shops (Bread Milk and Honey à yummy) in the downtown area.
Lethbridge has some very nice parks for walking or enjoying the fresh air.
Favourite class: Animal Physiology
Favourite social activity at ULethbridge: Ringette
Favourite place to study: At home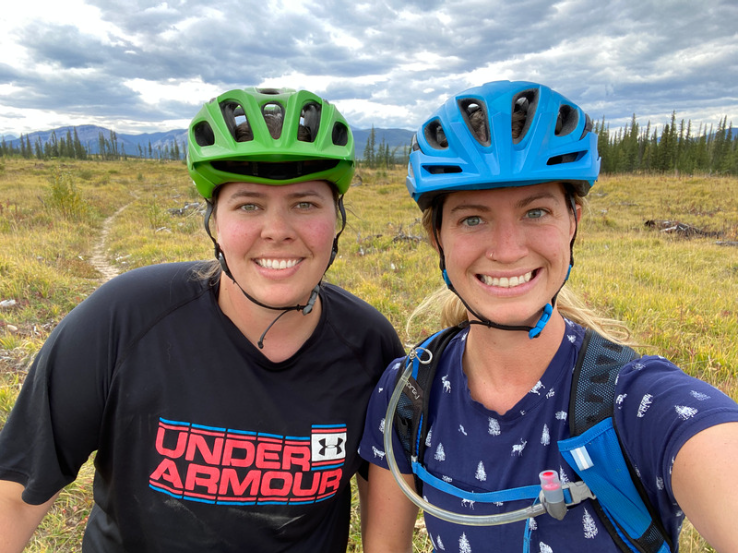 About Shining Students
Shining Students engage inside and outside of the classroom. What makes a student shine may differ from person to person, but they all share a passion for learning. They may be top students, involved in an innovative project, participating in ground-breaking research, playing Pronghorn athletics, fighting for social issues or all of the above! When students find something they enjoy and combine it with what they are good at, they shine.
Each year, the Faculty of Arts & Science's faculty and staff nominate students who exemplify the ULethbridge student spirit. Congratulations Kailyn!