A 45-minute phone call convinced Tyler Muzzin that the University of Lethbridge was the right place for him - as a graduate student and an artist.
"I started looking into master's programs and I saw an ad for the University of Lethbridge," says Muzzin. "I contacted the schools that I was interested in and Mary (Kavanagh, thesis supervisor) was the first to contact me personally."
That personal touch and an interest in each others art and research practices convinced Muzzin that uLethbridge was where he'd pursue his education. Within six-weeks of arriving in Lethbridge, Muzzin was off with Kavanagh on assignment, taking on the role of second camera operator for her research project, Trinity, at the White Sands Missile Range in New Mexico. It would turn out to be one of his most memorable student experiences.
"The morning of the Trinity open house, we were meeting with some military officials from the US Armed Forces. We were put in a convoy that passed all of the tourists and got us special passage into Trinity site right as the sun was coming up over the mountains in New Mexico," recalls Muzzin. "This was at the epicenter of the first atomic test, the moment that the course of the future ultimately changed for everyone on Earth, and we were sitting there watching the sunrise, in the middle of where this bomb detonated in 1945."
As Kavanagh's assistant, Muzzin was given a great deal of responsibility.
"She had very high demands, but also high trust and that formed a strong professional relationship because I knew everything I did was on the line for her project. This was a special opportunity compared to what other grad assistants might be doing at schools where their cohorts are up to 60 students."
Muzzin chose uLethbridge knowing a larger cohort could lead to research assistant positions that spent most of the time at the photocopier, cleaning paintbrushes or doing administrative work. Instead, alongside Kavanagh, he was entering a site carefully administered by the United States Department of Defense, with a media pass and camera.
"If you want to work with an artist in Canada, there are thousands to choose from, but to work with someone like Mary, who can also write, research, organize people – I wanted to work with someone who could delve into all these facets of contemporary art, which today is more than just medium specificity. It's about travel, research, thinking of globalized conversations and trying to tie them together within an already existing discipline of art."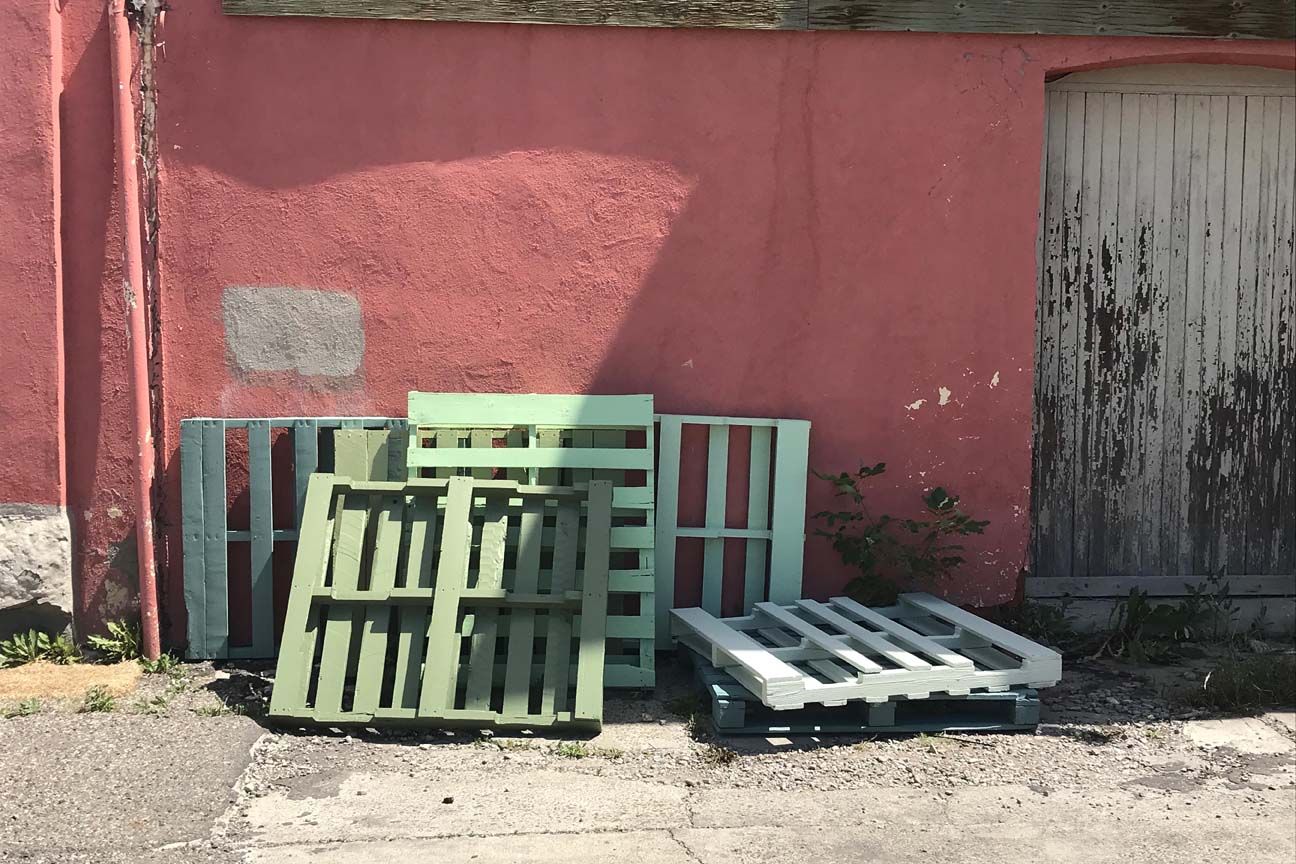 Muzzin graduated in Spring 2020, receiving the 2020 School of Graduate Studies Silver Medal of Merit of Fine Arts and Music for his exceptional thesis project and exhibition, This Apparent Magnitude. It appeared at the Trianon Gallery, July 2019, and was hosted and supported by John Savill and Savill Group Architecture.
The exhibition consisted of four new projects, representing the culmination of two years of research, travel, and creation, all centred around critical approaches to the depiction of physical environments.
"The main reason I got into art was that I was noticing this disparity between the world I was seeing and the world as it was often represented. I though artists could propose alternative representations that can break up the more interested representations we see in popular culture."
On his time at uLethbridge, Muzzin fondly remembers his experience as a research assistant on Kavanagh's atomic tourism research project, and the month-long residency opportunity at the Gushul Studio in the Crowsnest Pass. His advice to incoming graduate students:
"Think of graduate school as a house for your wildest curiosities and then use the resources to turn them into something awesome."
It appears as though Muzzin did just that.
---