The path to new knowledge is complex. Through partnerships and support, researchers and students are discovering new solutions to difficult problems, enabling positive change and impacting lives around the world.
The McCain Foundation invests in the future of southern Alberta
Through a generous $280,000 donation to the University, the McCain Foundation invested in students, sustainable agriculture and the future of southern Alberta.
"The McCain Foundation has long supported initiatives in the rural communities where McCain operates and potatoes are grown by local farmers," says Linda McCain, chair of the McCain Foundation. "We are pleased to support the McCain Studentship in Sustainable Agriculture, in line with our commitment to education and the environment, so these communities and their farms can continue to grow for generations to come."
The McCain Foundation Studentships for Sustainable Agriculture are aimed at supporting and promoting master of science students in biology whose research focuses on science and leadership in sustainable agriculture.
The pilot project will fund a minimum of six graduate students for two years at $20,000 per year. The studentship offers training in experimental science with world-class researchers at the U of L, as well as novel courses and new networking opportunities.
As of September 2021, six students are working with ULethbridge faculty members to investigate an array of research topics.
Fighting pollution by developing biodegradable plastics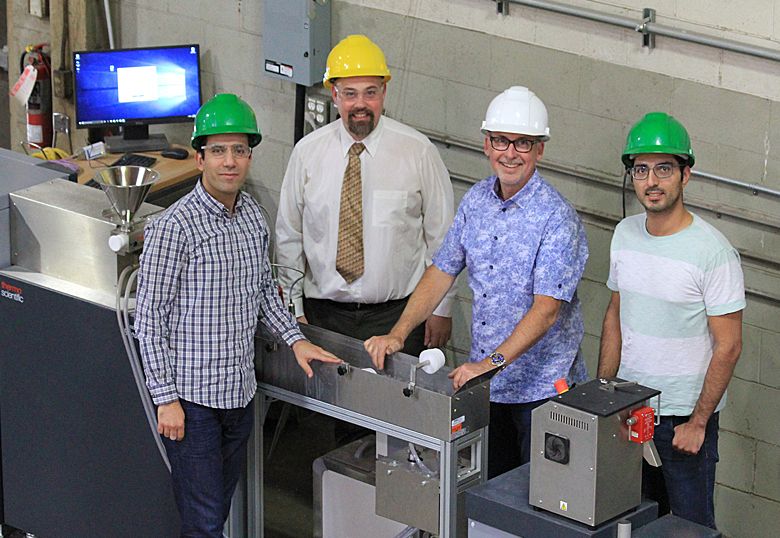 The establishment of the Green Polymer and Technology Centre in Science Commons, thanks to a $1-million investment from Western Economic Diversification (WD), has paved the way for the development of biodegradable plastics.
The University and Lethbridge-based Flexahopper Plastics are working together to find ways to produce plastics that don't use fossil fuel feedstocks or require fossil fuels to process. Plastics are ubiquitous, with more than 300 million tons being produced every year. Plastics also produce a lot of waste that pollutes oceans and waterways, kills wildlife and accumulates in landfills.
The polymer lab, part of the Canadian Centre for Research in Advanced Fluorine Technologies (C-CRAFT), has brought expanded opportunities for students to be involved in research in polymers, agriculture, fossil fuels, pharmaceuticals and environmental remediation.
"We are pleased with the success of the U of L's SHINE campaign and appreciate that we were able to participate as an industrial partner," says Bill Spenceley (BASc '81), president of Flexahopper. "We believe our community receives tremendous benefit from having a top-notch University located in our region. Most companies are not aware that the technical resources and expertise available at the U of L and the new Science Commons building is a game changer in this regard. A case in point is our work with the Department of Chemistry & Biochemistry on modifying green-sourced polymers for the plastics industry. The U of L has also helped us with validating process technologies to be more sustainable. We're hopeful that existing and new companies will share the success we've had and help position our region as an innovative hub of the province."
---
SHINE: The Campaign for the University of Lethbridge launched in 2018 with two main goals: to significantly increase engagement opportunities for alumni and community members and to raise $100 million to propel the entire region forward. Thanks to your support, we have surpassed these goals. More than 20,000 alumni are now actively engaged with the University and, thanks to the incredible generosity of 11,000 donors who made 33,000 gifts, we have raised more than $103 million.
Thank you for joining us to take bold steps toward a brighter future together.