Faculty of Education Legacy Magazine archive photo, 2012, Rod Leland.
Dr. Lance Grigg was just finishing his third and final year of "getting the high school up and running" in Baker Lake Nunavut when the Dean of the Faculty of Education, Laurie Walker, offered him a tenure track position at the University of Lethbridge. It was 1996 and Dr. Grigg soon made a "smooth transition" to his new home teaching Education undergraduates social studies and critical thinking skills alongside "great Alberta teachers". Eventually Dr. Grigg became an instructor of both Foundations and Philosophy graduate level courses in the Faculty of Education as well as teaching 19th Century Philosophy in the Faculty of Arts and Sciences.
As he looks back on his 26 years at the U of L, it is clear Dr. Grigg has valued his time in a space that allowed for participation in a rich research and teaching environment.
One such experience was his research with Health Sciences instructor Dr. Monique Sedgwick. As the abstract from the resulting 2014 publication in Rural Remote Health explains, "This study used a non-traditional approach for data collection. Fifteen rural acute care nurses with varying years of experience working in southern Alberta, Canada, were observed while they provided care to patients of varying acuity within a simulated rural setting. Following the simulation, semi-structured interviews were conducted using a substantive approach to critical thinking." Or, as Dr. Grigg describes it, "I learned so much about nursing! The Simulation Lab is amazing and the critical thinking interviews broadened all of our understandings relative to health care."
Another, equally important memory, is Dr. Grigg's contribution to the Dual Credit Initiative (DCI) in his capacity as a critical thinking instructor. This initiative was first piloted in 2015 at LCI with teacher Aaron Stout and in conjunction with U of L Liberal Education instructor Dr. Bruce MacKay. As with his research helping to improve the teaching practices within Health Sciences, this forward-thinking program enabled high school students to take Liberal Education 1000, utilizing both venues, in order to receive credit both towards their high school diploma as well as receiving university credits. Clearly, collaboration across the disciplines has been a consistent theme throughout Dr. Grigg's career.
While Dr. Lance Grigg is planning to retire from the Faculty of Education, he is certainly not planning to stop his increasingly popular work with the Chess for Life program. In fact, Dr. Grigg is currently negotiating with the International Chess Federation (FIDE) and provincial court justices across Canada with the goal of submitting the Chess for Life model as a Federal Bill, hopefully as early as 2022-23, thereby providing all Canadian provincial justices the ability to use Chess for Life as an alternate referral program. This progressive program had its beginning in 2017 as a result of Dr. Grigg's partnership with Justice Derek Redmond, both of whom saw the potential of chess as a "restorative way of repairing harmony within the community." An avid fan of Chess Grandmaster and eight time Women's Chess Champion, Irina Krush, Dr. Grigg agrees with her assertion that ...
... chess is ultimately about space, time, and harmony. "All must work together for the common good."
Lance explains these three cornerstones of the game as, "Learning to use the 64 squares in an allotted amount of time while ensuring all one's pieces work together in unison." Skills worth learning, both in chess and in life and, thus, the success of the program. Although Dr. Grigg would add, "In chess, as in life, one gets lots of insights trying to solve many problems. Sadly, however, accurate ones are rather rare!"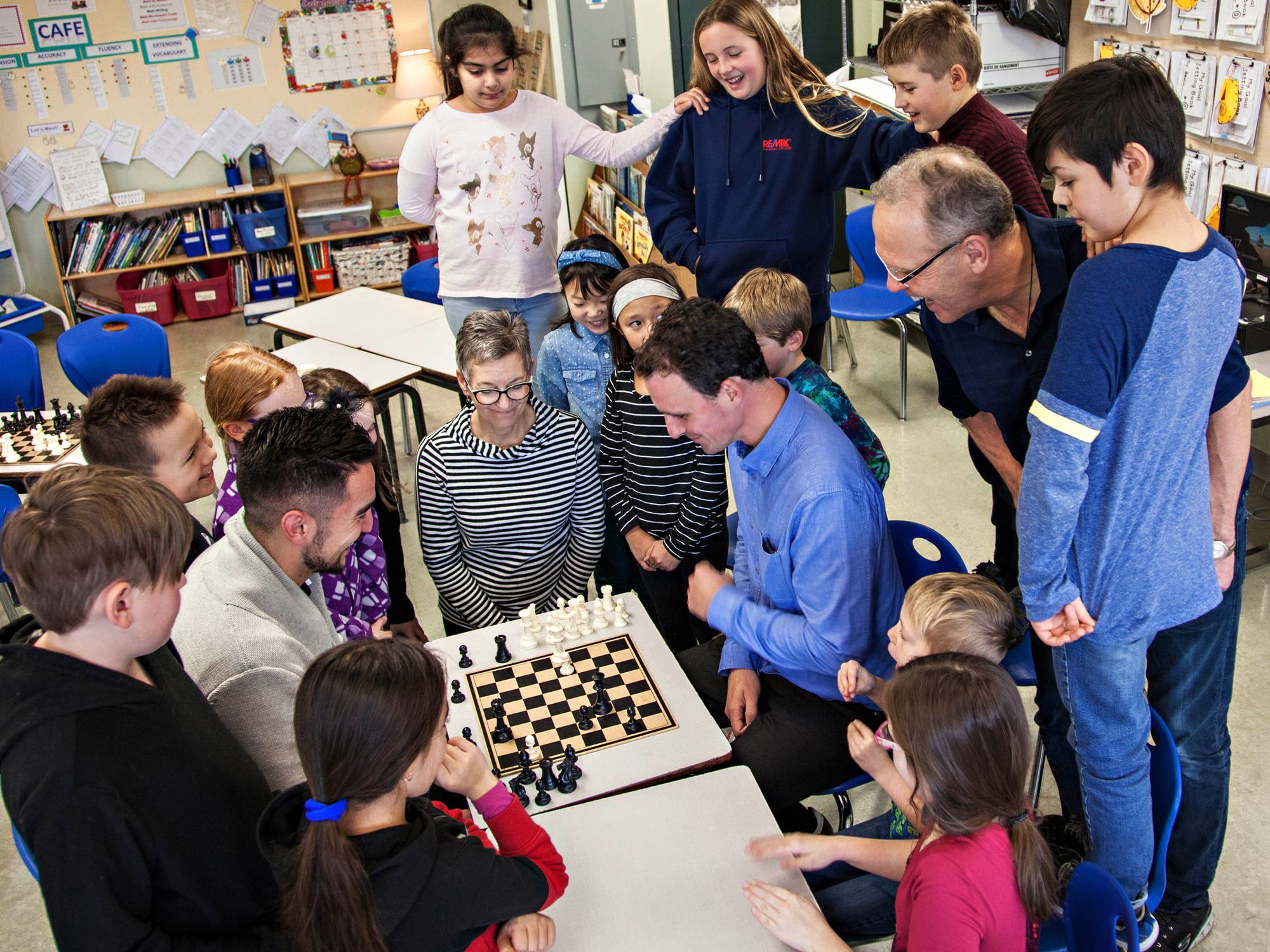 As Dr. Grigg prepares to officially leave the university, he is enthusiastic about the prospect of continuing his exploration of the work of renowned Canadian philosopher, economist, and theologian, Dr. Bernard Lonergan. Lonergan's Insight Theory publications may have many practical applications, especially when considering the relationship between chess therapy and the neurology of the brain relative to addictions and recovery. It is clear Dr. Grigg's style of collaborative research with a focus on "projects for the common good" will continue to be his legacy well into retirement. A focus that has already proven to be an inspiration to others, such as Lethbridge filmmaker, Tanner James, whose project showcasing the Chess for Life program was selected for funding by TELUS STORYHIVE'S Local Heroes Documentary Edition.
As he prepares for retirement, Dr. Grigg continues to be appreciative of the time spent with colleagues, especially "those moments of authentic engagement that really challenge one to rethink one's understanding of concepts such as knowledge, justice, method, and many others."
We wish Dr. Lance Grigg continued moments of understanding and harmony as he moves across the chess board of life.
Related links:
ULethbridge Chess for Life
Chess for Life Program Gets Helping Hand
Why an Education Researcher is Teaching Young Offenders to Play Chess
Chess as an Alternative Sentencing Program in Canada
Judges Sentence Youth Offenders to Chess, with Promising Results
Young Offenders Sentenced to Play Chess in Canada
100 Women Who Care, Lethbridge group gives to U of L's Chess for Life program
Judges Sentence Youth Offenders to Chess, with Promising Results
Wait... Chess is a Punishment???

Writer: Christy Audet
Photographers: Rod Leland and Rob Olson
_________________________________________________________
For more information please contact:
Darcy Tamayose
Communications, Dean's Office
Faculty of Education
University of Lethbridge
darcy.tamayose@uleth.ca
Learn more about the Faculty of Education: Legacy Magazine (2008-2019)
Portfolio of online stories (2019 to present)
Twitter: @ULethbridgeEdu and @ULethEduGrad Website: uleth.ca/education
BecomeaTeacher.ca | BecomeaTeacherAssociate.ca | EdGradStudies.ca