Starting her academic journey in the First Nations Transition Program (now known as the Indigenous Student Success Cohort), Michelle Fox (BA'21), credits family and campus community support for her success as a student. She commuted to the Lethbridge campus for most of her degree from Cardston, AB, and has proved no adversity is too big to overcome.
What is your most memorable uLethbridge experience?
One of the most memorable moments I have at the university is the first time I walked through the campus with my oldest son. I was about to start the First Nations Transition Program, and I felt like I had become part of something that I could be proud of, and I was so nervous. I let my son run the halls and hoped I would be able to complete my education as I had felt like I hadn't accomplished much at the time. I was working through personal struggles that later I learned to value, as these struggles taught me life lessons that I have used to help others realize their worth. Whenever my family passes the U of L my two children beam with pride because mom went to school there.
Tell us a bit about your experience as a student commuting from Cardston to the university.
I spent some of my time in Lethbridge, at one point my brother and I shared a car. Our car eventually gave out, I used the bus services for a while and eventually moved back to Cardston. I would have to catch rides from other students I knew. One of the students that I carpooled with got tired of getting stuck on my road, and when the snow drifts ripped off their bumper, I realized I probably should find my own vehicle. I took out a student loan and used that money to buy a Ford Escape, which I still drive, so I could challenge the hill and gravel road I lived on. I didn't mind when the pandemic hit and classed moved online—as a single mother I found it removed two to three hours of travel from my day and allowed me to put it back to studies and time with my children. Cardston is close to family on reserve and also is where my children feel most safe.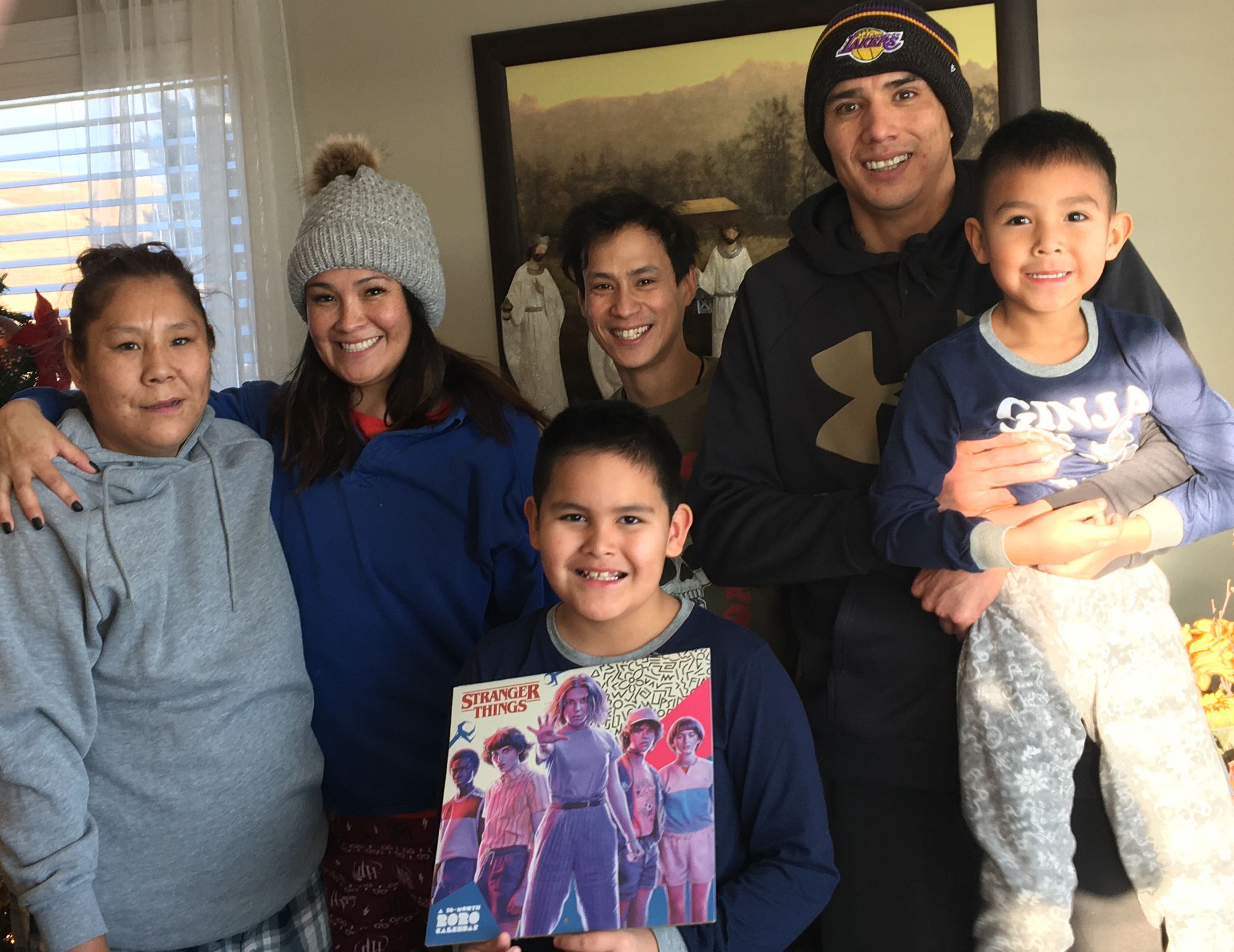 What is the most important lesson you learned during your time in the Faculty of Arts & Science?
I learned to value my own knowledge and life experience. I endured challenges, obstacles, trauma, and heartache and realized there is value in each of our stories. I lost a sister to the opioid crisis in March, as well as many extended family members and good friends before that. Losing my sister was incredibly hard for me, but I learned so much from having her in my life and having a background in liberal studies taught me to broaden my way of thinking which allowed me to extract all the wonderful knowledge my sister had to offer. We were chosen sisters—we were adopted and part of the 60's scoop, I have 21 siblings and I love each of them. My education taught me to see the value in all of them and it helps me connect and understand most people I encounter.
Is there someone specific who had an important influence on your uLethbridge experience?
In the time I spent at U of L, I met many staff members who influenced my experience as a student, I wish I could personally thank them all. I would like to highlight Dr. Michelle Hogue. I remember my first day on campus as a student enrolled in the First Nations Transition Program, Dr. Hogue made me feel welcome and optimistic about the journey I was beginning. I started at the U of L as a mature student and was terrified I would not be smart enough to get thru this new challenge. I sought out Dr. Hogue's guidance for direction in studies and personal challenges, and I always found her to be understanding in all things. Dr. Hogue would often take the time to listen and validate my concerns and she modelled a version I strive to see in myself that I am carrying forward in my personal and career life after graduation.
What have you gained from the education experience at uLethbridge?
I gained knowledge, and pride in my identity as a First Nation woman. I entered the school unsure of how to explain myself as a Blackfoot woman, and I remember asking for guidance from one of the staff members about what class I could take to help me learn about Indigenous history. After completing my degree, I realize how my story fits into the spectrum of knowledge, and I am proud to take my place in becoming a knowledge holder.
What advice would you give to those who are about to begin their journey at uLethbridge?
I would encourage all students to keep in touch with instructors, do the readings, and make sure to ask for help when needed. There are many amazing services available—I don't think there was any service I encountered that didn't do their best to help me with what they could, and this left me feeling valued and supported. Asking for help is part of growing and allowing people to offer guidance is something that we must come into with open minds.
What are your hopes/plans for the future?
I am currently working as a banking advisor intern at RBC and I am appreciative of all the knowledge I have gained so far in regards to finance. I hope to continue this path and would really like to return to academia and further my studies in Indigenous studies or psychology. I want to use the 7 sacred teachings of the Blackfoot ways of knowing which are: respect, love, truth, humility, wisdom, honesty, and bravery to help create a sense of community as well as fill the liminal space between the various cultures of our lands, with methods of understanding and recognition. Iikaakiimaat which means try hard is what I hope to continue and hope all students will do as they further their studies at the U of L.
Stay in touch!
We are excited about your future and want to follow your story. Connect with other alumni on socials and keep your contact information up-to-date with so you can stay in the loop on University news and upcoming activities!
---