When you enter the University of Lethbridge Pronghorn Athletics offices, the bright smile of alumna and staff member, Brittney Nyrose (BA/BMgt '12) will be there to greet you. As the Pronghorns events coordinator, Brittney can be spotted running around on game days ensuring things run as smooth as possible. During the summer however, she can be spotted on the lake training for her other life as the world number three wakesurfing champion.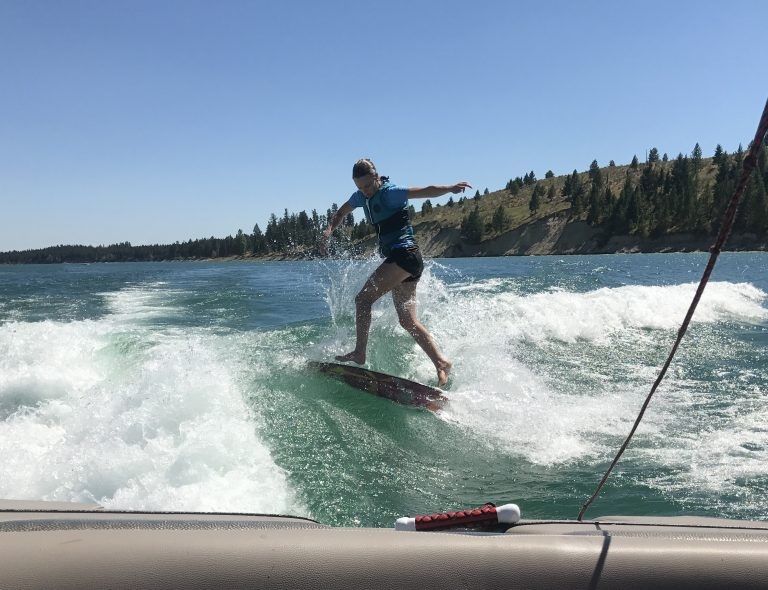 "I grew up in Lethbridge and staying here to complete my education was a natural decision. I wanted to be surrounded by a good support network because I wasn't exactly sure what I was going to do with my studies. Sports has always been a passion and interest of mine so working towards a kinesiology degree made sense but pursuing the combined management degree was definitely an exciting adventure.
"I decided to go for the dual degree because I knew it would give me more options after graduating and I'm really happy I pushed through with that decision. I've worked in a variety of different industries and roles since graduating, but coming home to the University was an opportunity I just couldn't pass up.
"The U of L has played a big part in my life and I love the experiences I get to have in my position. Working and helping to organize the recent USport National Rugby Championships was incredible. There's so many moving parts and seeing them all come together for the athletes and coaches is a satisfying feeling.
"My family has a cabin in Rosen Lake, B.C. so every summer we'd head out there and enjoy the lake as much as we could. It was during a weekend trip out to Rosen that I saw someone on a surfboard behind a wakeboard boat but they weren't being towed by a rope or anything. They were just riding the wake behind the boat. I immediately tried to figure out how I could try my hand at the sport and was hooked from the get-go.
"In my last summer before graduating, I entered my first competition in Seattle, Washington and ended up landing in second place. It was surreal! I threw my hat in the ring just to see what it would be like and what the other women were doing so I didn't really expect to end up on the podium in my first competition ever.
"I like to think I've grown along with the sport because it's still quite young. There's more and more opportunities coming up which has been really rewarding to see. It's a tight-knit community because it's still so new so you really feel like you're part of a community. In some way, shape or form, each competitor is also a teammate so you end up forming really strong bonds with everyone which is quite unique to the sport.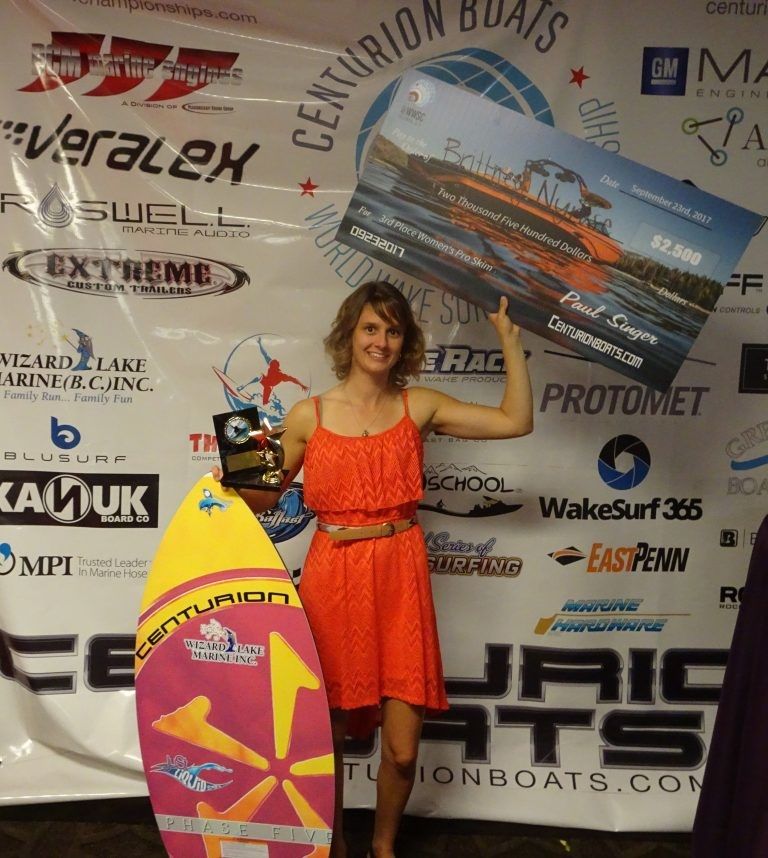 "This past summer the world championships came to Canada for the first time. They were held in Kelowna, B.C. so it was great to compete in front of a home crowd. I performed really well during the championships and placed third on the podium.
"Not too many people know I compete in wakesurfing and it's funny when they find out that I do. We live in a pretty land-locked part of the world so it catches people by surprise a lot. I train out at Stafford Lake during the week and I'm at the cabin every chance I get when the weather warms up. It's fun to have this passion that not many people have heard of because I then have the opportunity to teach them about it and grow the sport in an organic way.
"I wouldn't be able to be as competitive as I am if I didn't have the support of my friends, family and colleagues and that's what I try to keep in mind when I'm at work too. If I'm doing my best on game day or behind the scenes, it may help to make a positive difference for our teams and athletes. Getting to see the smiles on the players and coaches faces when the buzzer goes makes the hardworking and long hours all worth it."