Shlomo Swan-Azmon (BSc '17, BEd '21) has a love for learning nurtured by his bi-cultural upbringing and his experiences visiting other countries, and he hopes to encourage that same desire to learn in his future students as he graduates from the Faculty of Education.
His upcoming teaching position in an isolated part of Northern Alberta will whet his appreciation for challenges while also satisfying his enjoyment of nature.
Why did you choose to become a teacher?
I chose to become a teacher because I enjoy supporting individuals in their journeys and seeing them succeed. I am a very curious individual who has travelled a lot and enjoys learning about the world. In some spellbinding way I feel that teaching allows me to be a support for youth on their journey to adulthood while allowing me to also learn about the world and its people. The unpredictability of teaching and uniqueness of people in general also made teaching appealing to me. I think it is a very rewarding profession which allows me to constantly grow as an individual and learn from my experiences and the people around me.
What were some of your most memorable experiences while at the University of Lethbridge?
What I enjoyed most in the education program at the University of Lethbridge was the community experience. Classes were consistently discussion based and up-beat.
The setting of the classes allowed me to feel free to speak up and share my point of view – something I found challenging in the past.
Through the education program I not only got to explore the issues and challenges students and teachers face but also explore who I am."
Reflecting on who I am and own my quirks alongside other students made my experience in the education program memorable.
Two memorable experiences for me in the education program that tie into my journey of self-reflection include our literary journey project in Rhona Harkness's class and the Beauty and Aesthetic project in Doug Checkley's class. Through our literary journey project, we got to explore our individual battles with literature through a write-up and a creative art piece. At the end of the assignment, all the university students were given the opportunity to check out their colleague's projects. The experience was magical for me as I got to delve into the riveting worlds of my fellow classmates while enjoying a cup of tea and one of Rhona's famous baked goods.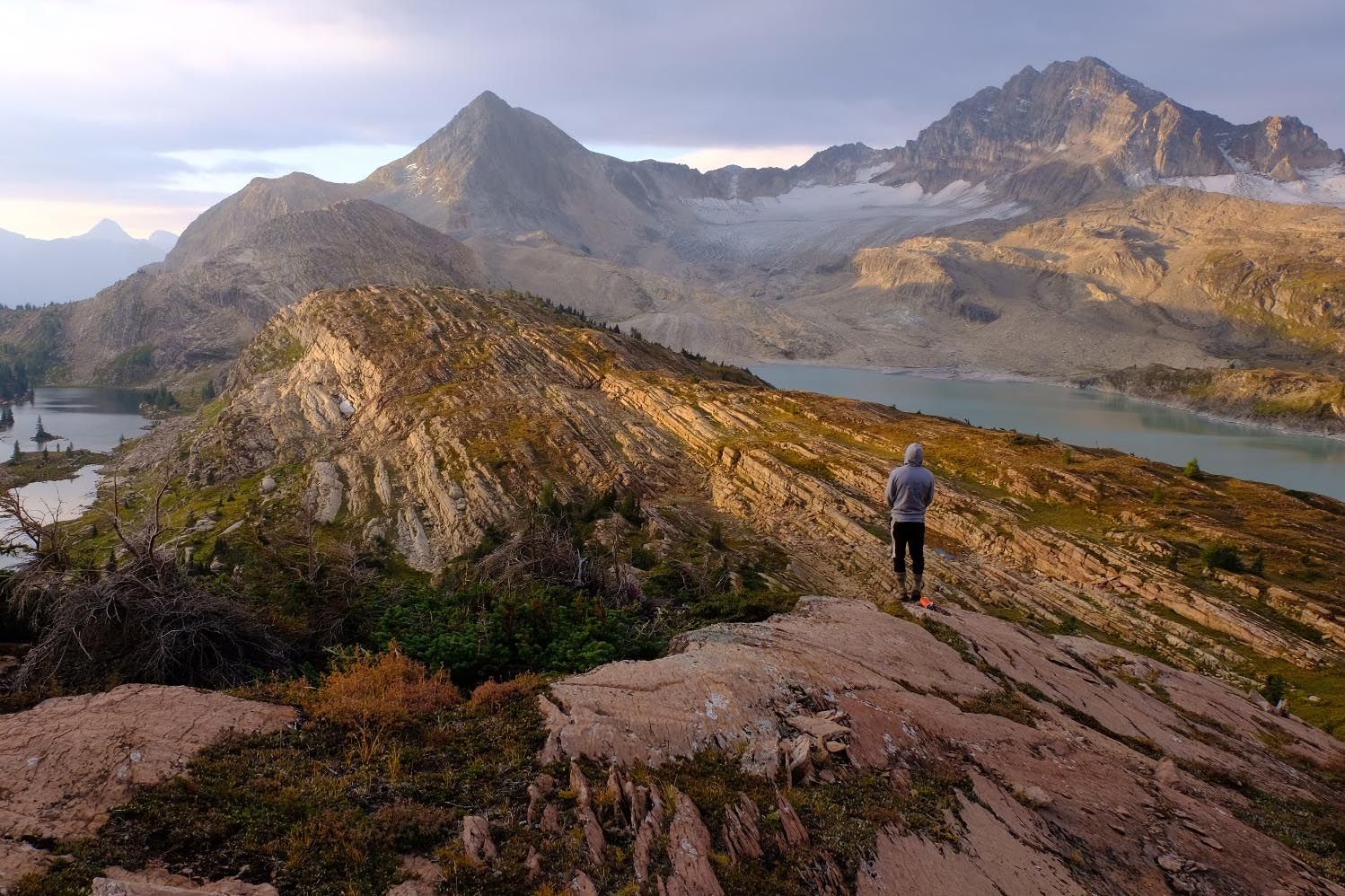 The Beauty and Aesthetic project in Doug's class was another one of those all-encompassing projects that allowed me to reflect on who I am and explore project questions outside of the box. In the Beauty and Aesthetic project, we got to explore a science or science-related question which has intrigued us in the past and create an art piece in representation of our project. The project allowed me to reflect on the joy of learning and my love for science rather than the expectation to prove I've learned something (often reflected in assignments with a letter grade). For the project, I chose to ponder the question "how does the language you speak affect your perception of the world?" The question was intriguing to me because I grew up in a bi-cultural home living in Israel and Canada as youngster and have always had an affection for world culture. Since the project had a creative element to it, I created a voice collage and interviewed friends and family who speak more than one language. Presentation day for the project was memorable as all the science-oriented education students were able to be vulnerable in front of their classmates and embrace their quirks, love for learning and science. I was extremely proud of my project presentation even if I had to pull off the classic John Cusack boombox scene from the movie "Say Anything" in front of a class of 20-plus students.
What are some of the most important lessons you learned during your time in the Faculty of Education?
There are many important lessons I learned during my time at the faculty of education. I believe the most valuable lesson was allowing myself to be vulnerable and sharing who I am. After living in both Israel and Canada while growing up, I continued to explore the world in my twenties, visiting Brazil, Morocco, New Zealand and various other countries for extended periods of time. Allowing those experiences to shine in the classroom and attempting my best to speak various languages I've picked up during my travels (Spanish, Arabic and Hebrew) has always been a key in creating connections with students. Taking risks in the classroom like playing music and juggling have also helped me build relationships with my students. I think that when students see you being vulnerable in front of the classroom, they loosen up and let themselves be vulnerable, too. If you can get students to take down their guard a bit, I think they are much more likely to approach you when they have questions and they respond better when serious conversations are necessary. Understanding that what makes you the person you are is appealing to students and makes creating those relationships with students so much easier.
Creating and following schedules, and ensuring clarity in the classroom is another great piece of advice I received from my teacher mentors and university consultants. As someone who is a creative thinker with a mind that runs in all directions all the time, clarity and scheduling are not a strong suit of mine, but it is essential in the classroom. I am still working on fully grasping the scheduling and clarity components, but being consistent with my students has done wonders for me during the practicums.
Is there someone specific who had an important influence on your education experience?
My Professional Semester III (PSIII) practicum supervisor and the administration team at Winston Churchill High School were particularly big influences on me. The progressive and caring nature of the school allowed me to see the grander purpose of being a teacher and really grasp the impact a school can have on certain students. An ever-evolving education system was evident at the school and allowed me to get a glimpse into what schooling can be like, and it shouldn't be stagnant. Education is inherently attached to politics and policy, and as we become a more diverse and accepting community here in Canada, I think it is essential our schooling system is a pioneer in this regard. Having volunteered with Boys and Girls Club and Immigration Services Canada in the past, I found an instant affinity to my practicum school community that not only appreciates and values diversity but makes a commitment to making things happen. I will always be grateful for my PS3 experience at Winston Churchill because it shed light onto what is possible.
What advice would you give to those who are about to begin their journey in the Faculty of Education?
I think my advice would be to allow yourself to be vulnerable. Take a chance and let your fellow classmates and your students get to know who you are and what makes you the person you are. You will have some amazing teachers, classmates, and students who are eager to get to know you and learn from you. No doubt some days will be rougher than others, and you are going to have some lessons that don't go well, if not flat-out bad; but if you keep a growth mindset throughout your experience, you will have one of the most rewarding experiences of your life.
What is next?
In Hebrew, there are many words that have a deeper mystical meaning behind them. For instance, there is a word that reads "dachaf" (דחף) which means propelling forward or courage, but when the word is read backwards it reads "pachad" and means fear. I have always loved the mysticism behind the word "dachaf" and, to some extent, try to live my life according to it. You can't be courageous without fear and with this same mentality combined with my love of nature (I've worked several summers in Waterton and hike frequently in the Rockies), I have chosen to accept a position in Northern Alberta in an isolated community near Wood Buffalo National Park.
I have always been someone who really appreciates taking on challenges in life regardless of whether or not they fit society's norms. I played collegiate soccer at the U of L, hiked the Israel National Trail (1,000 kilometres), and travelled around the world alone for extended periods of time. I hope I can continue to learn and challenge myself in the future and believe the opportunity ahead of me will allow me to further develop my appreciation for the world and its people.
Writers: Shlomo Swan-Azmon and Dave Sulz
Photo/Video: Shlomo Swan-Azmon
_________________________________________________________
Why become a teacher? Who inspired? What lessons learned? Here are some voices from the Class of 2021 as well as a message from Dr. Robin Bright, Interim Dean Faculty of Education:
• Congratulations to the Class of 2021 from the Faculty of Education
• Brad Aldridge (BSc '18, BEd '21)• Lisa Patten (BSc/BEd '04, MEd '21)
• Sara Bieniada (BMgt/BEd '21)
• Ashley Hoisington (BA/BEd '21)
• Dominique Point du Jour (BEd '21)

We'd also like to take this time to congratulate our annual award recipients. You may find their stories here:
• Faculty of Education Gold Medal: Lacey Rose (BEd '21)
• Alberta Teachers' Association William Aberhart Award: Sophia Larney (BEd '21)
• Faculty of Education Grad Studies Medal of Merit: Kathryn Desrochers (BSc/BEd '13, MEd '21)

Convocation 2021 Celebration Centre ow.ly/Yqpf50F8HJe
_________________________________________________________

Stay in Touch
We invite you to join our Twitter account which is more than a social media platform, it is a professional development resource. It is comprised of an active community of 11,000+ educators from around the world, our alumni, current students, and Faculty of Education professors. As you continue your teacher journey you can use this active account to share, connect and reconnect with other educators, and to contact us directly Twitter: @ULethbridgeEdu and our Graduate Studies and Research account: @ULethEduGrad
In the future, we hope to see you as teacher mentors to our students!
We would be honoured if you would consider having one our student teachers learn in your classroom. More info about becoming a teacher associate here.

Can alumni borrow Curriculum Laboratory materials? Yes, and more here.
Faculty of Education website here.
A collection of stories about the Faculty of Education here.

Keep your contact information up to date with Alumni Relations. The folks in Alumni Relations have all sorts of benefits and events to keep you involved in the uLethbridge family and it helps us all stay connected.
_________________________________________________________

For more information please contact:
Darcy Tamayose
Communications, Dean's Office
Faculty of Education
University of Lethbridge
darcy.tamayose@uleth.ca
Learn more about the Faculty of Education: Legacy Magazine (2008-2019)
Faculty of Education Twitter: @ULethbridgeEdu | @ULethEduGrad
Website: uleth.ca/education
BecomeaTeacher.ca | BecomeaTeacherAssociate.ca | EdGradStudies.ca