The Meeting of the Minds conference, hosted annually by the University of Lethbridge Graduate Students' Association (GSA), celebrates the diverse research occurring on our campuses. Images of Research, the photography competition portion of the conference, is an artistic alternative to highlight graduate student work.
With a remarkable breadth and depth of research at ULethbridge, submissions to the competition includes fascinating imagery few people have the opportunity to enjoy otherwise.
"I think most people would be surprised at how many different kinds of research are taking place at ULethbridge daily. The work we are doing as students is of a high quality and makes key contributions to our fields of study and to society as a whole." ~ Rachel Stark, GSA vice-president student life
Here are this year's five award-winning entries: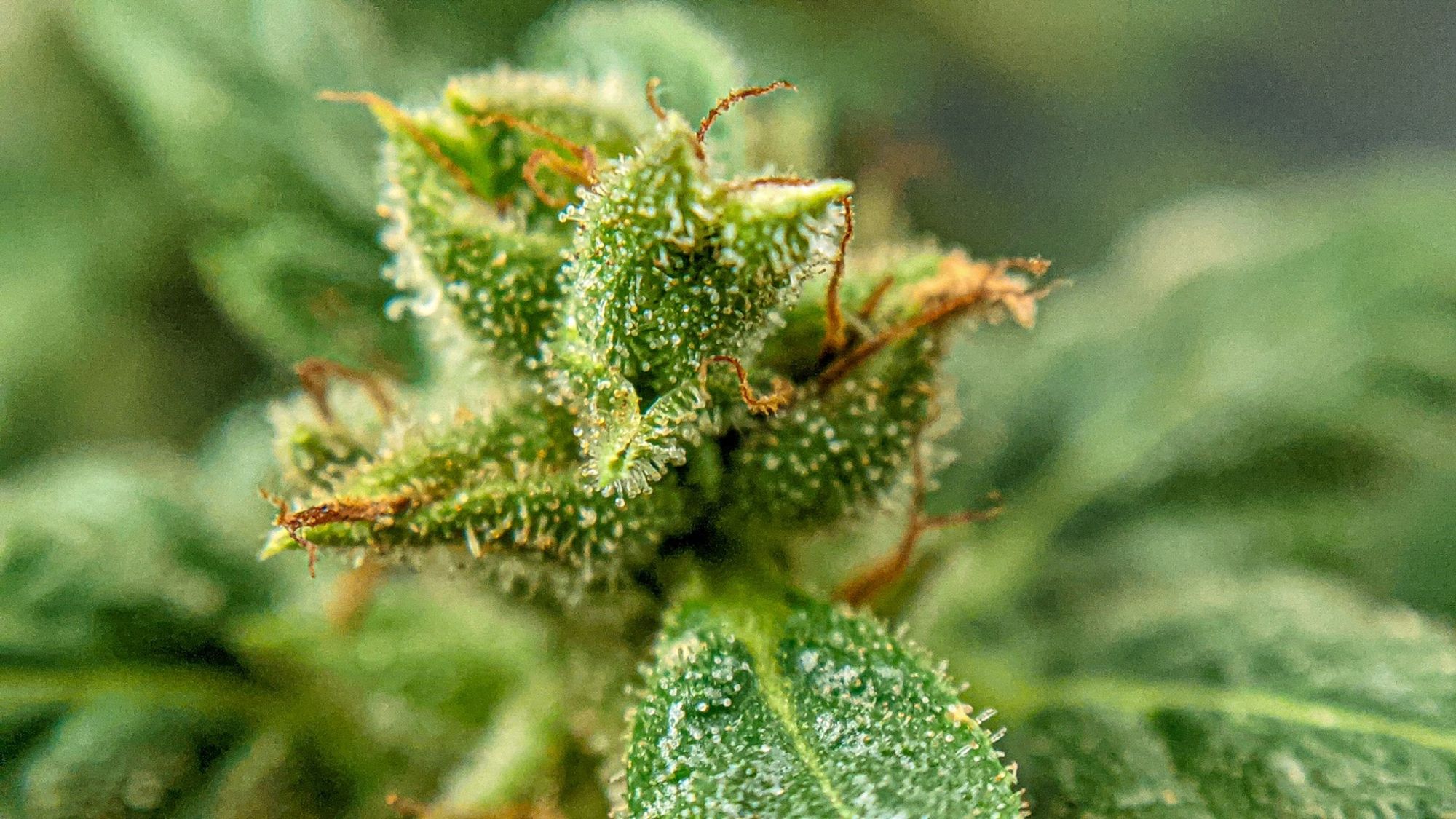 People's Choice: Gregory Robinson | Close-up of ex vitro Cannabis sativa L. during flowering displaying trichrome colorization
"During flowering, female Cannabis sativa L. plants can produce bud with high levels of cannabinoids, including tetrahydrocannabinol (THC) and cannabidiol (CBD). Interestingly, cannabinoid and terpene levels slowly increase during flowering but drastically fall off after the peak and produce unwanted degradation products, specifically, cannabinol. This leads to a difficult problem for cannabis growers. When do you harvest bud to produce the highest quality cannabis bud with the most amount of cannabinoid and terpene content possible?
This process is further complicated as each cultivar of cannabis has different timelines for when peak cannabinoid concentration is achieved. The most common method for harvesting that has been developed is to examine the trichomes on
the flowering plant. Many forms of cannabis trichomes exist. Initially sessile trichomes are produced, which contain a globular head comprised of a multicellular disc of secretory cells and a subcuticular metabolite storage cavity. Eventually, sessile trichomes will develop into stalked trichomes, which is where most cannabinoids are produced.
In comparison, stalked trichomes have a long, multicellular stalk leading to a larger, elevated globose head, enabling more cannabinoids to be stored. Not only can trichome morphology change over time, but so can trichome colour. Trichomes start off transparent but slowly become milky, and eventually turn amber and finally brown in colour. Trichomes that are amber in colour have been shown to contain the largest amount of cannabinoids.
Although there are differences between cultivars, many believe the optimal time to harvest cannabis bud is when stalked trichomes cover the bud and approximately 50 per cent of the stalked trichomes appear amber in colour. In this photo, the cannabis cultivar "Cactus" can be seen in the flowering stage with close to 50 per cent of the stalked trichomes appearing amber in colour, indicating the bud should be harvested soon."
Gregory Robinson is a PhD student at ULethbridge. His supervisor is Dr. Igor Kovalchuk, Professor in the Department of Biological Sciences, Faculty of Arts & Science.
---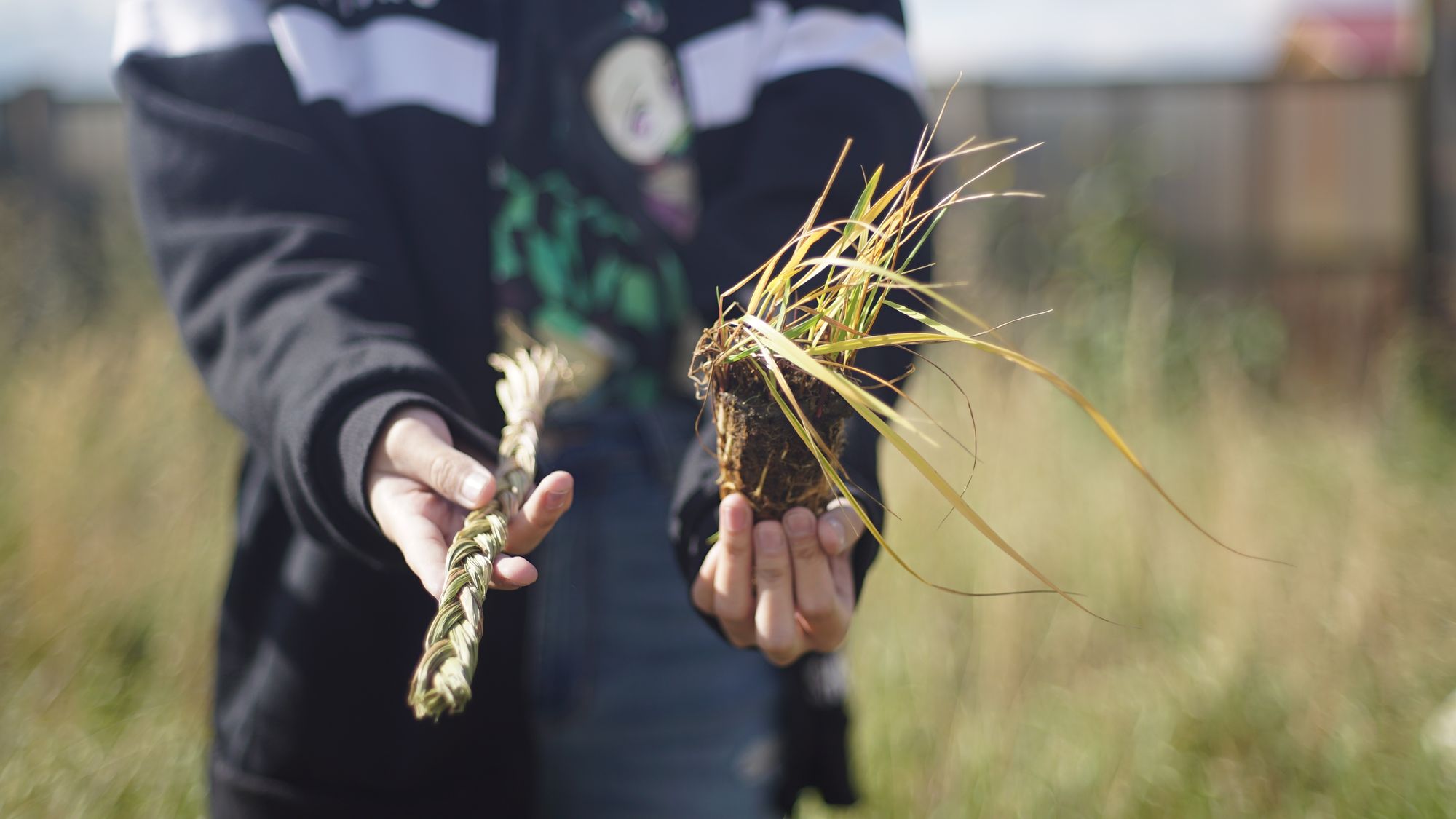 Third place: Brett Weighill | Supii-po'omaaksin: From Seed to Braid
"The Piikani Nation is enhancing their Food and Energy Security and Sovereignty through the development of a school greenhouse that features traditional Blackfoot
design-elements and language, alongside renewable energy technologies and western agricultural protocols.
In addition to supplying the school program with healthy vegetables and fruits through gardening and horticulture, we are exploring the capacity to grow culturally significant native plants within the greenhouse that will provide learning opportunities for students, achieve a sustainable supply of ceremonial plants, quantify valuable properties of traditional plants, and repopulate traditional harvesting sites to protect opportunities for cultural expression and practices.
The project includes a number of diverse collaborators, including researchers from Agriculture and Agri-Foods Canada (AAFC) and The Arctic Institute; non-governmental organizational support from The Resilience Institute; and local departments such as Piikani Nation Lands Department and Peigan Board of Education."
Brett Weighill is a Master of Science student at ULethbridge. His supervisor is Dr. James Byrne, Professor in the Department of Geography & Environment, Faculty of Arts & Science.
---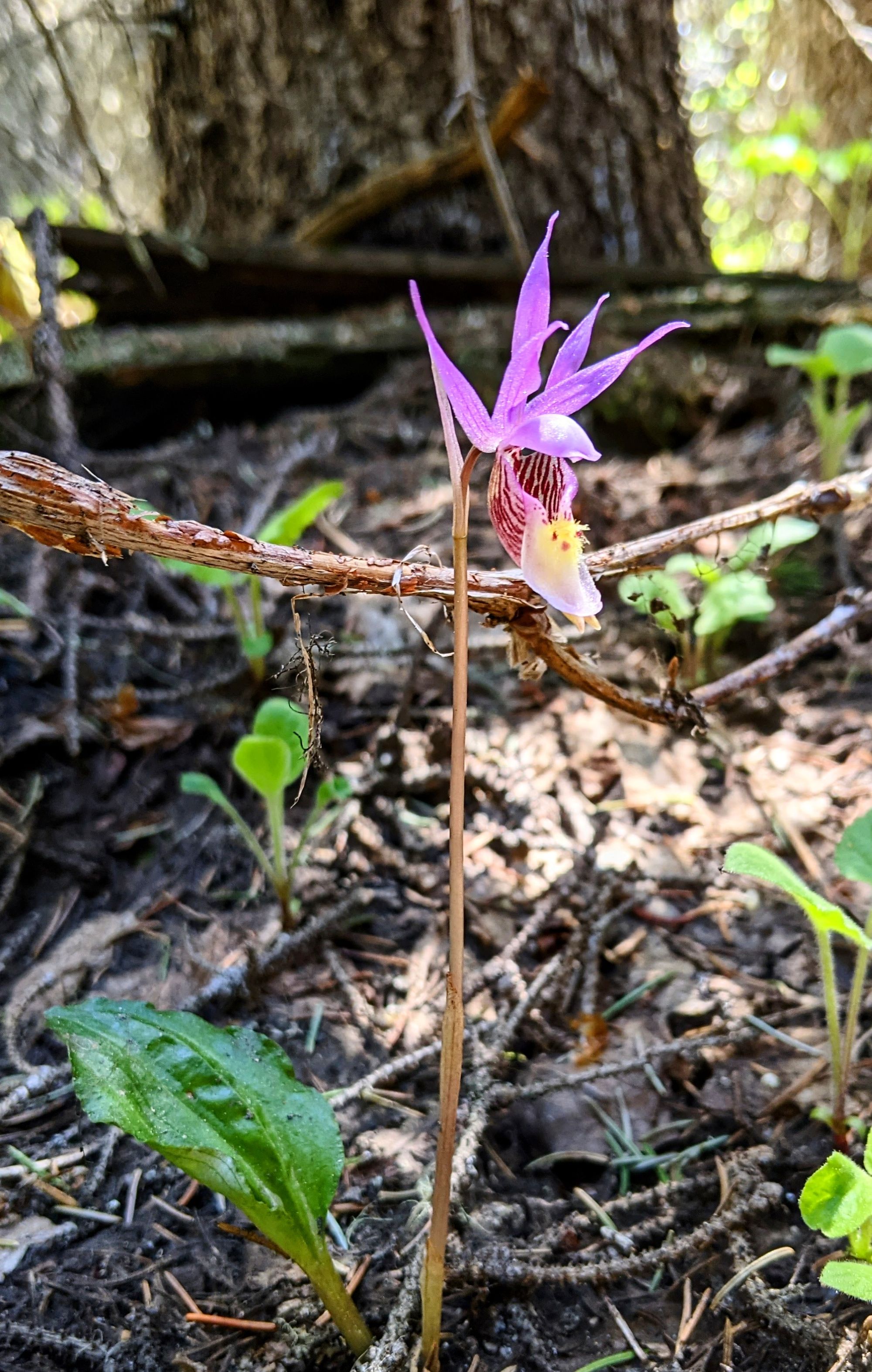 Second place (tie): Trinie Chisholm | Recreational rarities: How trails impact native and rare species in Castle and Castle Wildland Provincial Parks
"Recreational trails are a huge part of natural areas, helping us navigate around some of our favourite hiking, camping, and fishing spots. They not only provide connective corridors for wildlife to travel along, but they also affect the more immobile inhabitants of the area, the plants! Hitchhiking seeds can find rides on vehicle tires, hiking boots, and the fur of animals that use trails, bringing in
different species to new areas. Dandelions and clover, two commonly introduced species, as well as native wild strawberries, are just a few species that can tolerate the trampling and compact ground associated with trails.
Although not all native plants enjoy being disturbed by trails traversing their habitat, some orchid species don't mind a bit of trampling nearby, such as the delicate fairy slipper orchid (Calypso bulbosa var. americana) shown in the photo,
growing just off the nearby walking trail along a coniferous forest.
So, to what extent do trails impact the kinds of species present, and how far away from trails can we see this impact? Will the amount of fairy slippers found along a trail differ along off-highway vehicle trails compared to footpaths? How far away from these trails can you expect to see dandelions or clover? My research investigates these types of questions about trail impacts and plants. I will determine how different trail-use types impact the presence and abundance of
native and non-native plant species in the Castle and Castle Wildland Provincial Parks. I want to understand how these trails impact the diversity and distribution of our native and rare plants. As more people venture out and explore two of our newest provincial parks in southern Alberta, it's important to consider our role as trail users in changing the biodiversity of plants we see along recreational trails."
Trinie Chisholm is a Master of Science student at ULethbridge. Her supervisor is Dr. Jenny McCune, Assistant Professor in the Department of Biological Sciences, Faculty of Arts & Science.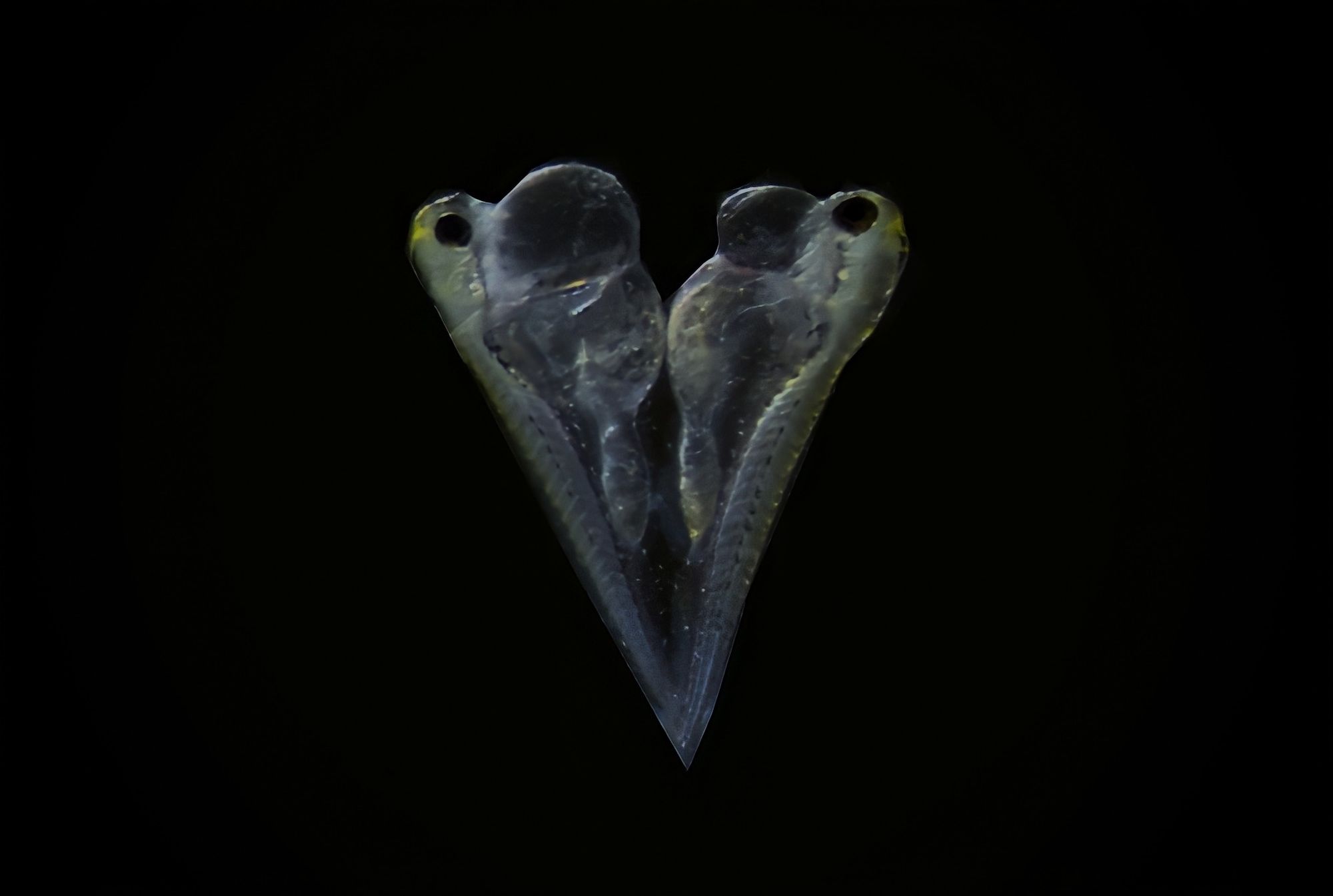 Second place (tie): Chloe Devoy | Heart to Heart
"Pictured are zebrafish (Danio rerio) larvae, approximately 120 hours old, showing a number of developmental malformations, most noticeably, pericardial edema. Pericardial edema can be described as the buildup of extra fluid in the space surrounding the heart. The pictured larvae share the same heart deformity as a result of exposure to an environmental chemical contaminant, making it unlikely that they will grow to maturity. Coincidentally, the malformed larvae were discovered facing each other forming the shape of a cartoon heart.

My research investigates the effects of a new chemical flame retardant known as 1,2,5,6-tetrabromocylcooctane (TBCO) on the development and reproduction of fish. Flame retardants are added to a variety of flammable products to increase their fire resistance however, they often leach from materials into aquatic ecosystems where they can bioaccumulate, biomagnify and induce toxicity in organisms. As such, despite their obvious value in protecting against fire, there is a large amount of concern surrounding the effects of flame retardants that enter the environment.
Currently, we are examining how parental dietary exposure to TBCO can induce developmental malformations and reproductive impairment in up to two subsequent generations of fish. While studies on the direct effects of toxicants on organisms are common, much less is known regarding the potential of a toxicant exposed to parental generations to affect subsequent generations. This research will ultimately allow for the characterization of the long-term effects of TBCO and provide insight into its effects on aquatic species as its usage is set to increase."
Chloe Devoy (BSc '21) is a Master of Science student at ULethbridge. Her supervisor is Dr. Steve Wiseman, Associate Professor and Canada Research Chair (Tier 2) of Aquatic and Mechanistic Toxicology, n the Department of Biological Sciences, Faculty of Arts & Science.
---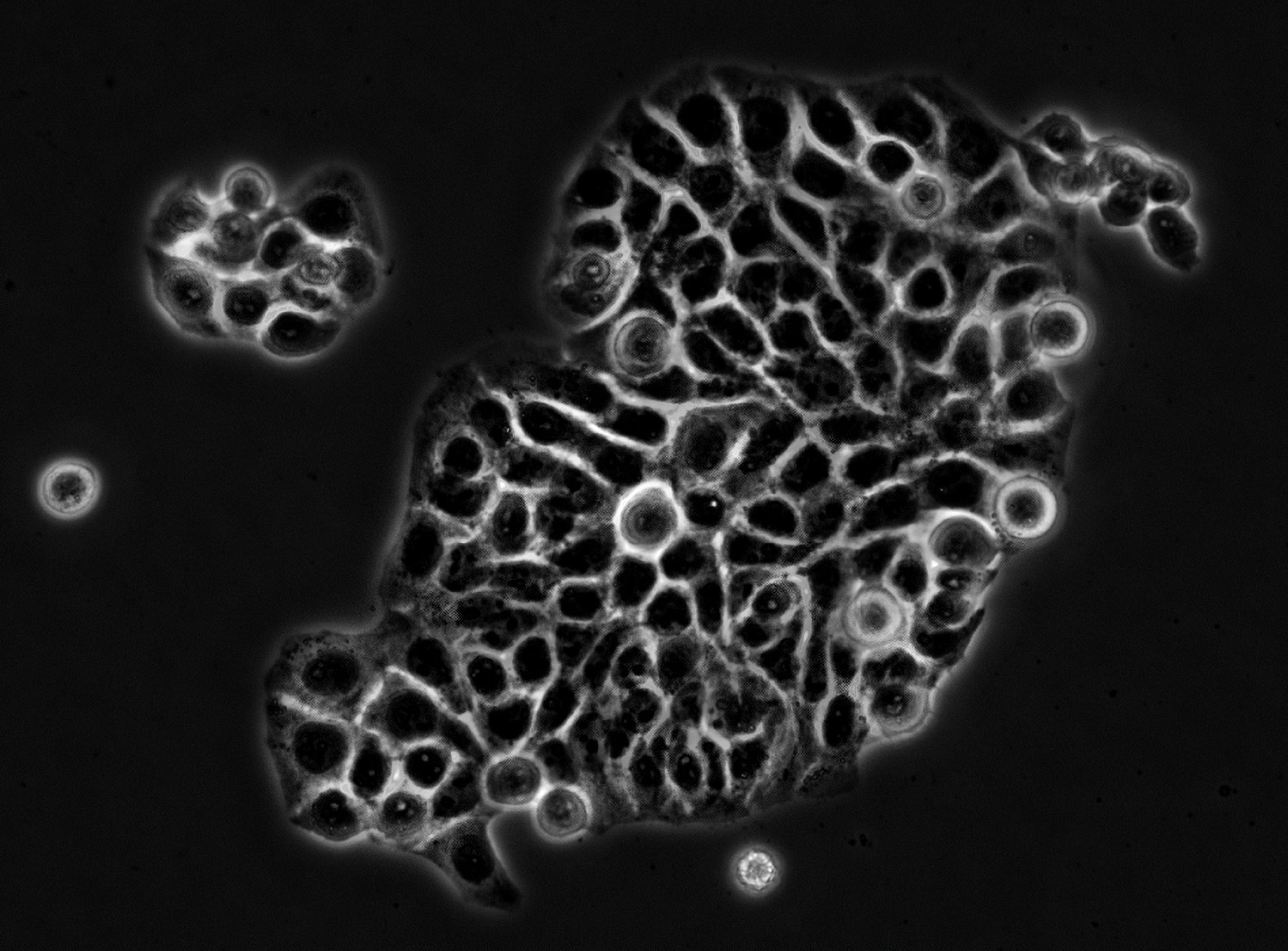 First place: Shannon Healy | 58-year-old Cancer Cells
"These cells have been continuously dividing since 1964, when they were first isolated from a 44-year-old patient with colon cancer for use in future research. Using a microscope, we can see the irregularly shaped colon cells that have become cancerous and each double every 24 hours. This continuous division is the devastating hallmark of this disease, and we need to understand what makes their division different from the division of healthy cells. If we identify these differences, specific medicines can be made to target them and kill the cancerous cells.
In my research, I am screening prairie plants for anti-cancer chemicals, since many of the top anti-cancer medicines are derived from plants, such as paclitaxel isolated from the Pacific yew tree that grows in Waterton Lakes National Park. These cells are critical in the research that will lead to new treatments and save
millions of people. While the unfortunate reality of this situation is that the cancer cells outlived the patient from which they came, my hope is that through this research that will not be the case in the future."
Shannon Healy (BSc Co-op '20) is a Master of Science student at uLethbridge. Her supervisor is Dr. Roy Golsteyn (BASc (BSc) '84), Associate Professor in the Biological Sciences Department in the Faculty of Arts & Science.