Kaela Murphy has always loved art, even as a child. She attributes this love of the craft to her Nana, who was always drawing or painting.
"Wherever we went, she had sketchbooks galore and all sorts of art supplies, so you couldn't really get me to stop drawing."
As Kaela works to complete her fine arts degree from the Art Studio program at the University of Lethbridge, she reflects on her artistic practice and the meanings she conveys with her work. She notes that boundaries are the basis materially for her artwork, specifically boundaries that surround her hair and how they have been ignored in her own personal surroundings, through actions such as unsolicited touching and invasive questioning. Currently, she is exploring her identity through her hair.
"I made a series of posters with the statements "I AM NOT A PETTING ZOO", "DO NOT CALL ME A MUTT" and "NOT YOUR HALF-COCO BEAUTY" placed across a self-portrait," Kaela says. The posters were placed throughout the university and around downtown Lethbridge.
"These address boundaries that have been crossed, while calling attention to my humanity."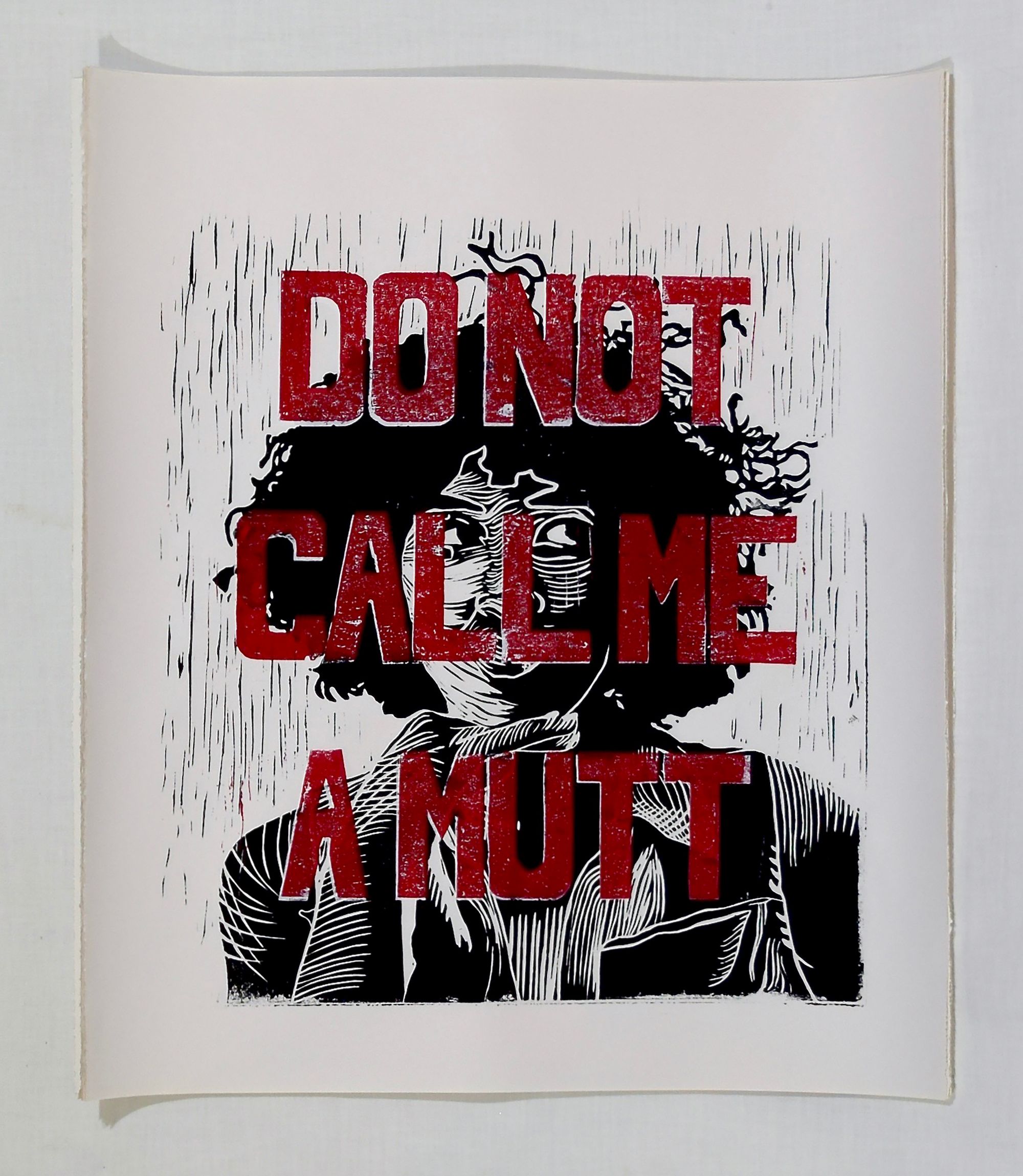 A documentation of this series was recently published by HELD Magazine, an artistic and literary journal led by MFA students at the University of Guelph.
In regards to hair, Kaela is working with it as a material. Stemming from a haircut she received in 2019, Kaela held on to that hair as she was unsure how she wanted to explore working with it. In 2021, she decided to braid it. The braid is currently 11'3" long and Kaela is in the process of adding length from a second hair cut from early 2021. Kaela says her work on the braid is more than just the materiality of it or about the crossing of boundaries, adding there is a lot of beauty in the work.
"With the braid extension, there's always this fascination with my hair while it's on my head, but when I get a haircut – when I remove myself from it – people don't want to physically engage with it. There's this idea that it's kind of gross once it's removed from the head and so I am interested in where that disconnect comes in."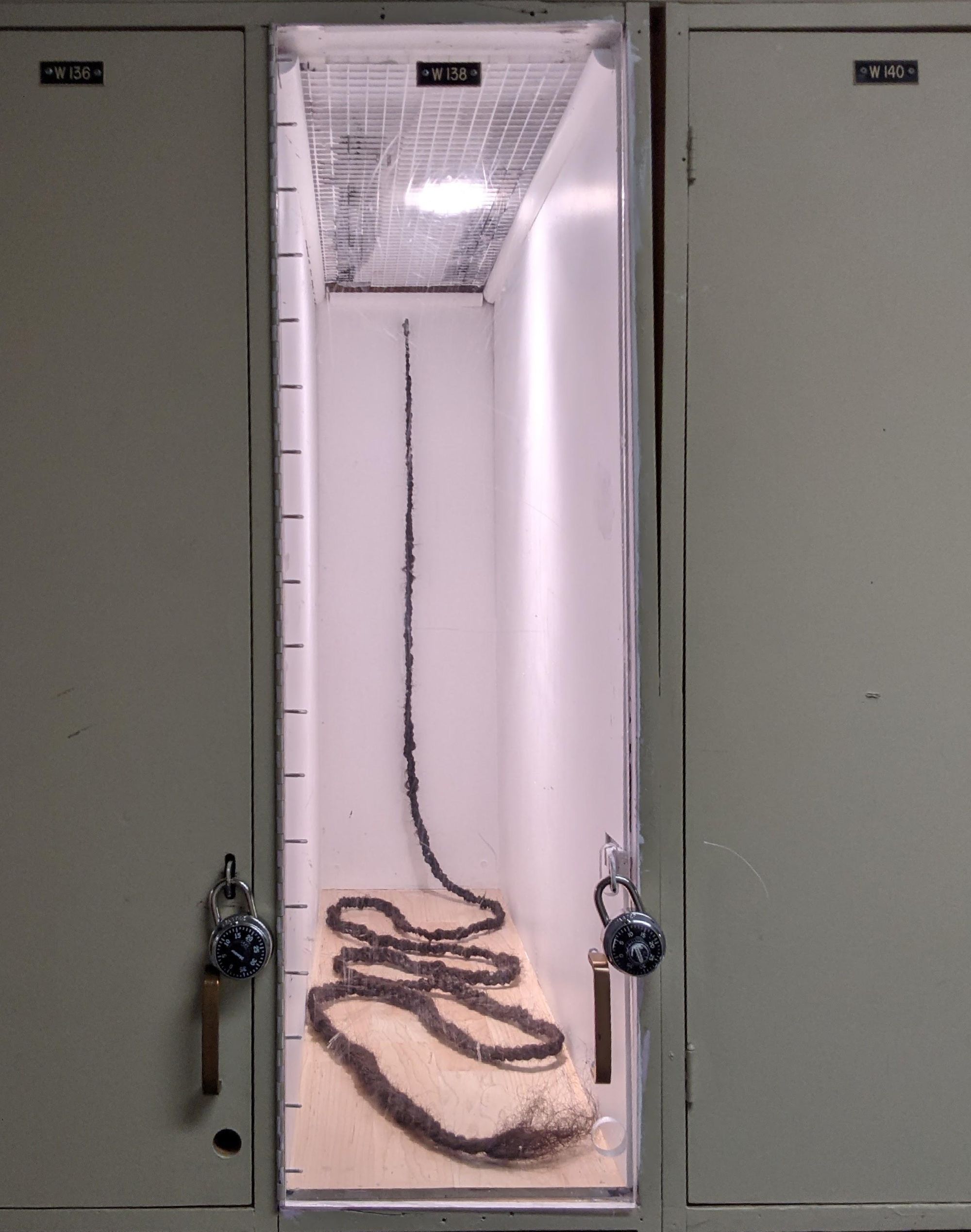 "My intent is that with future haircuts I will keep adding to the length of the braid; allowing the braid to grow through removal from myself."
Kaela adds that it has been interesting to explore these interactions of boundaries and hair, and alongside of it, her sense of self. Her work related to boundaries also raises the question of what makes a boundary, and how one can be enforced.
"People are always going to interact with things differently and not always in the way that I want, whether that be an artwork in a gallery or my physical self. I have found that people have a tendency to tell you how they view you, how you present and expect you to respond on behalf of a larger community."
Something that Kaela says she is proud of is seeing how far she has come in realizing her own self-worth through her artistic explorations, as well as realizing that she does not have to have all of the answers, allowing herself to explore fluid and undefined spaces. She credits several faculty members in the art department, such as David Miller, Mary Kavanagh, Katie Bruce, and technician Mary-Anne McTrowe as instrumental figures in her professional development and growth.
One artist in particular that Kaela looks up to in consideration of hair and identity is Eva Birhanu. Eva is a Calgary-based weaver who cut off all of her hair and spoke to the burden that was removed in doing that.
Kaela and her work are being profiled as part of the University of Lethbridge's Black History Month. This year, the themes are Black Flourishing and Black Excellence. Kaela says Black History Month is a time when Black people should feel uplifted, inspired, and strengthened by history and legacy.
"Sometimes we can get caught up with focusing too much on negative influences and I think the focus should be primarily on the accomplishments of Black people. Just the importance of appreciating where we've gotten to, but also where we're going. In terms of flourishing, it's about visibility and accessibility to people who are so talented. It's getting better, but there's still so much work to do."
For now, Kaela says she's still exploring her sense of self and her place, and the spaces that she occupies, as she looks ahead to her future.
"A lot of my work is currently very self-focused—my space, sense of belonging, and my identity—I'm still exploring all of that and I definitely don't have all the answers. I'm still learning constantly and I expect things to change, especially as I look to graduation and where I move to next."
---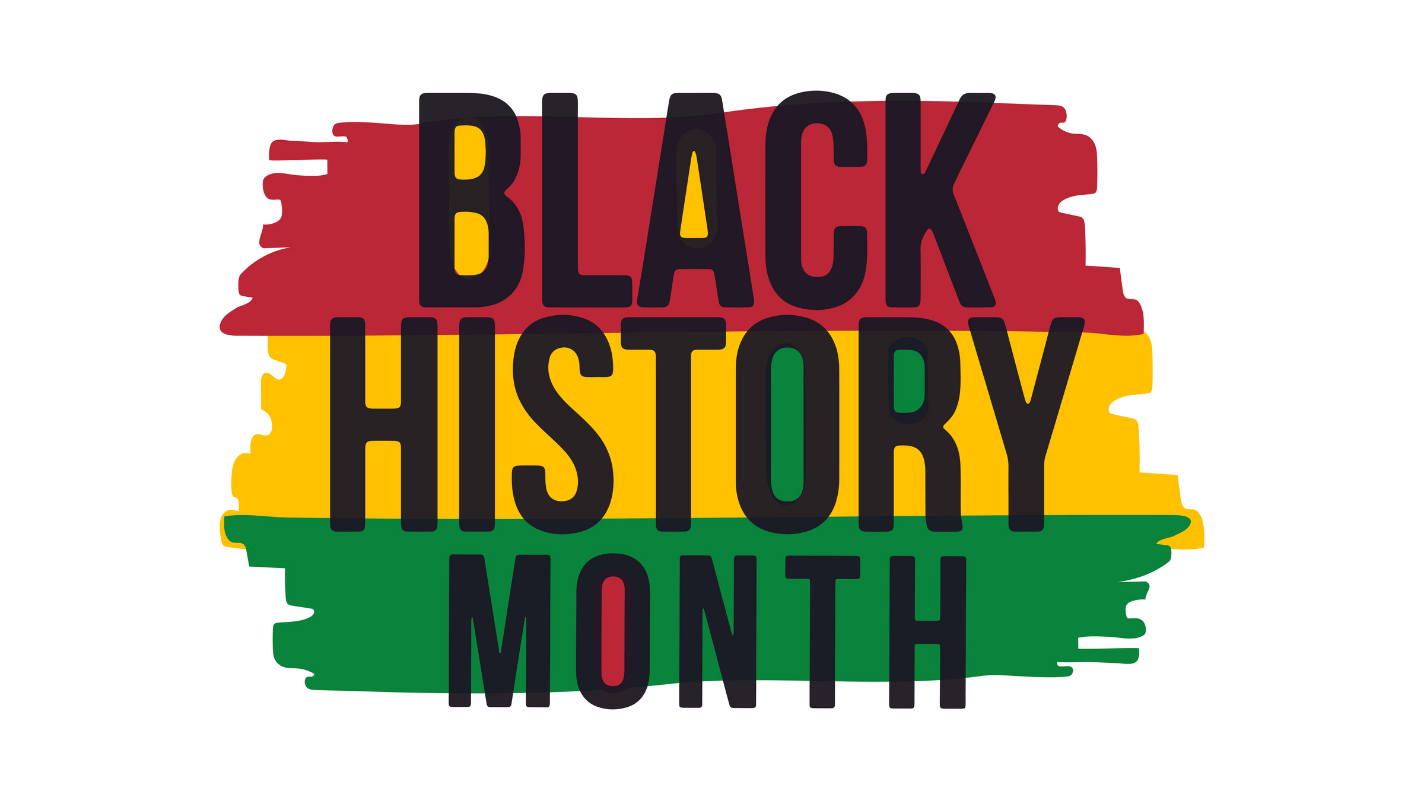 Black History Month celebrates the resiliency, flourishing, and determination to work towards a more equitable, inclusive and diverse country. The University of Lethbridge celebrates Black History Month: Moving toward Black Excellence and Black Flourishing. Learn more about what Black History Month means, why we celebrate, ways to get involved and access learning resources.