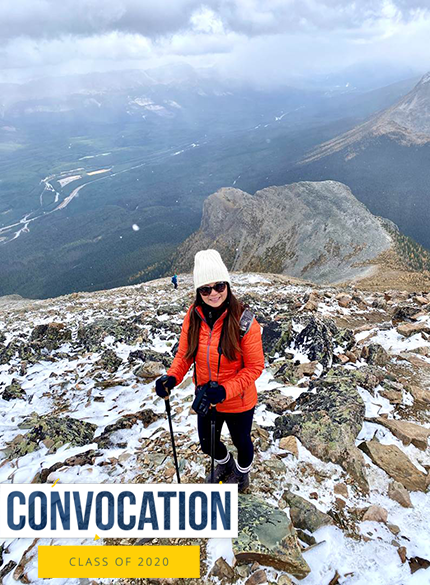 What was your most memorable uLethbridge experience?
My 5 years at uLethbridge have been nothing but remarkable memories. The challenges I endured as an adult learner and the friendships I have built during my studies at the Calgary campus will be a lifetime experience I hold near and dear to my heart.
My most memorable experience at uLethbridge was a real-life audit engagement our professor Erum Kidwai had the students complete. We were encouraged to seek out a company on our own to complete an audit review on internal controls. This real-life experience made students get out of our comfort zone, ask questions, build confidence in ourselves, and prepare us for next stages of our careers.
Is there someone specific who influenced your uLethbridge experience?
I was blessed to have been taught by many astounding professors at uLethbridge, who all had positive influences on me. I would like to give a huge thank you to professors: David Adams, Deborah Jarvie, Yutao Li and Erum Kidwai, as you have left a positive impression on myself and many other students during our studies at uLethbridge. You are all incredible professors who have passion in teaching, vast knowledge in your fields and I cannot thank you enough for pushing myself and all students in achieving excellence in our studies but also showing and teaching us the values of ethics, integrity and above all to enjoy our learning experiences.
The biggest influence for me was professor David Adams during my last year at the Calgary campus. Professor Adam's ability to make advance financial fun and engaging only shows you his teaching capabilities. He genuinely wants his students to do well and always manages to keep the class engaging and upbeat. He spoke highly about CPA and encouraged students to further their education, which intrigued and motivated me to pursue my Chartered Professional Accountant (CPA) designation.
What is the most important lesson you learned?
The most important lesson I learned was to be patient and have confidence in myself. That we are all learning and growing, and the biggest lesson is to never give up, even when you feel hopeless and discouraged. Reach out to your fellow peers, professors or advisors, they are all here to assist you and will be your biggest supporters during your studies at uLethbridge.
What are your hopes and plans for the future?
Five years ago, before I started my journey to return to school, I would have never imagined myself getting my Bachelor of Management degree at my age and leaving the legal industry. Fast forward to 2020 and finishing my last semester during COVID was interesting to say the least! I am currently living my hopes and dreams, I started with KPMG Canada on October 1st as a Staff Accountant (Corporate Audit) and will be starting CPA as well. My education, skills and life lessons I have learned at uLethbridge had given me the ability and foundation to start at KPMG. This is only the beginning to my new career, and I am grateful for the new opportunities and experiences I will experience at KPMG.
What advice would you give to students who are about to begin their post-secondary journeys?
I saw this quote by Manjit Minhas (Dragons' Den), which I could relate to: "Be brave enough to suck at something new." It is never easy to start a new journey not knowing your final destination, but I promise you, your journey at any post-secondary and furthering your education and investing in yourself, is worth it. You will come out with so much knowledge not only in your field but in life experiences and the friendships you make along the way is only an added bonus. Remember to make time for yourself, to enjoy your hobbies or find something you are passionate about, as it will only motivate you to work harder in achieving your goal. I recently became a huge fan of hiking due to COVID as I was not able to travel to Asia like I planned after graduating but I discovered and appreciate how beautiful our Rocky Mountains are and to be so lucky to have it in our backyard. Good luck to you all and always stay true to yourself!