After almost a year, a fundraising project by students in the Dhillon School of Business at the University of Lethbridge finally came to fruition with the unveiling of a mural by Streets Alive on the outside of its downtown building.
The project by the 15 students taking Mike Madore's, instructor and director of IME, Integrated Management Experience (IME) class faced significant challenges because the COVID-19 pandemic meant their efforts to build awareness and raise funds occurred largely in an online environment. Each year, students in the IME program are paired with a local non-profit organization to solve a business problem. Last year, the students were paired with Streets Alive Mission, a faith-based, non-profit organization dedicated to bringing hope to people in need.
The students' project, the Streets Alive Mosaic, involved creating a mural by selling individual tiles or squares to members of the local community. Those who contributed submitted an image to appear on their tile and the tiles were subsequently compiled into an artwork by Mural Mosaic, an Alberta-based company. The final product was unveiled as an outdoor mural on the south side of the Streets Alive building.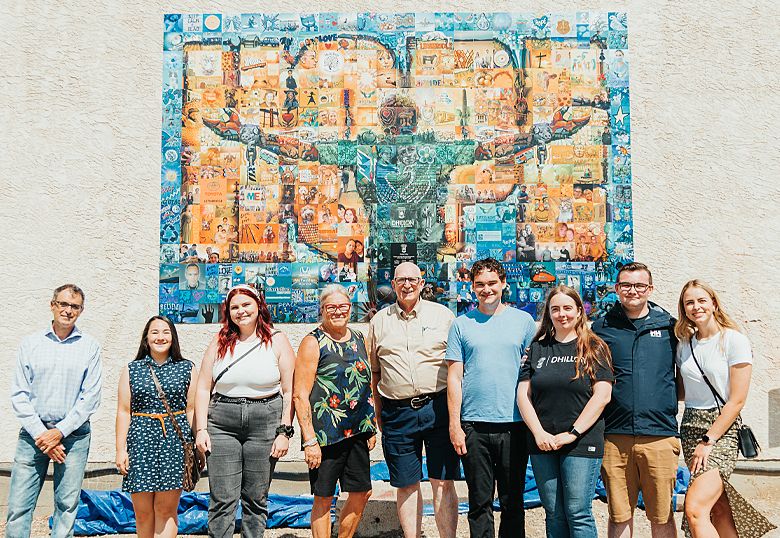 "The biggest thing Streets Alive wanted to bring was hope," said Ali Cyr, a second-year student who served as project manager. "We wanted to bring hope for the clients who come through Streets Alive. The focus was having family, friends and the community to donate a photo to show there was somebody out there who wanted to help."
"This means a lot to us," said Ken Kissick, co-founder of Streets Alive with his wife Julie. "It was an idea we would have never thought of on our own and once it was presented, we saw it as a great opportunity for the students to learn, but we saw it also as a project that people can look at for years and years, plus we'll be able to add to it or change it."
The students developed a website so people could engage with the project and purchase squares online. Their original goal was to raise enough funds to cover the cost of the mural, about $7,000. They informed the community using social media and by reaching out to individuals by phone.
"Overall, they did a bang-up job — we actually earned around $11,000," said Madore. "We were able to cover the cost of the mural, plus give Streets Alive an additional $4,000. It's the most money I've seen a group raise in the six years I've been director of program. Net sales, we've never sold $11,000 worth of commitment, so that was fantastic, especially given the pandemic conditions we've been working in the last 12 months."
The IME program, now in its 21st year, gives students the opportunity to apply what they've learned in the classroom to help solve a real-world business problem.
"We were presented with the issue that Streets Alive was needing funds and recognition, mainly" said Cyr. "They need to be seen in the community for what they can do and how much they offer. Streets Alive has been awesome. They gave us independence to do the job, but they were always there to support us."
"It was absolutely amazing to work on this project," said Samuel Scorah, a fourth-year student. "It's definitely taught me about how to work with people more effectively, how to work as a team and how to take multiple people's creativity and combine it. The mural is unbelievable and the artist went above and beyond."
Streets Alive will use the funding to help its operations, which include a clothing bank, a centre where people can escape the elements, a recovery centre for those who want to break an addiction and the RePurpose Donation Centre where people can bring their used goods to help someone rehouse after addiction or get off the street, and new immigrants.
"We've partnered with the U of L for decades through the NESA program, internships with the addictions degree program, now the IME with this particular project, but we are very grateful for the partnership we have with the University of Lethbridge," said Kissick.
Despite the difficulties the pandemic presented, Scorah said the experience was very valuable and he wouldn't change a thing.
"I encourage every management student to seriously consider taking part in the IME," he said.