One can't learn to drive a car from instruction manuals alone, and Darren Van Essen (BSc '20) describes medicine in the same way. For him, starting clinical rotations has led to the most valuable medical experiences.
Being part of the teams that care for patients in each of the medical specialties has been a very rewarding opportunity. Hands-on learning is taken to a new level when you are immersed among patients and healthcare professionals in a teaching environment. I feel very fortunate and am humbled to be starting a career of life-long learning to aid others.
Darren is one of many alumni who have decided to return to campus on June 1st to celebrate their achievements during our convocation celebrations that will recognize 2020 and 2021 graduates. We recently caught up with Darren to find out where the world of medicine has taken him since graduating in 2020, and what it means to him to finally cross the stage.
How did your ULethbridge undergraduate degree prepare you for your future in medicine?
My degree allowed me to expand upon my fascination with biology, broadened my horizons in other fields, and developed strong self-directed learning skills. I believe that the combination of academic and extra-curricular activities I pursued would have been beneficial for various career paths but have been particularly useful in my medical education.
Where has life taken you since you graduated?
After graduation, I moved to attend medical school at the University of Calgary. I completed the first two years of pre-clinical courses, and I am currently in my last year, which is spent rotating through clinical placements with various medical specialties.
What does it mean to you to return to campus for the convocation celebrations? Why is this experience so important to you?
I imagine returning to campus with the friends I made during my undergraduate degree will feel very rewarding. Gathering together where we met and worked so hard together to reflect on their successes, and taking the time to celebrate, will contribute to very memorable moments.
What are your hopes/plans for the future?
I hope to graduate from medical school in 2023 and then move forward to complete my residency. I hope that in the future, I can positively impact the lives of patients in ways similar to some of the incredible physicians I have worked with thus far.
Please tell us a bit about your experiential or work-integrated learning. What were your three biggest takeaways from participating?
I had many opportunities to be involved in research through the biological sciences Research Internship Concentration, as well as other independent studies.
The three most significant lessons I learned are:
·   Learning from failures is fundamental to success
·   Pursuing work you are interested in makes your work more rewarding
·   Having a supportive team is integral to advancing your research work
What is your most memorable ULethbridge experience?
My time as a student of the Research Internship Concentration is definitely the most memorable part of my degree. It allowed me to contribute to research efforts while being enveloped by a group of like-minded friends and supportive and knowledgeable mentors. My time with the Wiseman Lab during my 3rd and 4th years, in particular, gave me unforgettable experiences.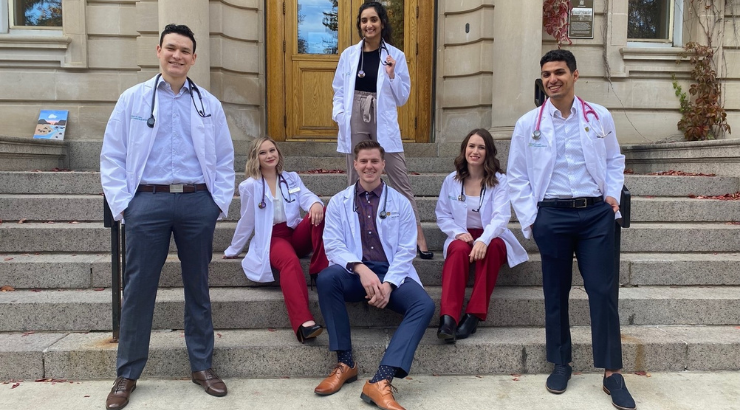 Is there someone specific who had an important influence on your ULethbridge experience?
A host of people significantly influenced my experience, including my wonderful group of friends, biology professors, and others. In particular, Dr. Elizabeth Schultz, Dr. Steve Wiseman, Tony Montina, and Dr. David McWatters were incredible influences during my degree.
What advice would you give to those about to begin their journey at ULethbridge?
I would encourage students to allow an open mind to guide their experience. Explore new interests, be inquisitive, enjoy yourself, and learn from your friends and mentors along the way.
Welcome back to campus, Darren. AND, congratulations!!
---
Where are they now and what does the future hold for Kaden, Katrina, Ashley, Ashraf and Jhanvi (pictured above).
Ashley is going into year two of pre-clerkship medicine at the University of Alberta. She is looking forward to discovering which area of medicine is the most rewarding for her. Ashley looks forward to becoming a great doctor alongside the ULethbridge alumni she is pictured with above!
Ashraf is heading into his second year of medical school at the University of Alberta in August. He is looking forward to clerkship in years three and four to explore the different specialties and pursue one that he enjoys and can continue to grow during his residency.
Jhanvi is really excited to have just completed her first year of medical school at the University of Alberta. She hasn't quite narrowed down the area of medicine she would like to pursue as she still has tons to explore, but right now she is thinking of pediatrics, emergency or maybe obstetrics and gynecology. This summer, Jhanvi will help organize a summer camp for elementary school kids and participate in some congenital heart disease research, but otherwise, she'll spend some time travelling and with friends/family before her second year of med school starts!
Kaden just finished his first year at the University of Alberta. He plans to take some time off this summer before starting his second year. He is interested in a variety of medical specialties and hopes to narrow down his favourite over the next few years.
Katrina is currently in her second-year medicine at the University of Calgary and is excited to pursue rural family medicine after graduation in 2024. She is excited to be in the next generation of healthcare with the brilliant ULethbridge alumni pictured above.
---
☎️
Welcome to the ULethbridge Alumni Family... Don't forget to call!
Stay connected with classmates, share your successes, mentor future ULethbridge students and enjoy Alumni perks and benefits!
Update your contact information with
Alumni Relations
.
Find us on
Facebook
,
Instagram
or
LinkedIn
Read more
about your fellow alumni