These co-ops have helped me gain new skills and have helped me learn what to look for in a job.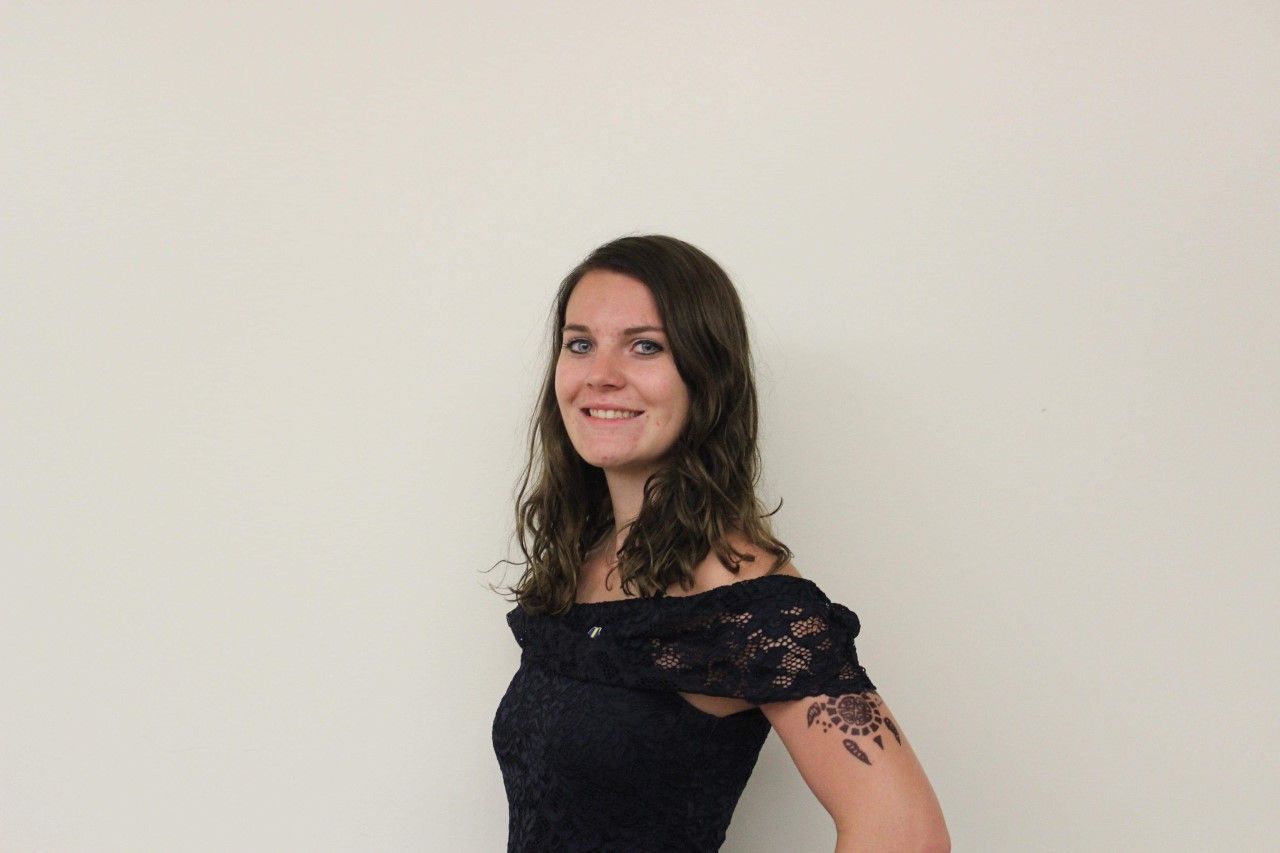 Self-described "go-getter" Skylar Nikkel (Sky) is a fifth-year applied statistics student with a minor in computer science and a geography concentration. Combining her enthusiasm for research and keenness for a challenge, Sky has completed three agriculture and research-related co-op work terms on her path to her future goal.
Sky's first work term: cross-pollination
A large part of Sky's role at the  Lethbridge Research & Development Centre (LRDC), aka the "research station"), part of Agriculture & Agri-Food Canada,  involved taking different wheat breeds and "crossing them." Every Tuesday and Thursday, Sky would remove the anthers of plants (the part that absorbs pollen) and put corn pollen back into them. Farmer's look for specific desired genes and traits within their crops and achieve this by crossing wheat breeds. By controlling which of these plants' genes were combined, Sky was able to know precisely which characteristics each plant was receiving. In places as windy as Lethbridge, wheat with thicker stems tend not to "lodge" or bend over easily and are preferred. Crops with larger stems and pest-resistant genes make for more vital crops.
Sky's second work term: forestry & irrigation
In her second work term, Skylar worked at the "provincial side" of the research station for the Alberta Agriculture and Forestry/ Irrigation management section. Sky describes the provincial side as smaller and more intimate, geared towards Alberta-specific research. Sky added that "on the provincial side, I worked with everyone on the floor, around 40 people." Access like this allowed her to learn many skills, including how to use an IRT (infrared thermometer) to measure the moisture level in different areas of a field. Her IRT research project involved placing 12 IRTs onto a "pivot system" for watering plants and setting two "data loggers" into the ground for recording data. "You can program the pivot so that three sprinklers would go off, or four…," Sky adds, explaining how this level of control "helps save water, so you're not overwatering some parts and underwatering others." Her research has important implications for using water efficiently for crops. Sky adds that she also "got to use many off-road vehicles on the provincial side, which was really fun," to avoid making tracks in the field.
Sky's third work term: agronomy
In her latest work term, Sky worked once again on the "federal side" as an agronomy student, and this work term was online due to the pandemic. Sky helped ensure the accuracy of the equipment used to count crops like barley by adding up the number of stocks per metre from photographs taken and comparing them to machine-work. Although tedious, Sky found the work enjoyable and has accepted a fourth work term for this upcoming summer.
What did Sky learn about herself & the work world?
For Sky, participating in the co-op program has been a way to learn what she would like to do in the future and then reach for those goals. "These co-ops have helped me gain new skills and have helped me learn what to look for in a job," she adds that co-op experience sets her apart and prepares her in ways a classroom cannot. Sky describes how employers have expressed that they are impressed with the level of knowledge she already has.
And while Sky enjoys research in and of itself, her favourite part of completing co-op work terms was the connections she made along the way. Sky hopes to move to BC one day and work at a research station there, and she is confident that her co-op experiences, and the connections made, will help her reach that goal.
What about classes & campus life?

While co-op keeps her busy, Sky successfully balances co-op with academics and student life. As an applied statistics major, there's no surprise that her favourite class "of all time" was mathematical concepts (math 2000). Sky explained, "I just really enjoyed the material, and it made sense to me. Logic is something I enjoy."
However, even when you're doing something you enjoy, it's essential to study hard. Sky adds, "there are many help sessions. I went to math help sessions a lot. I suggest using them. They're really helpful." Her advice to students is that while academics are a top priority, they should "remember to take breaks and have fun because those are also important aspects of university life." She also urges students to "try things out!" adding, "I'm sad I never tried out the swimming pool or Zumba classes and that I didn't use the climbing wall until my last year."
Despite some small regrets, Sky has involved herself in the community through her volunteer work at the Last Class Bash and Fresh Fest, as well as Special Olympics and YWCA. She has found a volunteering community within her sorority and enjoys giving her time to mentoring younger students.
Learn more about co-op and work-integrated learning at uLethbridge!
Apply to study at uLethbridge
Accept your Offer of Admission
Register for classes
Request info
Book an on-campus tour
Make an appointment for enrolment advising