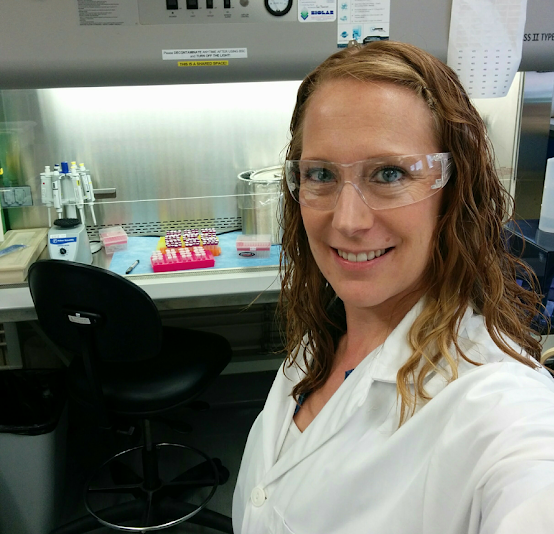 The fact that I was able to participate in and contribute to applied research that has implications for public health, food security and agricultural sustainability resulting in three authorships and a fourth in peer review is amazing. I didn't think that was where I would end up when I started my university journey over five years ago.
Mature students must strike a delicate balance between university life and family obligations. Fifth-year biological sciences student and avid researcher Melissa Telfer dared to walk this path, explaining, "I can't typically take a full course load. It takes a lot of dedicated time and energy to pull off great grades. I can only do so much work without completely ignoring my family."  With the added responsibility of raising her children, she adds, "When I decided to attend university, my daughter was almost two and now she's almost 12!" However, with graduation in sight, Melissa does not regret the decisions she has made along the way, especially when it comes to co-op.
In 2010, Melissa decided to switch careers and with biology in mind, she upgraded some high school courses and later applied to the University of Lethbridge. She chose the U of L for its variety of biology courses and individualized approach to learning. The opportunity to tailor her academic experience and create her career path through experiential learning was pivotal in her decision. "In January 2016, I began my studies at the University of Lethbridge and a year after, I completed my first co-op," she explained, adding, "I signed up for co-op right away, and after taking a handful of courses, I landed my first co-op job! If it weren't for co-op, I would have been paddling upriver." Since then, Melissa has worked as a research assistant in three unique co-op work terms at two different federal agencies.
Melissa's first co-op was with the Canadian Food Inspection Agency (CFIA) – Bacteriology and Food Safety division in the winter of 2017. During this co-op, she worked with attenuated Bacillus anthracis spores, which are genetically altered so that they cannot give you anthrax disease. As part of this biocontrol research, she tested different decontamination solutions at various negative temperatures. Decontaminating anthrax-covered surfaces is difficult since not only will typical decontamination solutions freeze at low temperatures, but also due to the spore's natural hibernation mechanisms. The spores have a protective encasement that is resistant to heat, pH, cold, and chemicals.  The decontamination solution must penetrate these spores to kill them before they turn into bacteria. Only under ideal conditions will the spores produce B. anthracis, which can be either upon ingestion or breathing them in. "The lowest temperature we went to was -28°C. It is difficult to decontaminate surfaces at this temperature, but ultimately one of the solutions was successful and the results were just published," Melissa explained. The paper is entitled "Decontamination of Bacillus anthracis Spores at Subzero Temperatures by Complete Submersion" (Laing et al., 2020).
Melissa's second and third co-ops were with Agriculture and Agri-Food Canada in the Cereal Pathology lab. In the summer of 2019, Melissa was responsible for the characterization and quantification of important fungal wheat pathogens in the Fusarium genus. This research was specific to western Canada, including locations throughout western Saskatchewan and southern Alberta. Melissa described her process, stating, "I performed DNA extractions, PCR, and multiplex qPCR for 250+ DNA samples. I also genotyped species trichothecene mycotoxins with multiplex PCR (which stands for 'polymerous chain reaction') and participated in the design and implementation of experiments and assisted in the interpretation of data." In simpler terms, Melissa used two different molecular methods and statistics to characterize the samples.
PCR "takes a small amount of targeted DNA and copies it millions of times so that there is enough to visualize by various methods and perform further studies with." After copying the DNA, Melissa spelled out how "it is run on a gel and separated by its size." Comparing different DNA samples in the gels allows researchers to know which fungus species are present. "If we are looking for a fungal gene that is 1kb, we can use the gel to determine presence or absence based on whether a band is seen at 1000 base pairs," Melissa added, explaining how she was able to identify which fungal species were present.
Melissa then ran DNA from wheat stems and kernels through the quantification PCR. This machine is complex and can tell researchers how much DNA they originally started with by displaying amplification curves, which they interpret using math. "It's important for researchers to know how much pathogen was present in the samples we started with," Melissa explained, "if you have more of one pathogen than another, there might be some interspecies competition taking place, or a different dominant pathogen may require another management protocol over what you initially thought." This information allows farmers to stay ahead of any potential disease outbreaks or quickly analyze samples to determine which pathogen is the culprit during an ongoing outbreak so that mitigation methods can be implemented.
Her original plan was to continue working on this five-year project, getting new wheat samples every summer. However, in 2020, Melissa was forced to continue her co-op from home because of the pandemic. While this was not ideal, Melissa took this opportunity to complete "two literature reviews on the various fungal species that cause Fusarium head blight and Fusarium crown and root rot and how the pathogens may be changing and evolving for the future." She also outlined control methods like fungicides, elaborating, "the issue with fungicides is they can actually alter the microbiome of the soil eventually leading to more disease." These literature reviews are currently being integrated into manuscripts that are the in the peer review process. The opportunity to be published as an undergraduate student is exciting and often reserved for students at the graduate level at other universities.
While she was not sure what to expect from her co-op experiences, Melissa had trust in the process. She recognized and took pride in the importance of her work. "I was afraid at first that the co-ops would just be menial tasks. The fact that I was able to participate in and contribute to applied research that has implications for public health, food security and agricultural sustainability resulting in three authorships and a fourth in peer review is amazing. I didn't think that was where I would end up when I started my university journey over five years ago," she added.
While a student might have a clear path in mind after graduation, the only way to truly be sure is to test it out. This type of discovery helped Melissa find her love of plants and make them central to her degree. Before claiming her first official co-op, Melissa worked as an FSWEP student with prion disease in animals (Mad Cow disease etc), preparing tissues and testing them with ELISAs (enzyme-linked immunosorbent assay) for the presence of prion protein. However, through her co-op experiences, Melissa realized she prefers working with plants. Because she joined co-op early in her degree, she had plenty of time to switch her course focus to support this decision. "I had taken a plant physiology course and I was just fascinated by them," she exclaimed, adding, "a co-op opportunity came up with a plant focus so I applied for it and was successful; that solidified my love of working with plants which I hope to gain more experience with."
For Melissa, thanks to co-op, the path forward is clear, "I want to work as a lab technician in a research lab dealing with plants, microbiology and host/pathogen interactions. If there's a full-time opportunity in agriculture, I wouldn't hesitate to apply for it," she added. Already, Melissa has landed a contract position in biological sciences professor Larry Flanagan's lab for this summer after her graduation.
Melissa has an important message for any students on the fence about co-op. "Don't just go through your degree as fast as you can without taking advantage of that experience," she urged, "paper with no experience means nothing to employers. Even if it takes a few extra semesters to complete your degree, I promise it will set you further ahead in the long run!" Most students dream of working in their field and the way to realize this dream is to leverage their expertise. Expertise gained through participation in the co-op program.