Indigenous Fine Arts graduate Niitsiitaakii (The Only Woman), Chataya Holy Singer (BFA '23) is deeply passionate about her Blackfoot roots, applying her artistic talent to honour and educate others about Blackfoot culture. Chataya has left her mark in many notable ways around ULethbridge and the community, including her recent exhibition No'tsiitsi – My Hands at the Southern Alberta Art Gallery, designing the 2022 Moonlight Run logo and, in 2021, designing T-shirts commemorating the National Day for Truth and Reconciliation in partnership with the City of Lethbridge. Stepping outside of her comfort zone was a challenge Chataya readily accepted, and she plans to continue to lead by example and inspire others to pursue their passions.
As an Indigenous Fine Arts student, the journey to education can be isolating at times, but there are so many opportunities out there that put you outside of your comfort zone. These are the most fulfilling experiences...
Meet Chataya. Honest. Hardworking. Resilient.
Hometown: Lethbridge, Alberta
Program: Bachelor of Fine Arts | Major: Indigenous Art Studio
What is your most memorable ULethbridge experience?
The Stories for the Collection exhibition opening at the Dr. Margaret (Marmie) Hess Art Gallery in assistant professor Dr. Jackson 2Bear's Indigenous Art Studio course in the Spring of 2019. For me, that would mark the last normal academic year prior to the pandemic, and how that affected the students for the next gallery opening year and the years following.
What is the most important lesson you learned during your time at ULethbridge?
I learned that it's okay to make mistakes and to always communicate what's going on, especially with personal things that happen outside of school.
Post-secondary is not as intimidating as others make it out to be; however, it teaches you how to become responsible with your time and energy and discover what's worth prioritizing. It sets you up to challenge yourself to become the best person you can be, and learn that failure is a part of the learning process.
As an Indigenous Fine Arts student, the journey to education can be isolating at times, but there are so many opportunities out there that put you outside of your comfort zone. These are the most fulfilling experiences rather than just sticking with what you are familiar with and the people that you know. It is okay to go out there and participate in events even if you are by yourself because that's how you get to know others when there is nobody to offer you comfort or moral support. This in turn will help you gain confidence and better communication and networking skills, which are important to learn as you move on outside of the University.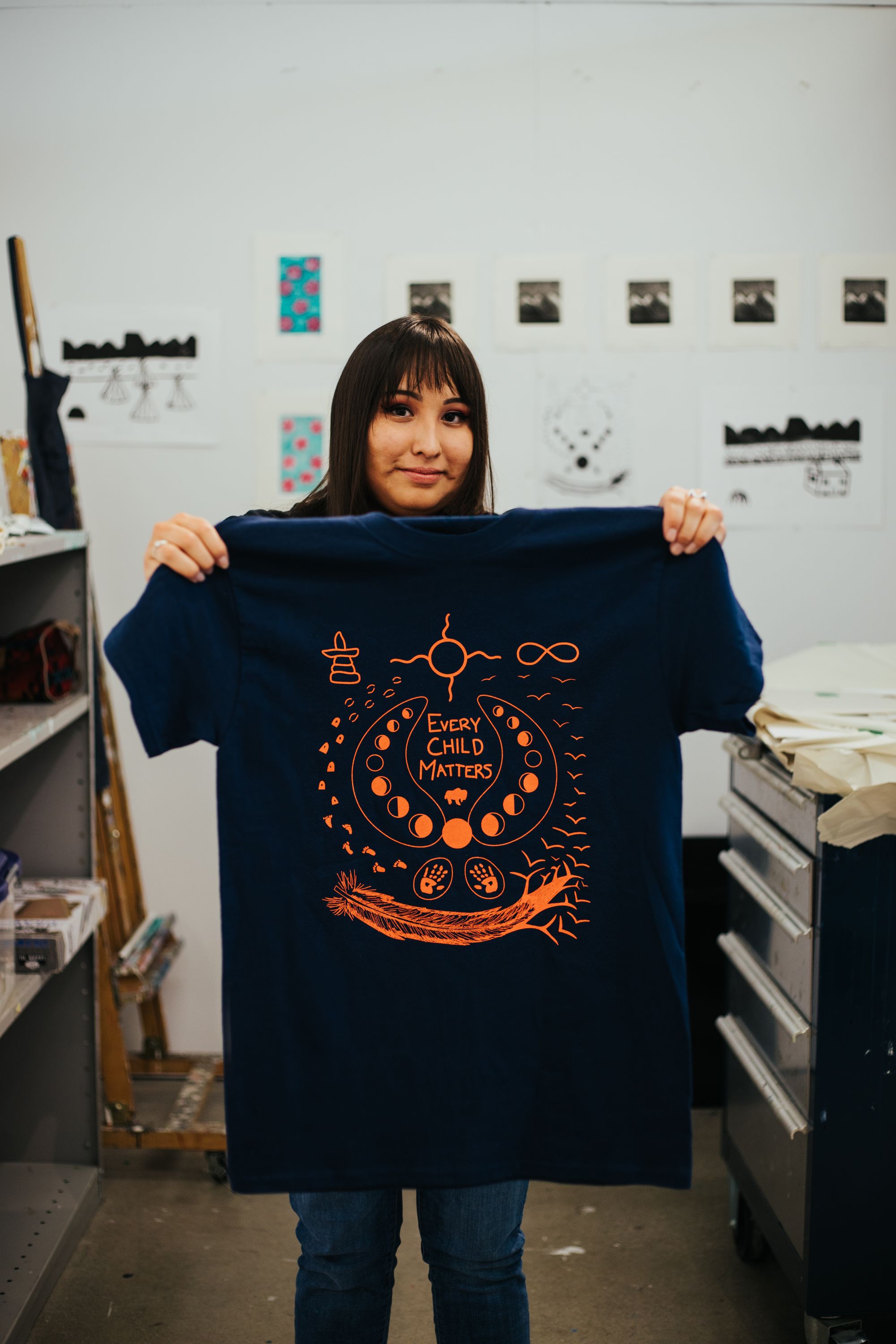 Is there someone specific who had an important influence on your ULethbridge experience?
Yes, a few, actually. One of the most important ones, I'd say, is Miguelzinta Solis (MFA '19), assistant professor of Indigenous Art Studio—he taught me everything I needed to learn about what it means to become a professional artist. He taught me what professional practice looks like and even helped me write some grants/scholarships as well. Another one I'd say is Dr. Josephine Mills, the director for the ULethbridge Art Gallery. She helped me obtain casual employment with the gallery which led to other job opportunities within the University such as in New Media working as an assistant for Christine Clark (MFA '14), with the director for Mootookakio'ssin in partnership with the Art Gallery, and even in the neuroscience department as an Indigenous Infographic Designer for the Building Brains Together organization. I would also like to acknowledge Dr. Devon Smither, associate dean in the Faculty of Fine Arts, who helped co-curate my most recent exhibition at the Southern Alberta Art Gallery over the past year. Her contributions to the project really helped boost my name, and practice within the city of Lethbridge. Lastly, Jodie Flamand (BA '14), Indigenous student advisor for Iikaisskini Indigenous Services, for always holding my best interests at heart and for her immense support over the years both professionally and personally. She has done a tremendous job in representing Indigenous students and giving them a safe space. Jodie always made sure that I was receiving the proper resources, support, and connection within and around the ULethbridge community.

There are obviously so many individuals within the University that have helped me obtain my education and get me where I am today, but there are way too many names to mention. Please know you are all appreciated and I acknowledge everything that my community has done to support me in my educational journey. Thank you.
Did you receive scholarships and awards?
Yes. I received the Indspire scholarship during my first year here at the University, and it helped with my moving process and sponsored the things needed for my residence. I also received the Indigenous Careers Award which was payable throughout the school year and helped during the Fall semester where I really needed the extra cash to help pay for some things for the holidays. These are just a few of the scholarships and awards that I have won.
What have you gained from the liberal education experience at ULethbridge?
Being an art student, I had to take science courses for my program, and I learned a lot about different areas of study such as archaeology, biology, environmental science, and even astronomy. I think the most intriguing of these subjects was astronomy because I got to go to the observatory. That was the first time I got to look at the planets from a telescope—it was probably the most memorable experience gained from that course.
What are your hopes and plans for the future?
I plan on working towards obtaining my master's of Fine Arts degree and hopefully have more exhibitions/shows in the future outside of my community. I hope to be an inspirational speaker and lead by example for the youth in our community in the midst of the opioid crisis.
My aim is to utilize my knowledge gained from both ULethbridge and life to help heal not only my community, but my family as well.
What advice would you like to give those who are about to begin their journey at ULethbridge?
Trust your intuition and get to know the right people and resources. Always be your own encouragement, because not everyone wants to see you succeed and that's the harsh reality of being an Indigenous student on campus. Especially, as a Fine Arts student, never let anybody damper your creativity and prove those who challenge you wrong, because where you aren't receiving support, there are so many others out there within our community that are cheering you on and want nothing but the best for you—those are the kinds of people to cherish and never take for granted.
---
☎️
Welcome to the ULethbridge Alumni Family! Remember to stay in touch.
Stay connected with classmates, share your successes, mentor future ULethbridge students and enjoy Alumni perks and benefits!
Update your contact information with
Alumni Relations
.
Find us on
Facebook
,
Instagram
or
LinkedIn
Read more
about your fellow alumni.