While learning is the essence of a post-secondary experience, it is not limited to what is found in textbooks or studied in the lab. For Alicia Anderson (BSc '20), discovering the depth of her resilience might just be the most poignant lesson of the last five years.
Anderson, who has already started her master's program at the University of Lethbridge, completed her undergraduate degree this spring working with Dr. David Naylor as part of the Astronomical Instrumentation Group in the Department of Physics & Astronomy. She also balanced five years of backstopping the Pronghorns women's hockey program as one of the most accomplished goaltenders in Canada West history.
Tested both mentally and physically as a student-athlete with an extremely demanding course load, these were known challenges for which Anderson could prepare. What she could not anticipate was the tragic loss of her mother the summer before her third year at the U of L — a time when family, teammates and faculty members came together to support her continuing journey.
"My family first and foremost helped me get through that time," she says. "Then it was my teammates, coaches and professors who really all supported me. They were so willing to compromise on deadlines and willing to give me extensions when I needed it. Just being able to have open conversations with them, they understood that I wasn't just a student who couldn't get their work done, I had other things going on."
Not that it had been easy for Anderson the first two years of her university career. Recruited out of Bishop Carrol High School in Calgary, she jumped right into the fray her first semester at the U of L, and learned a valuable lesson.
"I kind of started off rocky in year one. I decided I'd take three science courses, all with labs, plus a math course," she laughs, looking back at the degree of difficulty she added to the daunting task of adjusting to her first semester of post-secondary school as a student-athlete. "So, I was basically in seven classes and it was hard for me. My grades definitely suffered in my first year but eventually I figured out my scheduling and my time management."
Her in-class struggles didn't translate to the ice where she was named to the Canada West All-Rookie Team, the first of multiple awards and records she would achieve as a member of the Horns. Over the course of her career, playing for a program that saw its fair share of upheavel, Anderson was named to two Canada West Second All-Star Teams and set records for the most saves and most games played by a goaltender.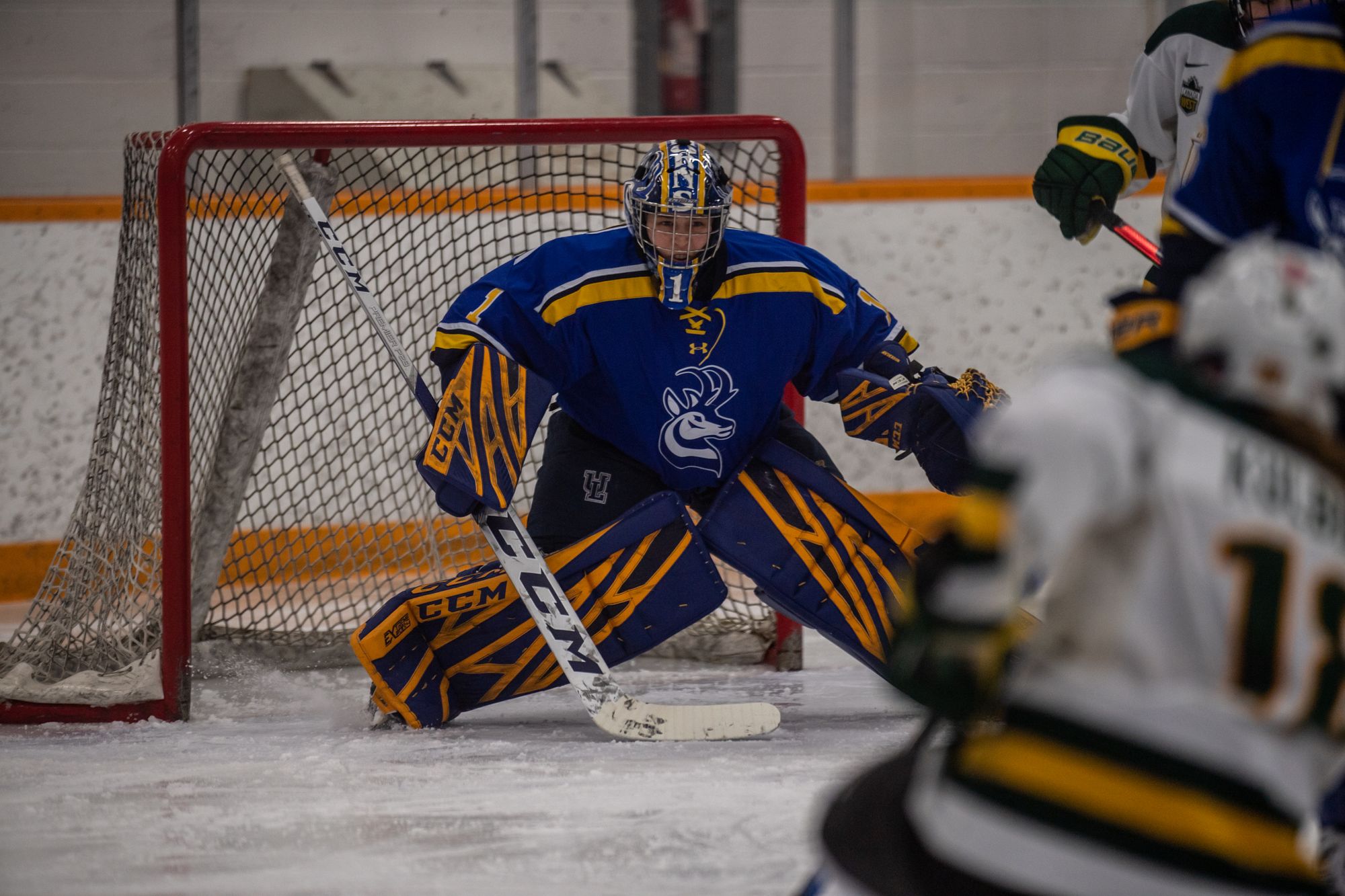 "That was probably one of the biggest things I learned over my five years, was how to manage my time with practice, games, travelling on the weekends, workouts and then also managing my school assignments and tests," says Anderson, who also tutored first-year Pronghorns and other physics students. "It's just realizing what you have to do when you have to do it and getting it done on time."
Always a strong math student, physics grabbed her attention in high school and by her third year at the U of L, she'd turned her focus to space and the AIG group. Unbeknownst to her, the University was home to one of the most advanced astrophysics research labs in the world.
"It was very surprising when I first came into contact with Dr. Naylor," she says. "I was shocked to see we had this astrophysics professor who was well known throughout the world here at the U of L."
She flourished with AIG, securing multiple scholarships that enhanced her studies and garnered the respect of Naylor.
"It is rare to have a Canada West athlete who is also the top student in one of the most challenging of university degrees," says Naylor.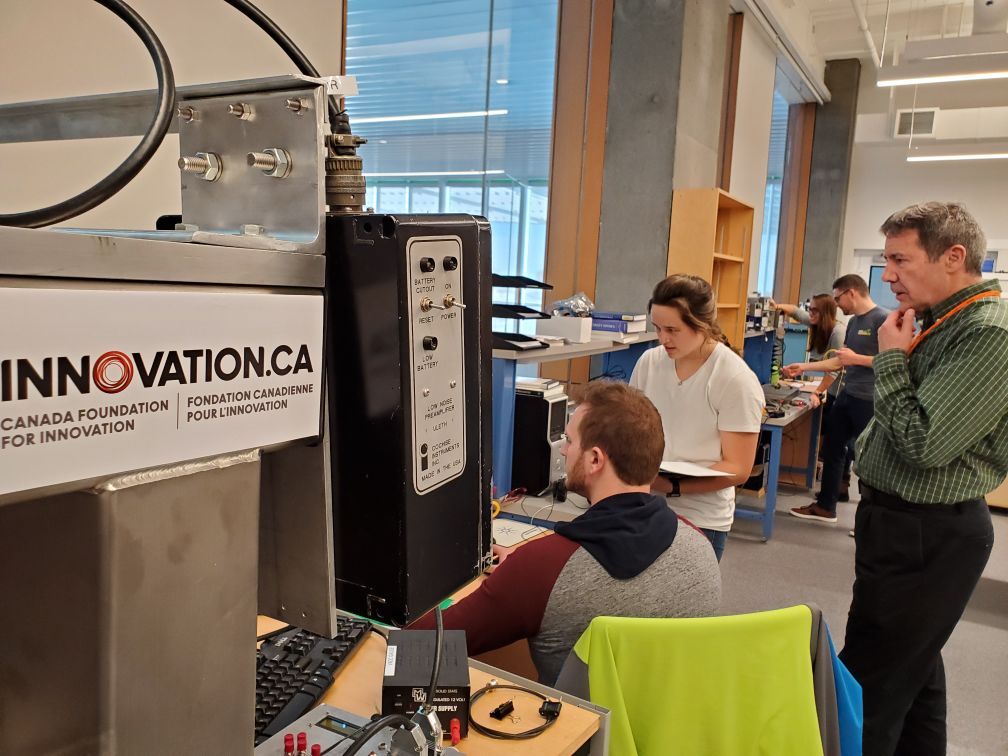 In fact, his only quibble with her was trying to read her work.
"Her written assignments, which although correct and thorough, were sometimes almost illegible," he says. "When I asked her if she could take more care to make sure her assignments were legible, she said that it was hard to write on the bus that carries the women's hockey team around Western Canada. That simple, unaffected response, not only put me in my place, but also speaks to her commitment to her studies. When others were likely watching movies or texting friends, she was working on her physics homework."
Anderson is currently working on instrumentation for one of the next great space missions, SPICA, a far infrared space observatory tentatively scheduled to launch in 2030.
"We're developing a post-dispersed Fourier transform spectrometer, which is an analog instrument to SAFARI, one of three scientific instruments on SPICA," she says. "My part was designing the post-dispersing grating spectrometer which extended the work of Dr. Ian Veenendaal (BSc '13, MSc '16). In my undergraduate honours thesis, I developed and tested the performance of a fully cryogenic diffraction grating spectrometer."
Veenendaal is one of Naylor's top graduates and currently working as an instrument scientist for the Netherlands Institute for Space Research. Naylor sees Anderson on the same trajectory.
"Seven of my former students hold faculty positions, three of them hold research chairs (CRC or equivalent) and Alicia is in that elite group," says Naylor. "I would be very hard pressed to justify why she would not be top of that group at this stage in her career."
That would suit Anderson just fine, but for now, she's focused on the start of her master's studies. Still, she's proud of what she's accomplished.
"Thinking about all the obstacles I went through in my personal life with my family issues and also the hockey program, I know it means a lot to us graduating hockey players that we all got to this point," she says. "There's five of us who stuck through the whole five years and it means a lot that we made it. I'm excited to get my convocation box and my tassels and everything. It'll be exciting to finally see my degree."