With the continued closure of art galleries across Alberta, the 2021 University of Lethbridge Department of Art annual exhibitions and student awards have gone virtual for a second year. Traditionally, the opportunity to highlight faculty, staff and student work takes place annually at both the Faculty, Staff & Student Exhibition and the Art Studio Open House and Awards Reception.
Facing a second year without an in-person exhibition, faculty and students worked together to create online solutions to share their work and celebrate creativity and academic excellence.
The annual Faculty, Staff & Student Showcase is now available online, highlighting the works of 11 faculty and staff and 20 art students. The online showcase was developed by Art History and Museum Studies student Grace Wilson, highlighting beautiful images of works alongside biographies, artist statements and Q&A with students about their fine arts experience.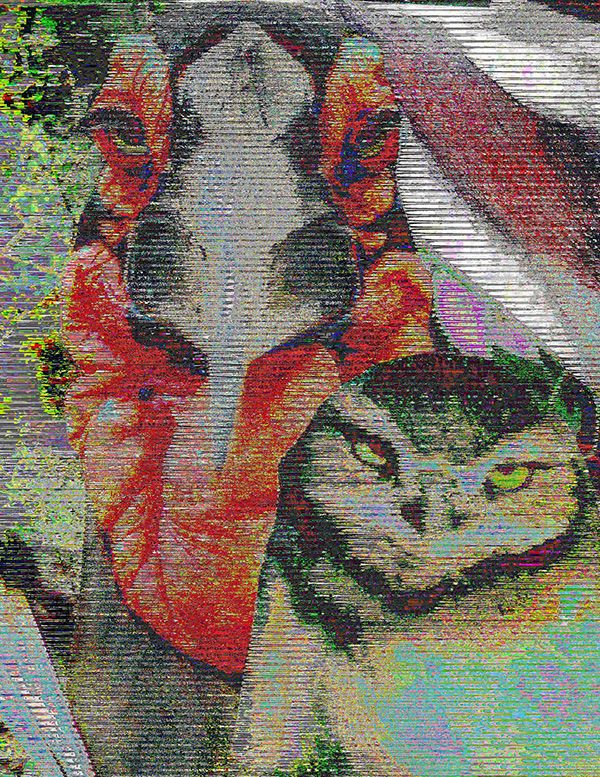 Additionally, art student Samantha Newton and her classmates took the annual Art Studio Open House and made it miniature. Adapting to the space limitation of uLethbridge's niche gallery, located in a locker on the 8th level of the Centre for the Arts, advanced and senior studio students contributed a miniature piece of art as a representation of their larger practice.
"As a class, we were disappointed with the idea that we would likely have to forgo our end of year open house for the second time in a row, having to miss out on an opportunity to share the semester's work with our peers," says Newton. "Open House in Miniature was our solution to the problem of artist collaboration in a virtual learning environment."
Open House in Miniature utilizes the niche gallery, adapted for virtual presentation, and the student run Meliorist magazine, to ensure their creative works could reach a wider student audience.

"By locating Open House in Miniature across two online student platforms we are promoting the idea of collaboration and encouraging viewers to explore each platform in their new online iteration," says Newton. View images of the exhibition and individual pieces on the niche gallery website, and read the curatorial statement from the artists regarding their works on the Meliorist website.
The annual art studio open house is also traditionally where the Department of Art recognizes excellence by awarding exemplary students for their outstanding achievements in art practice, community engagement, and scholarship.
"This year our students were especially disadvantaged. Physical access to our studios, resources and to our faculty and staff was necessarily limited or denied," says David Miller, art faculty member. "Notwithstanding these and other correlated challenges brought about by the pandemic, these award-winning students consistently demonstrated ingenuity, passion for learning, commitment to community values, high scholarly ambition, and creative resolve."
The Department of Art is proud to recognize the following students for their academic excellence:
· Kevyn Sander and Cassandra Williamson, Excellence in Art History Museum Studies Award
· Kelsey Black, Excellence in Art History Museum Studies Art Gallery Award
· Tanya Loftus, Excellence in Indigenous Art Studio Award
· Carmen Madsen, Excellence in Art Studio Award
· Camille McDonald, RHE Sculpture Award
· Sandy Latrace and Kaela Murphy, Excellence in Printmaking Award
Awards are also provided by generous donors and community arts organizations, including SAAG, the Student Art Society, and legacy awards in honour of David Lanier and Mary Annis.
The following students were selected:
· William Baliko and Leah Koutroumanos, SAAG Award
· Leah Koutroumanos, Art Society Award
· Samantha Newton, David Lanier Memorial Award
· Samantha Newton, Mary Annis Award in Studio Art
The Art Endowment Award, which encourages enriched study opportunities, workshops and projects intended to provide students with expanded professional art practice experience, was awarded to Laurel Scott.
The Department of Art is also proud to announce the recipients of the 2021 Roloff Beny Foundation Photographic Awards: Dierdre Earl, Leah Koutroumanos, Samantha Newton and Maria Riviere. Roloff Beny, one of the most distinguished artists in Canadian history, received an honorary degree from uLethbridge in 1972 and initiated the photography awards for uLethbridge art students in 2005. The awards recognize academic and artistic achievement of students with a focused interest in photo-arts, funding supplies and expenses for photography-based creative projects.
---