When alumnus Tony Montina (BSc '08, MSc '10), NMR facility manager and an instructor in the Department of Chemistry & Biochemistry, first entered the world of post-secondary education, he had set out to become a high school science teacher. Enrolling in the U of L education program wasn't a case of staying close to his home of Coalhurst, but rather it was about studying in the best education program in the country. However, life had a different plan for Tony when he was introduced to the world of research.
"My first U of L undergraduate research experience came after I completed the second year of my degree. I worked as a summer research assistant for Dr. Paul Hazendonk in the field of nuclear magnetic resonance (NMR). Paul introduced me to the amount of work that was required to do research and really ignited my interest. The following summer I worked for Dr. Joe Rasmussen on an aquatic ecology project. Joe introduced me to a different type of research that I could apply my passion for mathematics to and this really showcased the endless possibilities that are out there in science research. I always had a love for science and becoming a science teacher seemed like a natural career aspiration, but after my experience working with research, I saw what else was possible.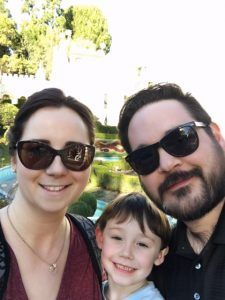 "This campus has also been the backdrop to some big life events for me. Obviously, my education is a major part of that but my personal life also blossomed here. My wife, Lyndsay Montina (BMgt '09), and I reconnected here after losing touch in high school. A mutual friend of ours must have seen something special about us and casually, but very enthusiastically, put us back in touch when Lyndsay started her management studies. The rest they say is history! We got married when I was completing my master's and we had our son Luca a few years after that. Lyndsay also now works at the U of L as the alumni relations manager, so many of our social commitments come from events and activities taking place on campus which has brought our story full circle.
"One of my favourite memories from my undergraduate days was our Friday afternoon beer club at the Zoo. It started out as just a couple of drinks after classes with some buddies on Friday's, as the science lectures usually wrapped up around lunchtime. I think there were about four of us who initially started sitting down together and by the end of our fourth year, our informal club had grown to about 50 people. It wasn't just the science students either. Kids from fine arts, education, history and management would come. It was the original transdisciplinary outreach program! I'm sure many people have the same story and memory, but it felt original to us.
"My position is quite unique in that I manage the NMR facility, which provides me with lots of technical and research challenges in my day to day job, but I also get to instruct students on a regular basis. Teaching and supervising students is where I see so much joy in my job and I truly love seeing the progress students make. The best example of this is when I get to teach all the organic chemistry students during the first week of the lab when they are starting to learn about NMR for the first time. NMR is a very complicated field and can be a little bit overwhelming. I tell these students not to worry because there are plenty of NMR tools that they will learn along the way and it is my goal to work with them to start building up their 'toolbox'. There's something about seeing that light go on behind their eyes that puts a smile on my face. It's an incredibly rewarding feeling to see them grasp a concept, or tool, and then be able to build on that going forward.
"I'm really proud of the work that I see our students doing, particularly in research. They get to see a research project through from beginning to end and there can be a lot of stumbling blocks along the way. Each of these blocks provide a learning opportunity and develops new problem solving skills for the student. I strongly believe that the skills students learn by just participating in these activities will serve them well, regardless of where they end up in life."