From the blustery shores of Corner Brook, N.L., to the boreal forest of Fort McMurray, alumnus and University of Lethbridge Alumni Association President, Michael Gabriel (BA '04) has been on quite a journey. His educational experiences also reflect a winding road of discovery and enlightenment. Starting out as a philosopher and finding his way to the law, Michael is a product of how a liberal education can open your eyes to a big wide world of opportunity.
"My family moved when I was quite young from the east to B.C before my dad took a job in Fort McMurray. My dad was a welder and worked in one of the oil sand plants. I loved growing up in Fort McMurray. It was a small town of around 30,000 people at that time and people worked at one of two places for the most part, so everyone knew everyone. The community was supportive, tight-knight and inclusive, you really couldn't ask for a better place to call home.
"I came to the University of Lethbridge because I was looking for a different experience to that of my friends. A lot of my peers were studying in Edmonton and I wanted to deviate from what they were doing. I wanted to be surrounded with people who'd had different experiences than me. My brother was studying at Lethbridge College and later transferred to the U of L to complete his management education and I would come to visit him here. I really enjoyed those visits and I loved the city so I made the move south.
"The connection I have to the U of L stems from so many of the wonderful aspects of student life. I was a loud and proud Pronghorns fan, I'd go to every basketball game I could. My classes were small enough where I'd know the person sitting next to me and the professor would know who I was. We're really lucky to have a university of this size because it can provide an experience that makes you feel a part of something.
"I had originally enrolled at the U of L in computer science. I loved math and science and just thought that would be a program I'd really enjoy. What I found myself being drawn to and really engaging with were my electives in the humanities. So I transferred into philosophy and because I'd already taken a lot of science and math courses, I didn't lose any ground in my degree because they were then considered my GLER courses.
"I always tell people that one of the best things about the U of L is the liberal education philosophy. They are so enriching. When you sit back and reflect about how and why you see the world the way you do, those are the courses that helped to shape my understanding of almost everything. From the way I look at a post on Facebook to questioning a news story I watch on TV. Thinking critically about the information you engage with is so important and the U of L helped me to build those skills.
"After completing my master's in philosophy at Dalhousie, I had planned to pursue an academic career in philosophy. What I found was that while I enjoyed learning about the subject, I just didn't have any burning research or questions that I could see myself spending a career asking and finding answers to. So I made the decision to apply to law school and was accepted at the University of Alberta and my wife and I made our way back to the prairies.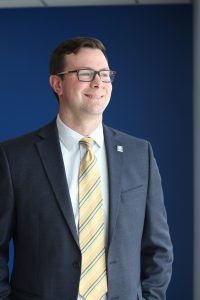 "Just before starting my articling year with a firm in Edmonton, our first son was born prematurely, three days after my final law exam. That experience very quickly put things in perspective for my wife and I. Working for a firm as big and busy as I did, and as much as I enjoyed the work and the wonderful people there, it became clear that as a family, we wanted a different lifestyle.
"Our family relocated to Lethbridge in 2011 and we've built a wonderful life here. My parents and in-laws are here and fellow alumnus Matthew McHugh (BA '03) and I opened our own practice, Fee Simple Law, in the summer of 2016. We've been fortunate to experience the warm and inclusive people and businesses that truly make Lethbridge such a vibrant place to live.
"The U of L has had a hand in so many people's lives. Whether you've experienced the university as a student or it's where you go to work everyday, the university has provided a place for people to grow, learn and connect. I am really looking forward to seeing our community come out to Homecoming Weekend so we can share those stories of connection together and rekindle that feeling of being a part of something."