How could Sarah Russell (BA '19) picture herself a university graduate when she'd never seen one in her family? How could she be expected to navigate an education system in a world with which she could not relate? How could she be asked to set goals and imagine a future when she had no sense of identity?
Russell, a Blackfoot woman who grew up in Brocket, Alta., was encouraged by her parents to leave her all-Indigenous school in Grade 4 for public school. "I lasted one day," she recalls. When Sarah's mother moved to Lethbridge and she was back in the public system for Grade 7, she dropped out. Not long after, she was a teenage mother and even further disconnected from an academic future.
"I felt there was no place for me, that no one really cared who I was or what I was trying to be in this world. I felt I was foreign to whatever I was being taught," she says of classroom experiences that either glossed over the Indigenous perspective or ignored it altogether.
Being a mom changed her outlook, and it motivated her to find a way through the barriers.
"I wanted my daughter to have a different perspective on education. Instead of me saying there was no identity in school, I thought I could come to school and be that support and bring that identity into the schools in some kind of way," says Russell.
"When I did decide to go back, an Elder lady inspired me. She told me if I wanted to be independent to go get a degree, maybe two. Those words stuck with me.
I felt it was time to challenge myself and to come back and face whatever fears were holding me back from pursuing my education."
Sarah's path wasn't easy. It involved upgrading courses at both Lethbridge College and Red Crow Community College. One semester, a University of Lethbridge recruiter was on the Red Crow campus. Russell learned of the supports for Indigenous students at the U of L, the programs in place that would help her find her way in a daunting, foreign-to-her, world. She took a leap of faith.
On Oct. 19, 2019, Sarah Russell crossed the convocation stage to become the first member of her family to earn a university degree. Now, she's telling her story in her home community and adding her perspective to the creation of a new program – EleV – that has the potential to transform the lives of the next generation of Blackfoot youth.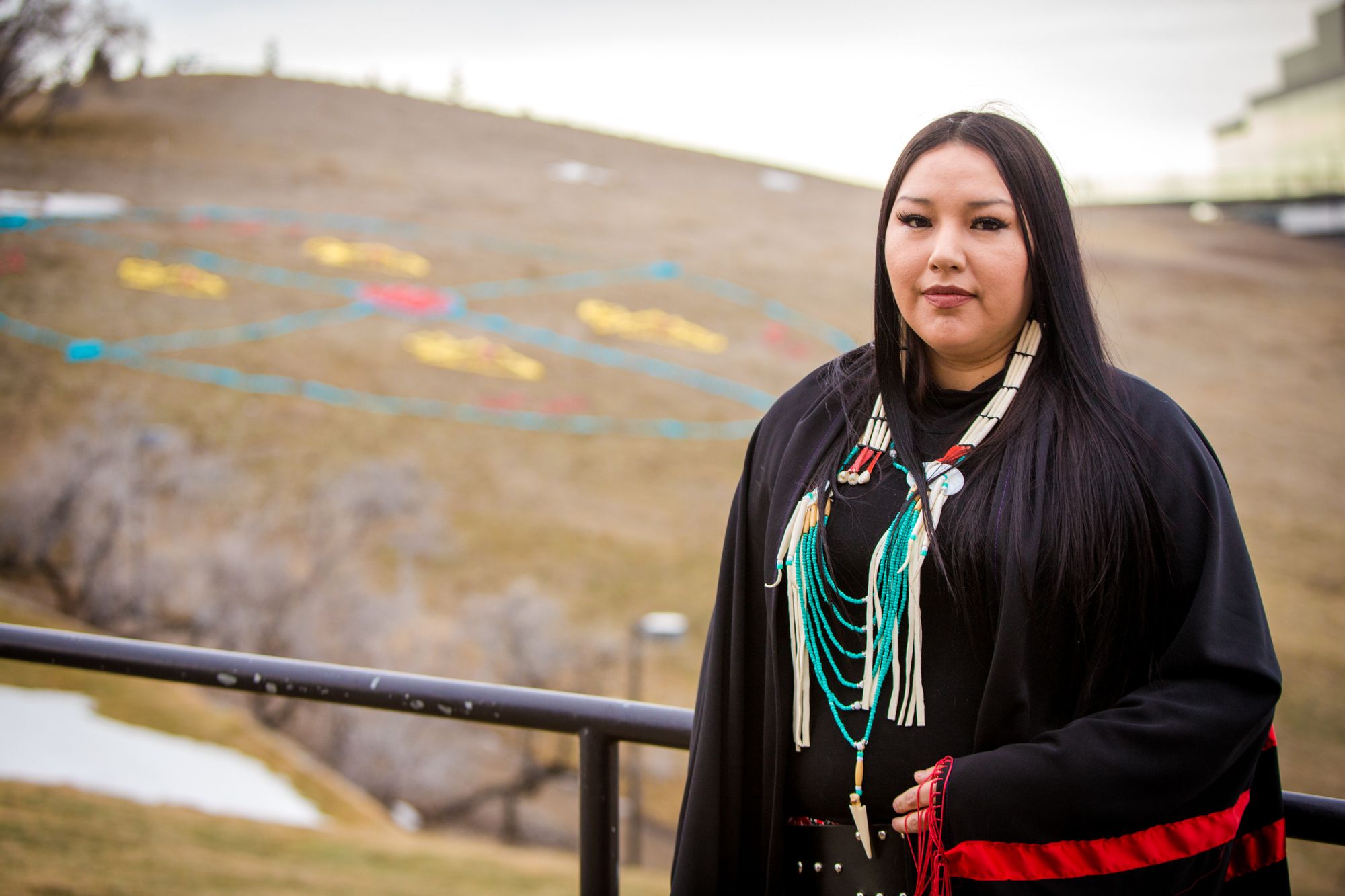 The program is a partnership between the Blackfoot Confederacy, the U of L and the Mastercard Foundation. Its aim, supported by a $15 million investment by the Mastercard Foundation, the largest in the U of L's history, is to create new opportunities for Blackfoot youth by breaking down the barriers to education Russell and countless others have faced.
"Our work together will support new pathways for Indigenous youth through education and onto employment, strengthening their communities and generating lasting change. The partnership underscores our commitment to support Indigenous youth and communities leading innovation reflective of their values and aspirations,"
says Jennifer Brennan, head, Canada Programs at Mastercard Foundation.
The partnership offered through the Mastercard Foundation also supports employment, economic inclusion and economic development within their communities.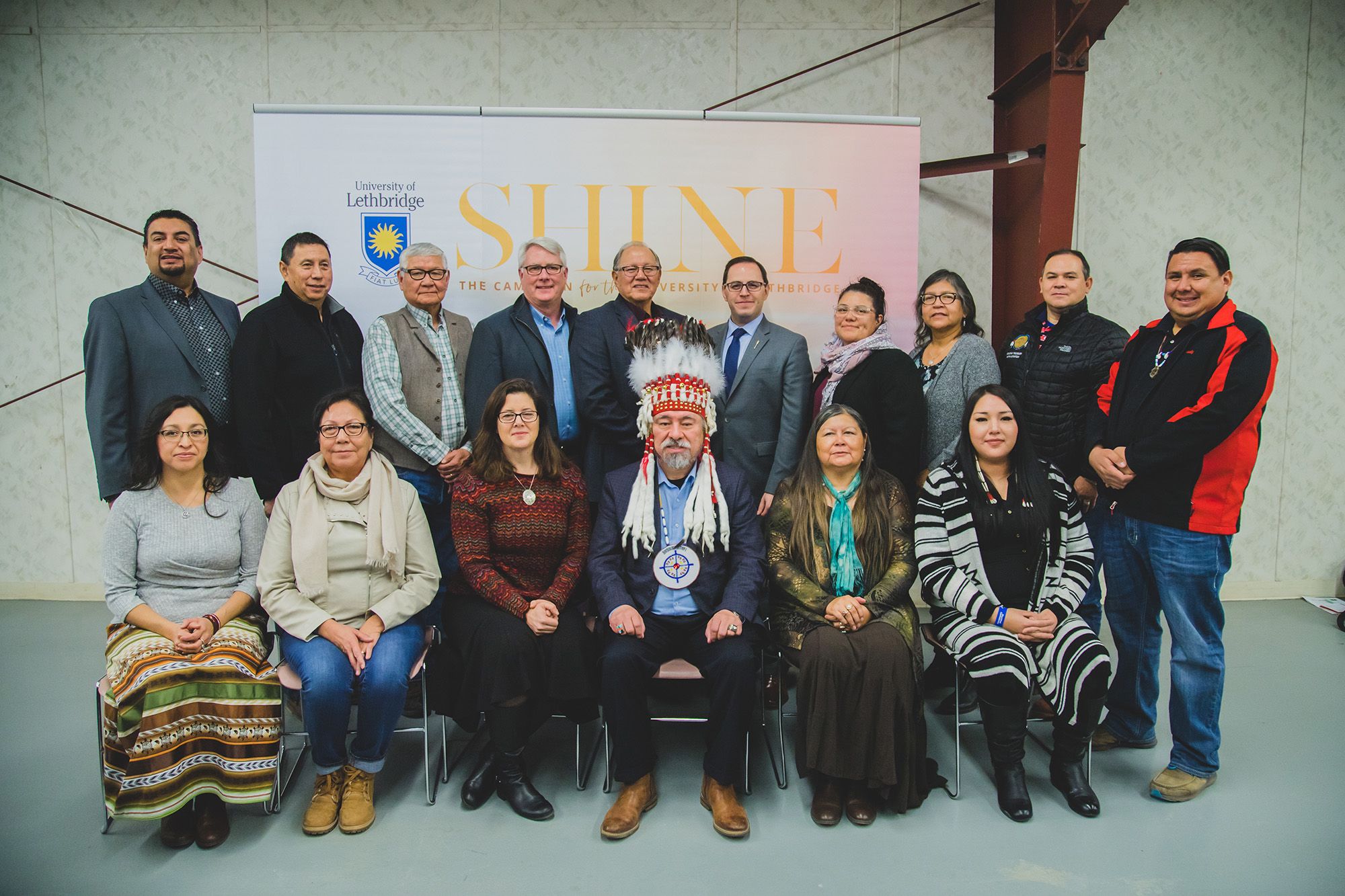 "This partnership will empower Indigenous youth by removing barriers, creating new educational pathways and growing the supports needed by Indigenous students to be successful in their post-secondary studies," says Dr. Leroy Little Bear (BASc (BA) '71, DASc '03), Distinguished Niitsitapi Scholar and advisor to U of L President Dr. Mike Mahon. "In turn, this will enhance employment and economic inclusion and drive economic development opportunities in our Blackfoot communities."
The program's path to success will be paved by developing trusted relationships and a true understanding of the challenges facing Blackfoot youth.
"It's important we sit down with each other, listen to each other and navigate this problem together. Reconciliation isn't something that one person can do alone, it's something we're all going to have to work hard for," says Russell.
"Nothing is impossible. This is an opportunity to change people's lives, by communicating better, by understanding each other and taking that initiative to help the younger generation."
*videos/photos captured prior to COVID
---