The 2023 Youth 7 Summit in Japan was an opportunity University of Lethbridge student Sydney Whiting couldn't pass up.
While the cultural component and the opportunity to collaborate with like-minded youth with a passion for advocacy were attractive considerations, the political science student also relished the chance to apply what she'd learned in the classroom the past two years.
Whiting, 19 at the time, found herself one of the youngest attending the Y7 Summit in Tokyo this past April. The week-long event brought together youth delegates from all Group of Seven (G7) countries, as well as other invitees – many of them young career professionals – to discuss and form policy suggestions.
"I didn't have a lot of professional years under my belt already, so I leaned heavily on the experiences I have had with or through the University," says Whiting, whose study has included international relations, political research methods and global citizenship. "It was an opportunity to take things I had started to have an interest in research-wise, and translate that into applied learning."
The opportunity to be one of four Canadian delegates at the Y7 was provided through the Young Diplomats of Canada YDC, a non-profit agency promoting leadership through international delegations, research projects and advocacy initiatives. Each delegate, selected from some 200 applicants, represented Canadian youth in one of the policy tracks, including economy, digital innovation, and global health.
Whiting's priority was to try and advance a progressive climate policy agenda and work with other young people to do it. She was proud to represent Alberta and provide more of a rural perspective, since many of the delegates came from large, European cities. Whiting also did double duty, working on the peace and security track, where they spoke about such issues as de-nuclearization and Russia's invasion of Ukraine.
She concedes the youth priorities identified through extensive negotiations and collaboration at the Y7 weren't reflected in the eventual G7 communiqué to the extent she and her fellow delegates hoped. Whiting says the experience, however, was still invaluable.
"It was a unique experience for me to work with other people who were so different in their lived experience from my own; share what I know and what I keep learning about climate action and policy and youth engagement; and just kind of weave it all together into one experience that I hope spirals into more," she says.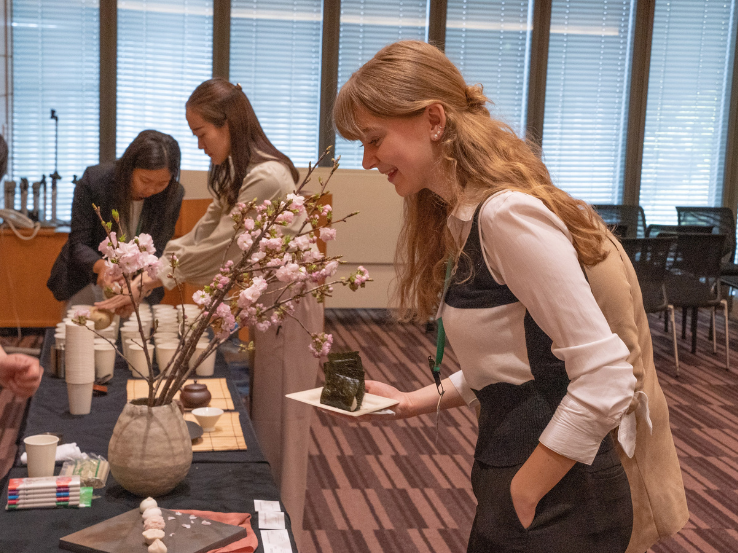 Before taking her advocacy efforts to the international stage, she first brought attention to environmental issues on a local level. No longer eligible for further opportunities with YDC – Whiting also served as a delegate at a United Nations Commission on the Status of Women youth session last year – she'll likely focus her sights closer to home.
"I'm ready to bring it back to more of a provincial context and how Alberta moves forward under a new government and new policies coming about," Whiting says, adding she'd like to discuss some of those same issues from the Y7 Summit, and more, with fellow Albertans.
With the many benefits she experienced – including making new friends she hopes to stay in contact with – Whiting definitely recommends involvement with YDC and events like the youth summit to others.
Her advice for interested ULethbridge students is not to feel intimidated by the prospect of exchanging ideas with participants from such prestigious institutions as the United Nations, Oxford, and Harvard.
"When you get there and you are in the space, there is just mutual respect among people who are also passionate about those topics," says Whiting. "We all worked on similar policy and were in the same room, so don't count yourself out."